I feel like every time someone wants to talk about how important is it for LGBT folks to be on television, they include some story about a Midwestern flame retardant mom watching Glee with her closeted son and then making some passing comment about how, "Maybe the Gay Agenda isn't going to bring about the apocalypse?" and that gives the son hope that if she finds his Zac Efron posters she won't kick him out of their cottage. Is that what they live in? Cottages? Anyway, though this may be the case, Nielsen shows the glaring difference between 18-24 year olds in the Midwest verses the remaining U.S. regions in the in one of their many number crunches.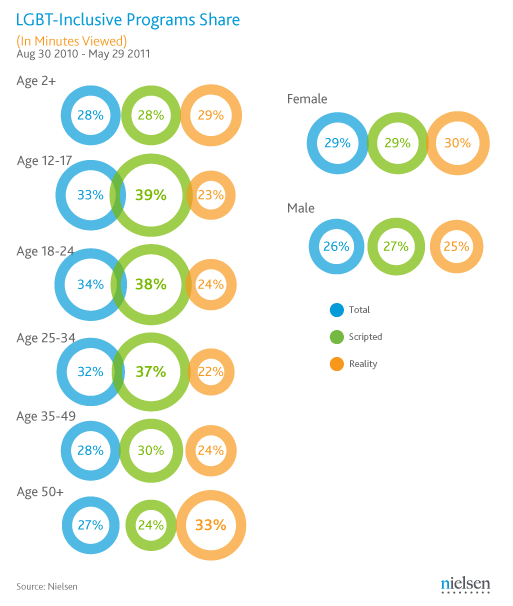 I don't actually understand the chart above but someone was nice enough to explain it using words which get along much better with my brain parts. Basically, LGBT-inclusive programming was most likely to be watched by college-educated white women and "small white-collar households." There was also a pretty pronounced difference in how much LGBT TV 18-24 year olds watched on the coasts (more) and how much LGBT TV was watched by the same age range in the Midwest (less). Though LGBT inclusive characters and storylines were part of 24 percent of primetime shows, accounted for 28 percent of primetime viewing and brought in 22 percent of ad revenue, their inability to reach a pretty specific subset of viewers is worrisome. This is not to say that everyone that is pro-LGBT equality must watch LGBT inclusive television but it certainly seems more likely that they would. One thing is for sure: college-educated white females love us. That experimenting in college might not have led to full-blown gay, but they still like to keep up with a bunch of straight white dude's portrayal of the lifestyle.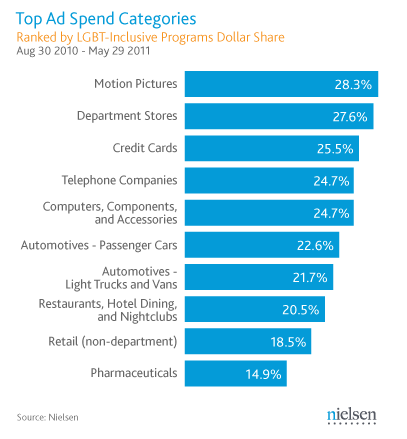 Is it cause for concern that an age range that many hope will be the change we want to see in the world isn't watching Pretty Little Liars? Maybe. When traditional means of persuasion (queer family or friends, traditional information streams, common sense, etc.) don't work, many look to the media to influence stubborn bigots. But even after bringing a horse to True Blood, that doesn't mean there's a way to make them drink corn syrup blood. If Midwestern 20-somethings aren't watching Grey's Anatomy, how are we supposed to change their hearts and minds? It's possible that LGBT inclusive programming isn't the secret to making friends and allies, and instead just the secret of telling who they already are. Please tell Shonda Rhimes I demand answers.