Cooking while disabled is fucking hard. It also doesn't help that most recipes are aimed at people with full mobility and you really have to Google hard to find anything that meets your needs. I've been living with Chronic Fatigue Syndrome and tendonitis/carpal tunnel in my dominant hand for some time now and I've come up with this soup as a means of getting protein and vegetables into me no matter how bad I'm feeling. You can make it in a number of different ways, depending on your ability level of the day, but even the most basic version will still taste good. It's also relatively cheap, vegan unless you decide to add meat or shredded chicken to it and can be varied in a number of small ways to keep you from growing tired of it.
Obviously it won't work for everyone (it's not Crohn's- or IBS-friendly for example) but for people with executive dysfunction, exhaustion, trouble standing and limited hand/wrist function this soup is a good way to eat well without driving you in to spoon deficit.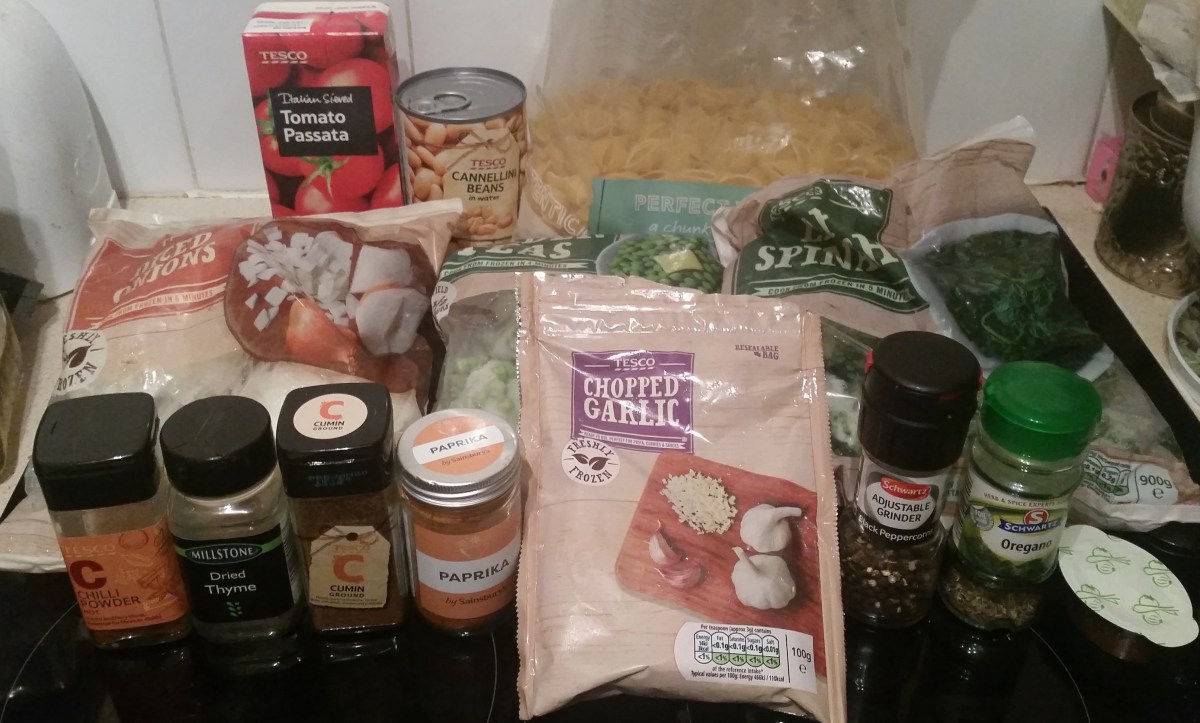 Not pictured bay leaves, because I only have two left, and a fresh carrot. You can definitely use frozen carrots for this if you're the kind of monster who can eat the spongy nightmare that is frozen carrots. Other veg can also be easily substituted in (sometimes I like to add cabbage or peppers but you could probably even add asparagus and things like that) and the beans can be switched up too. The nice thing about this soup is that you can make multiple different versions without really changing the process, just switching up the spices, veg and beans. Playing around with different herb combinations gets you everything from Italian to Spanish flavours.
Do not be guilt tripped out of buying canned pulses and pre-chopped veg. The media is all over the immorality of using pre-prepared food at the moment without considering the needs of disabled people at all — which is ironic as it's also pretty big on pushing health is morality and the idea that we just need to pull our socks up and eat clean and do yoga. All of this is bullshit. Reduce your waste when you can obviously but you need to eat, and do it as well as you can. Frozen pre-chopped veg if you have a big enough freezer for it is a great solution and if not buy it canned. Obviously fresh is best but malnutrition caused by perfectionism guilt is worst of all. For the cans try and find a brand with ring pulls because you can open them one handed. I use Tesco own brand but I have no idea what the American equivalent to that is, sorry.
If you're having a really good day you can fry the aromatics first in the fat or oil of your choice. This is a good time to add chopped bacon if you're a chopped bacon person. If you're having a really good day you could even buy and chop fresh onion and garlic but to be honest that seems like a lot of repetitive hand movements I could spend crocheting a row on the scarf I've been making for the last three years so. You do you, I'm eventually going to finish this fucker.
If it's a middle sort of day skip the frying step and dump the onions, garlic, carrots, beans, stock and spices into the pan. I turn mine to boiling because I'm lazy and want to eat as quickly as possible but probably a sensible cook would simmer it. If you're putting tomatoes in do it now. If you've got leftover wine (congrats on your moderation or similar) it's a good addition right now as well. Let it cook until the veg has close to your preferred texture and/or you feel up to standing again. Put in the pasta, set the timer for seven minutes. Then add the frozen spinach and peas and set it for another three. If you're adding pre-cooked chicken add it with the peas.
If it's a shit day but you can actually stand long enough to do more than call for take out literally just dump everything minus the pasta into a pot, set it to boiling and then if you're up for standing twice more add the pasta ten minutes before you want to eat. If you think you can only stand once more skip the pasta, it'll be fine.
You can also make a huge amount of it and eat it for a couple of days if you put it in the fridge when it's cooled down. It freezes pretty well as long as you don't add the pasta before freezing too (I know you can freeze pasta without turning it to mush but it seems to take some sort of arcane knowledge).
Now go, nutrition yourself.