Well, Birder King TV has overtaken Bird Bonanza TV at our house, and Socks loves it so much — especially the ones where chipmunks squabble over peanuts — that he got some new accessibility stairs so he can get close to his new wildlife pals, safely. (He has an accessibility ramp, but it's better as a transition aid to get up and down; the stairs allow him to really lounge around and enjoy his shows!)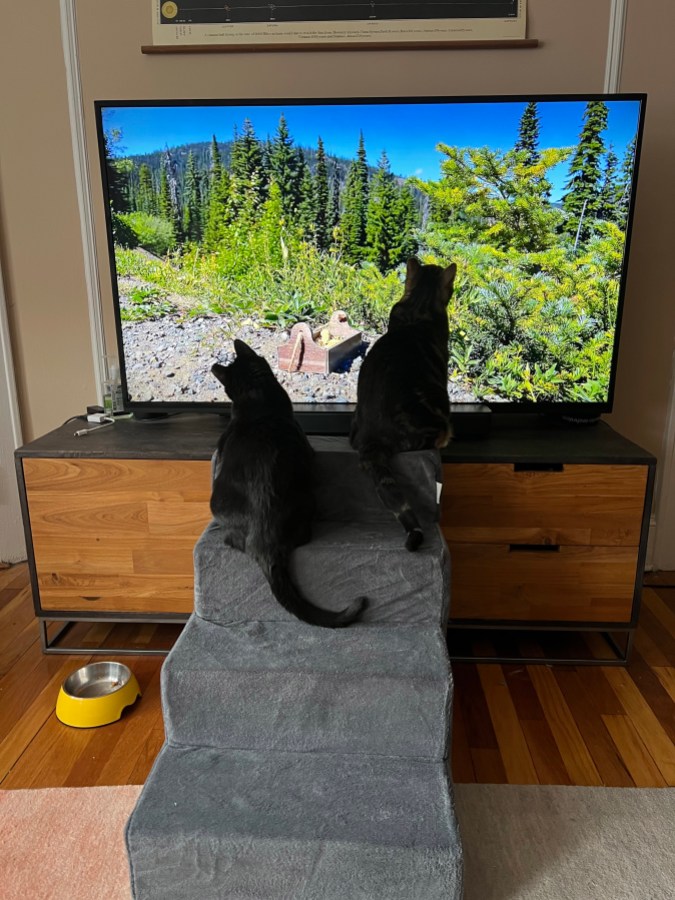 And now onto your favorite TV in your mid-week Pop Culture Fix!
---
+ I'm ready, are you ready? Here's Hulu's official description of it's new gay rom-com, Crush: "When an aspiring young artist is forced to join her high school track team, she uses it as an opportunity to pursue the girl she's been harboring a long-time crush on. But she soon finds herself falling for an unexpected teammate and discovers what real love feels like."
I'm sorry but it's going to take a lot for me to stop tweeting about CRUSH, the very gay rom-com I wrote with @caseyrackham coming HULU April 29th. Y'all are not ready for this CHEMISTRY. pic.twitter.com/QZldlGtre0

— Kirsten King (@KirstenKing_) March 30, 2022
+ Please enjoy this gay tour of Ariana DeBose's gay cottage that she shares with her gay partner Sue Makkoo.
+ Here's the Elite season five trailer with some of your favorite gays.
+ Did you see Elliott Page's new trans character in Umbrella Academy?
+ Dianna Agron remembers Naya Rivera, her "first friend" on the Glee set.
+ Disney calls for the repeal of the 'Don't Say Gay' law it helped fund.
+ The trailer for season three of A Black Lady Sketch Show is just what I needed for a mid-week boost in my morale!
I know this is the announcement everyone was specifically waiting for today. The trailer for season 3 is here!!!#ABlackLadySketchShow is back baby! April 8 on @HBOMax! #ABLSS pic.twitter.com/PAZaFoqtq8

— Ashley Nicole Black (@ashleyn1cole) March 28, 2022
+ Anno: Mutationem apparently has a "simmering lesbian romance."
+ Ratchet & Clank: A Rift Apart's lead writer confirms that Rivet is a lesbian.
+ How to watch Benedetta, the lesbian nun movie that people can't stop talking about.
+ Where [the fuck] is Brittney Griner?
+ Lady Gaga does not want to get coffee with Caitlyn Jenner.
+ Hey and also a trailer for Only Murders in the Building, now with 100% more
Cara Delevingne.
+ Batwoman's third season is heading to HBO Max which gives me hope that's why we haven't heard about season four on the CW. Move it to HBO and let's go! Tell me my news I need to hear!
+ And finally, this isn't gay, but I am, so what am I going to do? NOT swoon over it? Psh.
Can we just … 😍✨ pic.twitter.com/lHntpuXMmy

— espnW (@espnW) March 28, 2022