Do you know what April means? It means you can grill outside without getting frostbitten! To celebrate, I had people over and we made tofu and chicken satay so that all our vegan and omnivorous friends could eat happily. In retrospect, this is the kind of meal that would be ideal to put together the night before and then cook the day of so that your brochettes can marinate and so that you can talk with your friends instead of running around like a chicken with its head cut off (that's so not vegan).
TOFU, MANGO AND EGGPLANT SATAY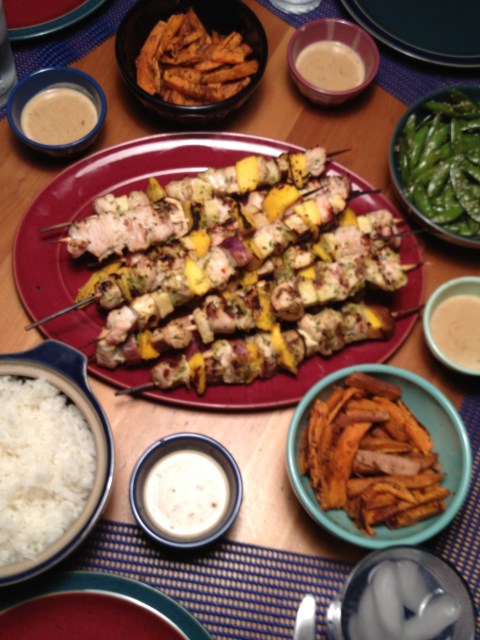 Brochettes
Ingredients
1 block of firm tofu, pressed
1 eggplant
3 mangoes
skewer sticks
optional: 2 pounds of chicken
Instructions
Soak the skewers in water for at least half an hour beforehand. While they're soaking, chop the eggplant, mangoes, tofu (and chicken if you eat it) into one inch cubes. Make your friends thread the vegetables and chicken onto the skewers so that you can get other things ready in the meantime.
+
Green Chili Paste
Ingredients
1 shallot, peeled and chopped
1 lemongrass stalk, outer leaves removed and chopped
2 cloves of garlic, peeled and chopped
1 inch of ginger, peeled and chopped
2 small red chilis, seeds removed and chopped
zest from 1 lime
1/4 cup of cilantro
1 tablespoon of peanut oil+
Instructions
Throw everything into the food processor and run it until everything is as fine as you can get it. Mix in the peanut oil and you're ready to smother your brochettes and leave them in the fridge overnight to marinate.
+
Peanut Dipping Sauce
Ingredients
2 tablespoons of peanut oil
1 shallot, peeled and chopped finely
2 cloves of garlic, peeled and chopped finely
2 large red chilis, seeds removed and chopped
1 teaspoon of ground cumin
1 teaspoon of ground corriander
3 ounces of crunchy peanut butter (no sugar added)
7 ounces of coconut milk
1 lime
salt
Instructions
Cook the shallots, garlic, chilis and spices in peanut oil over medium heat until the vegetables start to get soft. Add the peanut butter and then the coconut milk and stir while the sauce thickens up.
To put everything together, grab your brochettes from the fridge and grill them for 8-10 minutes. Pour your sauce into separate bowls for everyone and serve it along with a slice of lime and rice.