Rhubarb is maybe the best part of summer. I know that is saying a lot, because 1. margaritas, 2. bikinis and 3. margaritas, but I'm pretty serious about this. I have very strong feelings re: strawberry rhubarb pie, as previously discussed, but rhubarb can be used in so many beautiful and perfect and delicious ways outside of pie! (Also, though: inside of pie.) Here are some ways that are good to eat it, in my experience.
(PS: I totally did make the pie linked above for Strawberry Rhubarb Pie Day. I didn't have any rhubarb bitters, because what the fuck even are those, and so used orange bitters instead. It was still awesome.)
RHUBARB-VANILLA COMPOTE: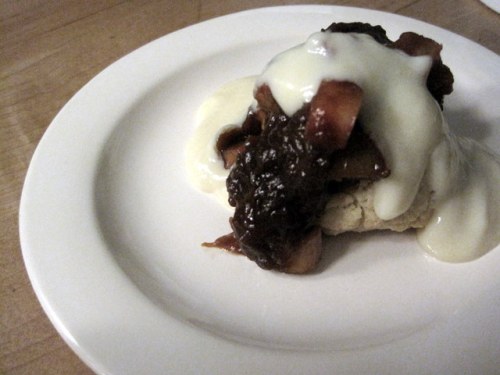 This recipe is originally from Smitten Kitchen and is not actually a recipe for compote but for tarts with compote in them. Which I've made, and they're fabulous, but also I would probably (hypothetically!) be happy just stopping at the compote step and eating it with a spoon. Here's the recipe.
Ingredients:
1 1/2 pounds rhubarb stalks
1 cup ish, brown sugar or less if you like less sweet things
1/2 vanilla bean, split and seeds scraped (OR if you are always broke AHEM and can't afford vanilla beans, a really healthy splash of real vanilla extract)
Compote:
1. Slice the rhubarb stalks into small pieces. Put roughly 2/3 of them in a saucepan with the vanilla and sugar, stir to mix, and then cook covered over low heat for a while, like 15 minutes.
2.Take the cover off and cook for maybe 15 minutes more, turning the heat up if necessary, until the mixture gets thick like jam, and you can see a line of the bottom of the pan if you scrape your wooden spoon through it.
3. A few minutes before it looks like it's going to be done, add the rest of the rhubarb in. It will cook through enough that it's sweet/tart, but still be a little crunchy. Delicious!
Warning: this will look gross. And really brown and lumpy. You cannot stop to worry about this. You need to eat it immediately. You might put it on some shortcake and eat it with yogurt, like me, or you could put it on toast or ice cream or just YOUR MOUTH.
RHUBARB SORBET: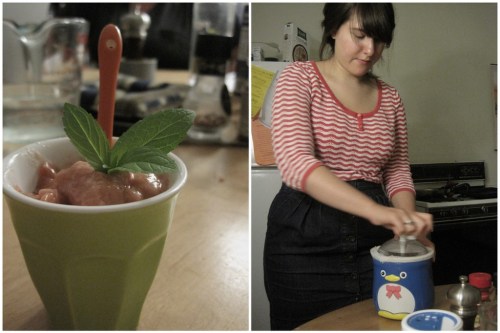 What if there were something really creamy and complex-flavored and sweet and tart like rhubarb compote but was also COLD because it's basically July now? OH WAIT IT'S THIS SORBET.
Ingredients:
1 lb fresh rhubarb
1 cup granulated sugar
1/2 cup dark brown sugar – lightly packed
3 Tbsps lemon juice
1 cup water
1/4 tsp sea salt
3 Tbsps Triple Sec or other orange flavor liquor
Full disclosure: I took some liberties with this when I made it, like for instance using 1 passionfruit instead of any Triple Sec because, um, that's what we had? I don't know. I am 100% sure triple sec would be delicious here.
Directions:
1. Put water, sugars, lemon and salt in a pot and heat until the sugars have dissolved.
2. Add the rhubarb, and let cook for a while. Like 15 minutes or something.
3. Take off the heat and add Triple Sec and/or tropical fruit of choice. You can blend it at this point if you want it super smooth, but i like it sort of lumpy and also it's usually really broken down by this point anyway.
4. Allow to cool for a really long time, until it's actually totally cooled off (NO CHEATING) and then use your ice-cream-making method of choice. In my house, we prefer this hand-operated ice cream maker that is shaped like a penguin and named Cecil. You can also put it in a shallow tupperware and put that in the freezer and stir with a fork every 30 minutes or so though.
5. When properly sorbet-like, inhale.
CHICKPEA-RHUBARB CURRY:
I know what you're thinking – this rhubarb sounds ok and all, but I've already eaten dessert. GOT YOU COVERED. Because here is a SAVORY rhubarb recipe. Will wonders never cease?
Ingredients:
2 tbsp olive oil, divided
2 tbsp yellow mustard seeds
2 1/2 tsp whole cumin seeds
3 tbsp minced fresh ginger
3 cloves garlic, minced
1 medium red onion, chopped
1/2 cup golden raisins
1 cup dried chickpeas, soaked overnight
3 1/2 cups vegetable broth, divided
1/2 lb fresh rhubarb, cut into 1/4-inch slices
6 cups spinach leaves
1/2 cup chopped cilantro
Directions:
1. Heat oil in pan, and then add mustard seeds and cumin seeds and fry until they smell good. Add onion, garlic and ginger (I also added chili powder, because duh.)
2. When onion becomes cooked through and a little translucent, add chickpeas, raisins and vegetable broth. (I actually had cooked chickpeas on hand, so I kind of eyeballed it and added the cooked chickpeas with half the amount of broth called for.)
3. Let simmer until chickpeas are cooked through, or until already-cooked chickpeas are heated through and the broth has reduced some.
4. Add rhubarb and let cook for about 6 minutes.
5. Add spinach and stir in until wilted. Remove from heat and stir in cilantro if you deem it appropriate.
Now you should eat the entire pan, which is roughly 4-6 servings, all in one sitting and mostly by yourself. Or maybe that's just me! Worth it, though.