I've been trying really hard to learn how to feed myself lately, mostly because my body began punishing me for running on ramen. After three whole weeks of "investment shopping" at the grocery store, I finally managed to gather up the ingredients for a week of Mexican; I bought canned black beans two weeks ago, tortillas last week, and the entire produce section this week, coming in on budget each round. Then, these quesadillas were born, and I was never the same again.
If I can make something this delicious to put in my mouth, I know you can, too, mostly because I had to watch a video on how to dice tomatoes in order to make this happen. Please don't let something this good get away. So, without further ado, let us cook.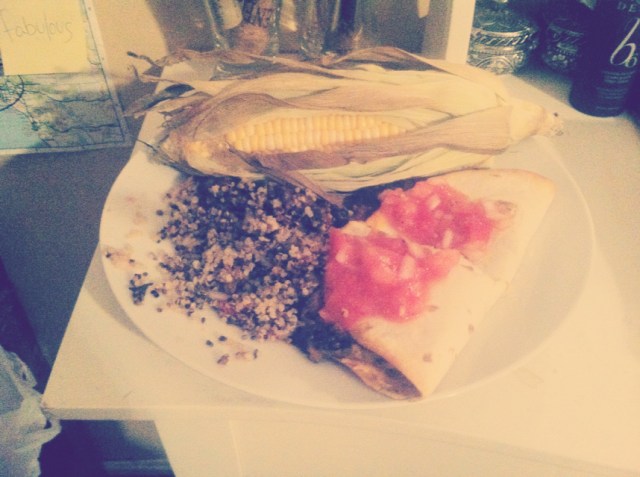 Black Bean, Spinach, Mushroom, and Soy Chorizo Quesadilla
Ingredients
NOTE: I like Mexican food because the ingredients are totally versatile. Yesterday, I rolled all these ingredients up into a big ol' burrito, and tonight, I baked 'em into a quesadilla pocket. One night, I could eat 'em in a burrito bowl! Maybe one night, I can just serve 'em on an open-faced baked tortilla, a la tostadas. THE POSSIBILITIES ARE ENDLESS. I also make lots of stuff at once and put it in tupperware so I can make it through the work week without crying softly in between boiling my vegetables, so my exact recipe rendered a lot more than one serving. If you're into that, cool! If not, please eyeball the ingredients as you go to cook it up your style.
For the Quesadilla
1/2 bag frozen spinach
1 cup sliced white mushrooms
1 can black beans (not refried)
1/2 package of soy chorizo
1/2 cup shredded cheese of your choice
1/2 large tomato, chopped into chunks
Chopped onion
Large flour tortilla
Olive oil
For the Salsa
1/2 large tomato, diced
1/4 sweet onion
Spices/herbs to your liking, including: pepper, salt, garlic, cilantro

1. Boil water for the spinach, and then cook it. While that magic is happening, prepare your veggies. I cut up the mushrooms into slivers, left the onions kind of chunky, and ate some tomato during the process.
2. Oil the bottom of a frying pan and toss in the mushrooms, tomatoes, and onion over medium heat. Keep them alive in the pan by tossing the veggies intermittently, giving them all of your love and affection in the process. You're looking out for the mushrooms now: you want them to brown thoroughly by the time you're done.
3. Add the spinach, mix the ingredients, and then drizzle some more olive oil on 'em to keep it going. Allow it to simmer for a bit.
4. Crack open the can of black beans, draining all but some of the liquid from the can. Then, pour them and the rest of the bean water over the veggies in the pan and stir well. Cut some soy chorizo out of its oppressive packaging and add it, too, mixing everything up into an amazing goop that fantasies are made of. Let that hot mess thicken.
5. Put the oven on at 350 F. I believe it's called "pre-heating."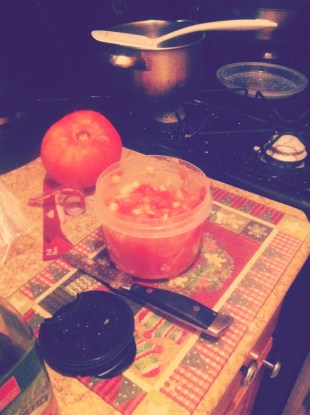 6. When the veggies and chorizo are done, get ready to quesadilla. Lay out a tortilla, flat. Add cheese to half, then some veggie / chorizo to your liking, then some more cheese on top. Then, toss it in the oven. I used a piece of aluminum foil, wrapping it like a pocket inside to make it easy for flipping later, but you could also brush some olive oil on both sides and put it in a pan like a normal person. Let the quesadilla cook for 25 minutes. I turned mine over once after 15 minutes, but it probably would have been fine if I had just let it alone.
7. While the quesadilla is cooking, dice your salsa tomato and chop up your salsa onion and throw it in a bowl with your spices, trying your best to preserve as much of the tomato "flesh" as possible. Stir it with a knife, using it to cut up big chunks in the process. Eventually, it'll look less like chopped tomato and more like salsa. Then, you'll be reborn.
Voila. I highly recommend serving it with an ear of corn (lightly wiped with olive oil and baked in the husk for 15 minutes next to this creation of a quesadilla) and some tri-color quinoa on the side.