I've written about my love for The Smitten Kitchen Cookbook in the past, but this adapted baked French toast is hands-down the best thing I've made from it yet.
The worst thing about French toast is having to hand dip and individually cook each piece evenly without burning, and then getting it into a warmed oven and hoping not to drop anything onto the grossness of the oven door, while also keeping a cat off the counter and worrying that the people about to come over or wake up will (a) not eat French toast or (b) eat more French toast than you have time to make.
The best thing about French toast is how it tastes, duh.
This version is baked, so you can make it and clean up and leave it for half an hour or over night and then finish it without getting your hands dirty or expending more effort than it takes to turn on the oven. The bottom of each serving has a little more egg than normal French toast, which gives it a layer of custard-y goodness. Toasting the bread before adding the batter means you can use fresh or stale bread and things will hold together (and if they don't no one will know because there's no flipping in frying pans involved), and the caramelized cinnamon sugar on top is just really, really good.
The original recipe calls for half a cup of sugar, which is kind of sweet even before you sprinkle icing sugar or drizzle maple syrup or agave over your plate. I found I had a lot of cinnamon sugar left over and will probably use less the next time I make it, but I've left the amounts intact so the cinnamon:sugar ratio doesn't get messed up.
The original recipe also calls for whole milk, but I used almond milk instead. If you're also making fruit salad or something, sprinkling slivered almonds in it is a nice complement, but also: you do you.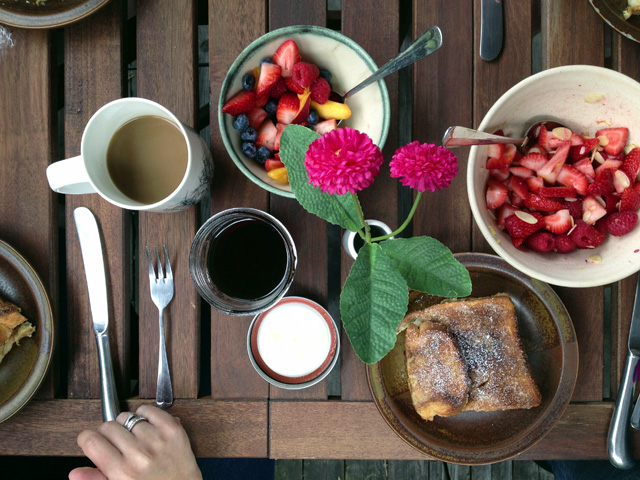 Baked Cinnamon French Toast
Ingredients
1/2 cup sugar
1 tbsp. ground cinnamon
16 slices sandwich bread
about 8 tbsp. margarine
3 cups almond milk
6 eggs
2 tsp. vanilla extract
dash of salt
Directions
1. Preheat your oven to 450°F. Line a baking sheet (two if you have them) with foil. In a small bowl, mix the sugar and cinnamon. Arrange however many slices of bread fit in a single layer on the baking sheet, spread them with margarine and sprinkle them with a teaspoon of cinnamon sugar. Toast in the oven for 6 to 10 minutes, until the sugar caramelizes and the bread browns (but make sure to take them out before they burn). If your oven can only do one tray at a time, set the pieces of toast on a cutting board to cool and repeat until you've toasted everything. Let it all cool for a few minutes. Turn the oven down to 375°F if you're cooking for the moment, and turn it off if you're cooking the night before.
2. In a medium-sized bowl, whisk the milk, eggs, vanilla extract and salt together.
3. Grease a 9- by 13-inch casserole dish with margarine. Cut two slices of your cooled toast in half. Arrange the toast in the dish, starting with one of the halves and overlapping the next seven pieces, with another half toast at the end. Do the same on the other side.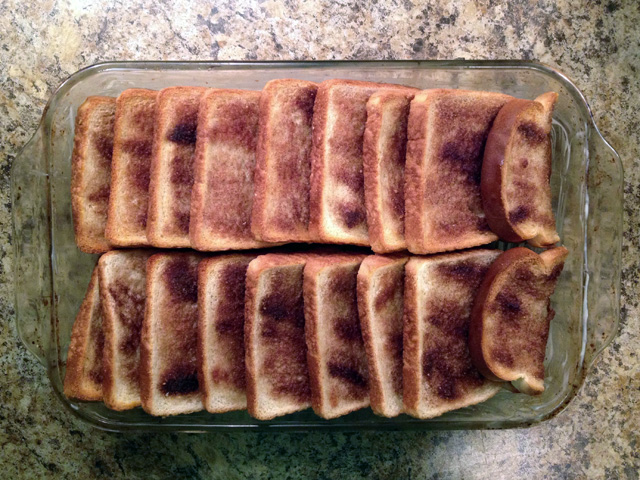 4. Pour the batter evenly over the toast and let it soak in for at least 15 minutes, or cover everything and put it in the fridge over night.
5. If you have extra cinnamon sugar, sprinkle a little over the pan just before putting it in the oven. Bake at 375°F for 30 minutes, until the toast is golden and doesn't ooze if you move it a bit in the pan. Cut into squares to serve.