Dannielle Owens-Reid [@dannielleor] is a friend of Jenny Owen Youngs [@jennyowenyoungs] (and that whole zany crew of musicians), and she's the creator of the Lesbians Who Look Like Justin Beiber tumblr.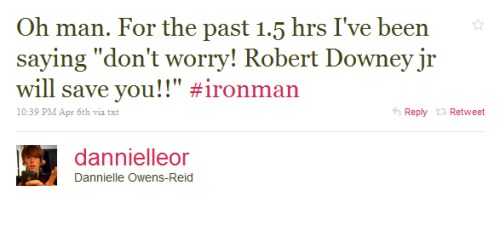 Ingrid Michaelson [@ingridmusic] is another J.O.Y. crew geeky musician, and she wrote a song about Twitter. If you've watched the commentary video on her newest album, Everybody, you'd see what kind of weirdness she is capable of. It's great.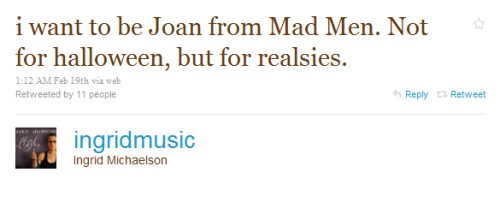 Molly Green [@cashmolly] is another J.O.Y. friend. Honestly you need to follow them all (Bess Rogers and Allison Weiss, too) and read some of the exchanges that are had. Also, she loves Autostraddle Goddess Lady Gaga so you have to like her.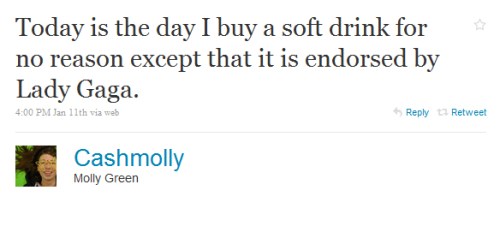 Janina Gavankar [@janinaz]: "Actor. Musician. Geek." Maybe you all only know/love her as Papi, but Janina is so much more than that. She's a member and very active participant in DeviantArt. She's a gamer. She was Ms. Dewey on the short lived search engine by Microsoft. We were also students at UIC at the same time (for a short overlap) but I never saw her on campus, to my knowledge.


Kristen Bell [@IMkristenbell] was the brilliant, sarcastic Veronica Mars that so many of us loved, and she was pretty geeky in 'Fanboys.' I don't know how much of that carries over into real life, but anyone who gets this excited over SOMEONE ELSE getting a robot is good in my book.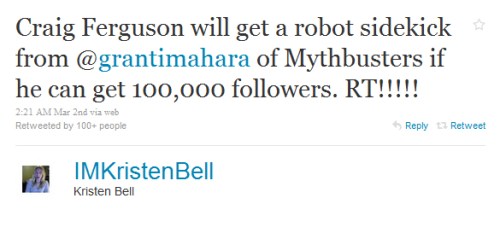 Kim Evey [@kimevey]: "Producer of The Guild. Wife of @MediocreFilms. She's scrappy but full of moxy. Jazz hands." Have you ever watched the 'Gorgeous Tiny Chicken Machine Show?' It's a hysterical mock Japanese game show. Go watch some now, I'll wait.


Rachael Hip-Flores [@hipflor] plays Vivian in the awesome hit webseries "Anyone But Me". She and her co-star Nicole Pacent did a lovely, geektastic interview with us and Rachael often tweets about acting, Shakespeare, books, music… and she asks the really important questions in life:


Ariel Schrag [@arielschrag] has toured with Sister Spit, written for 'The L Word' (seasons 3 and 4) and we has also written a series of autobiographical/queer comics about high school. And sometimes she live-tweets old episodes of 90210.

Olivia Wilde [@oliviawilde] is an actress, and activist, an environmentalist. Plus, she is friggin' in the 'TRON' remake!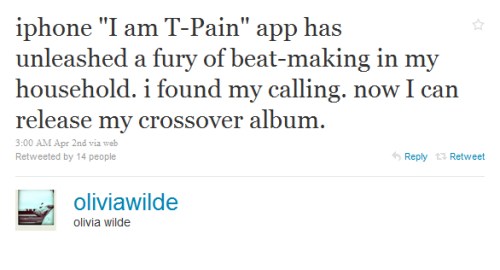 Michelle Paradise [@michelleparadis] is a celesbian writer and actress, who at least plays an awkward A/V geek and writer. I sort of think she might actually be something of an A/V geek in real life though.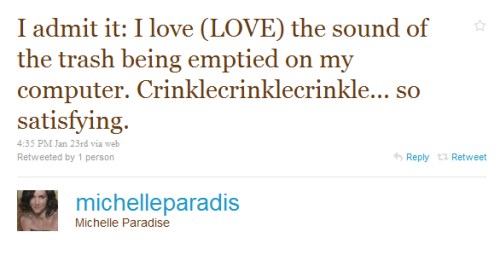 Maude Garrett [@maudelicious]: "TV Presenter, Geek Blogger, Writer, MC, Music Appreciator and Video Games Addict."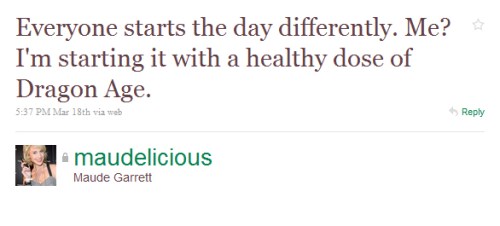 Katers17 [@katersoneseven] is an adorkable British YouTube 'Star' and gamer, and she makes her own WoW & Harry Potter movies (and the like).

Allison Adler [@aliadler]: "Writer, Executive Producer of Chuck, hungry, sleepy, malcontent…" How can you not want to follow someone who is at least partially responsible for Family Guy and Chuck, especially when she is also the partner of Sara Gilbert [@THEsaragilbert] and a general tweeter of geekery and hilarity. And she manages to bring the interesting and serious as well.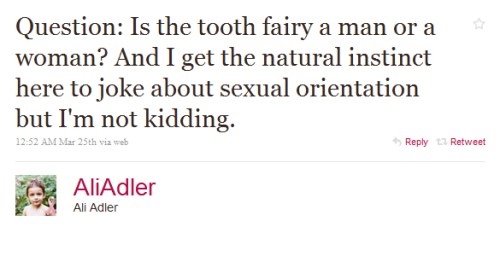 Kat Dennings [@officialkat] defies explanation, really. You probs know and love her from various Judd Apatow (& Apatow-esque) movies. She is one strange gal. Her YouTube videos are quite amusing, especially when she vlogs about playing Katamari Damacy.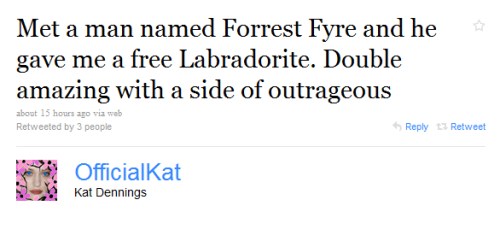 Aeire [@aeire] wrote and illustrated the webcomic Queen of Wands, and now she writes the sequel, Punch an' Pie.

Jenny Romanchuk [@thezombiehunter]: "I am a horror webcomic artist and writer! I am also an Illustrator and Graphic Designer…and thats about it." Jenny is most well know for her webcomic, The Zombie Hunters, but her geekery doesn't stop there.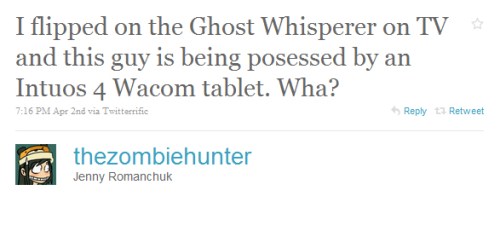 Adrianne Curry [@adriannecurry]: "Bi Polar Angst Ridden Child of The 90's obsessed w/fantasy 80's movies" Adrianne was the first Top Model, she's the wife of Christopher Knight (yeah, I don't get it either), a huge 'Star Wars' fan, and quite the movie nerd.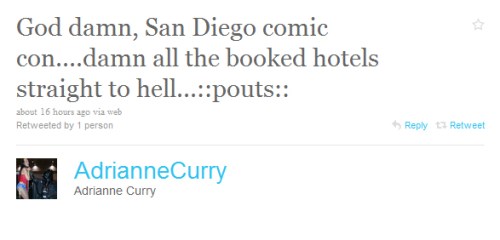 Jaime King [@jaime_king]: "Actress, Writer, Producer, Lover, Filmmaker, Wife and Geek." I'm sure most of you know this geek as James King, the model. But she's also an actress, and she's been in some pretty geeky movies. 'Bulletproof Monk,' 'Slackers,' 'Sin City,' 'Fanboys' and she's a voice in 'Clone Wars.' We can forgive her that 'Pearl Harbor' travesty, everyone thought it was going to be epic, and not in the negative sense, right?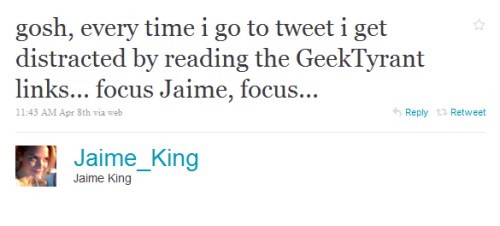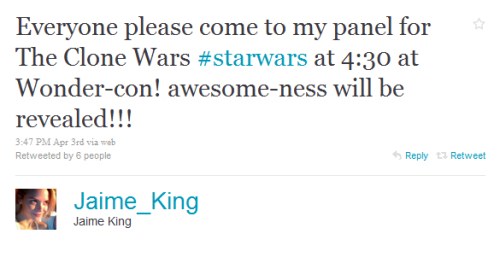 Last, but not at all least, Tech Editor Taylor's #bonusgeeks!
@annaleen,
---
+
+
I'm sure I missed a few dozen lady-geeks that the rest of you @technostraddle friends & lovers follow. Perhaps you wouldn't mind sharing? The ladies I've listed certainly reveal what kind of geek I am, which is apparently a politically-minded Whedonite with a weakness for a funny lady. What kind of tweetgeek do you fancy? Or are you a tweetgeek yourself? Do tell.
Pages: 1 2See entire article on one page