Lemon: The economy, social security
Rachel: "Do you see a major difference between the two of you on social security?" Um, Ryan wants to privatize it??? One thing about Jim Lehrer is that he makes me confident that literally anyone can be a debate moderator.
Lemon: Were we "overpaying" before
Rachel: Um, I think there was poor accountability as far as insurance payouts. Weirdly, I used to work for a company who made software for health providers and insurance companies to keep track of stuff like this. So I know that at least it's been a concern for them
Lemon: Crazy
Rachel: Man, Romney talking like Obama is the one who wants to disempower Medicare or social security is some straight bullshit.
Lemon: Yeah listen to this, he's being very condescending right now
Rachel: Like he's assuming we can't even use Wikipedia. Romney, your running mate wanted to END MEDICARE AS WE KNOW IT. Yeah Obama! Call him out on it!
Lemon: Romney: "if you're over 60 go to sleep now"
Obama: "you may wanna listen to this"
Rachel: DIFFERENCE IN RHETORIC
Lemon: Yes yes yes. Not everyone can afford private healthcare Romney
Rachel: I feel like maybe he literally doesn't know that
Lemon: I really don't think he does. Obama is making sense re: health care
Rachel: Also, factual
Lemon: Yes
Rachel: Ok, so when he says "I support no change"
Lemon: There's that lie again. 716 billion, that number
Rachel: Does he understand that the healthcare system is broken? Like, "no change" is not a good thing?
Lemon: Still lies
Rachel: I think the GOP is genuinely really disconnected about what people's concerns are. Like, I guess it might be nice to be able to make specific choices regarding your options for a private health insurance provider. But most of us just want to have ANY HEALTH INSURANCE
Lemon: Right and I think Romney confuses "government telling people what to do" with government being necessary sometimes
Rachel: Right, because a privatized health insurance system with no ceilings would just mean no one except Romney could afford it
Lemon: Public health care is not telling people what to do. Aaaand Mitt has decided to be moderator now
Rachel: I'm gonna be Jim Lehrer for Halloween
Lemon: HA
Rachel: My costume will be holding my hands up in front of my face and stuttering in rage
Lemon: PICS PLZ
VIDEOS
Rachel: Cosplaying Jim Lehrer, it's a thing now. OMG ROMNEY YOU HATE REGULATION, YOU'RE A REPUBLICAN. YOU WERE JUST ARGUING AGAINST GOVERNMENT INTERFERENCE
Rachel: I am highly suspicious of Romney's idea for "replacing" Dodd-Frank.
Lemon: Yes which he both said he would and wouldn't do.
Rachel: It just seems like a party that doesn't believe in regulation wouldn't be all-stars at designing regulation.
Lemon: Truth.
Rachel: Like I don't think the Obama administration has been perfect on Wall Street issues, but I think we can agree that repealing Dodd-Frank would be a step backwards. "Does anyone think there was over-regulation of Wall Street?" THREE POINTS FOR OBAMA
Lemon: Four for you, it's October 3rd, etc
Rachel: Right right
Ok wait I need to get a charger before we start part 4
One sec
Having less wine would have probably been an ok decision
Lemon: lez do it
I'm with you
Rachel: Is there going to be a Jim Lehrer meme after this?
Lemon: Likely
Rachel: Like Jim Lehrer with lines from "Girl Interrupted" or something
Lemon: I am partially responsible for making it a thing
Rachel: LEMON
Lemon: SUPERCUT. I'm all over it. "Expensive things hurt families."
Rachel: This is why we can't have nice things. Or any things.
Lemon: Wait first Obamacare killed Medicare, now it killed jobs?
Rachel: Omg also really, not understanding the relationship between access to healthcare and jobs? Or like deciding that one of them isn't worthwhile?
smh
Really wish Obama had his head in the game more. This is not a particularly fiery response.
Lemon: Not at all. No one is particularly firey tonight
Rachel: I also had to talk in front of people with minimal coffee today, and I get paid a lot less for it than these guys do. Step it up.
Rachel: Oh bringing up Massachusetts, are you Mitt? Fuck you, we hated you
Lemon: Hahaha always
What what what
Is that true? About losing insurance
Rachel: Well, losing it from where? Private insurers? Medicaid? I don't think private insurers have any grounds to just drop people.
Lemon: Hell no
Rachel: And Obamacare makes more people eligible for Medicaid, not less. And while some people will remain uncovered they should be people who are uncovered now.
Yeah the things Obama is talking about now were big at the corporation where I used to work. Establishing quality of care, etc
Rachel: Is the main difference between Obama and Romney on health care the mandate for coverage?
Lemon: Yes. Romney just really doesn't get it. He's still on the private thing
Rachel: My cat has just joined us FYI. She has no time for Romney
Lemon: CATTT
HI CAT
Rachel: This is some basic bullshit
Lemon: CAT
Rachel: I feel like Obama actually is refuting most of Romney's points. So why is it so boring? We've lost that loving feeling
Lemon: Yeah and there is just zero moderation now, Lehrer gave up
Rachel: The real tragic hero of this debate is Jim Lehrer. Team Jim.
Lemon: Everybody make up numbers!
Rachel: I feel so lost right now Are they pronouncing it "Bowles-Simpson" and "Simpson-Bowles" as a passive aggressive tactic, like trying to correct the other?
Lemon: Haha who even knows
Rachel: We're so close Lemon
We can do this
Lemon: Ready
Rachel: "The role of government"
Oh God
Lemon: Philosophy class
Rachel: Obama is halting so much when he speaks, it's giving me a lot of anxiety. Also this is such an abstract question, any answers to it will be kind of meaningless
Lemon: Yes! Good point. Because now we're talking about Lincoln and the transcontinental RR
Rachel: Role of government: freedom!
Role of government: chicken nuggets!
Role of government: continuance of PBS!
Lemon: BIG BIRD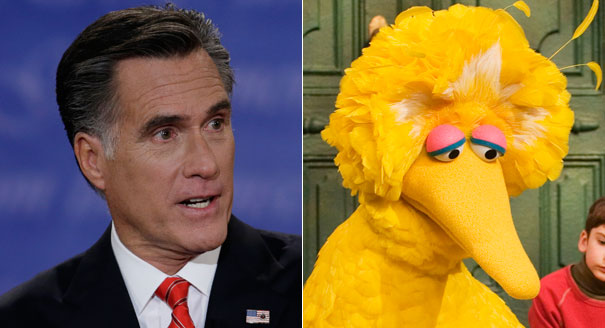 Rachel: This episode was brought to you by the letter role of government
Lemon: WTF not answering the question
Rachel: To be fair how would you answer this question? "Um, to govern?"
Lemon: LIFE LIBERTY
Rachel: PBR
Lemon: hahaha
GOD
Rachel: DREAMS
God
Lemon: INNOVATION
Rachel: These words are literally meaningless
Lemon: HEART
NICE WORDS
Trickle down government approach
Does not mean anything
Everything has gone to shit
Rachel: I'm going to live my whole life and die right here in front of my laptop while Romney talks
Lemon: There is nothing more
Rachel: How are they going to talk for 15 more minutes? What else is there?
"Poor — or, uh, lower-income, rather" — Romney, everybody!
Oh wait talking about education though
Lemon: Only questions asked ever: do you think you are different than Romney?
Rachel: "Yes, I'm more of an autumn, whereas he is clearly a spring"
Lemon: Who is "they" here? See now we are talking about making secondary education affordable
Rachel: I am pro this idea. I think Obama is trying too hard to be accommodating: "There may not be a focus on the fact that for some folks [borrowing from your parents] may not be an option?" That is some weak game.
Has anyone else noticed that Romney is going to cut virtually nothing and somehow plans to "grow" in almost every area? How is that going to work, exactly?
Lemon: But he is very pro cutting taxes on the middle class right?
Rachel: Right
Lemon: That is his whole plan
Rachel: So we're somehow going to grow in every area without taking in more money to fund it
Lemon: That is the cure all for him
Rachel: I will be very impressed if that works
Lemon: Let's not try to find out
Rachel: FUCK YOU MITT YOU DID NOT DO ANYTHING FOR MASSACHUSETTS SCHOOLS
AND CUT FUNDING FOR SUPPORT PROGRAMS LIKE EARLY INTERVENTION
Ugh I just want to shake him
Rachel: Lemon have you ever seen Scrooged?
Lemon: I have not
Rachel: Bill Murray plays a Scrooge character, and there's a moment where he accepts an award for charity. And he says very deadpan, "I love to give. Sometimes I give too much, and it hurts. And then I have to tell myself, stop it." That is how it sounds when Romney talks
Lemon: Ha that is perfect. "By the way, I killed Bin Laden" – Obama
Rachel: Yeah, he should get a Wile E. Coyote sign of that made. He could hold it up while talking about other issues
Lemon: Or just hold it up and say nothing, which I feel like would be just as successful for him tonight. This whole thing sucks
Rachel: I know, I feel sad and weird
GOD HE MET ANOTHER WOMAN
I SERIOUSLY HAVE TO TAKE ANOTHER DRINK?
Lemon: LOL yes
Rachel: The bottle of wine is gone now
Just for those of you playing along from home
Lemon: Haha Gatorade also gone
Rachel: "Fair shot." "Fair share." "Same rules." Maybe Obama is structuring this series of debates like a dramatic sports movie so he can swoop in and take the title much to everyone's surprise at the end.
Lemon: That's really all this country wants. Drama.
Rachel: Can I request that my election season follow the same narrative arc as "Major League"? Thank you.
Lemon: So to recap this was: economy, jobs, health care, jobs, economy, jobs, health care, medicare, SS, jobs, economy, role of government, repeat.
Rachel: You forgot the most important part, which was acknowledgement of Michelle Obama. But yes
Lemon: Sweetie, economy, jobs, health care, jobs, economy, jobs, health care, medicare, SS, jobs, economy, role of government, repeat.
Rachel: I feel actually less confident in my understanding of both of their platforms somehow?
Lemon: Yes I feel significantly more befuddled
Rachel: Maybe that's a good thing? It will force me to do more looking into them?
Lemon: True and so much fact checking
Rachel: I feel disheartened, but at least there's Biden/Ryan to look forward to on the 11th, which promises to be a shitshow, I think
Lemon: No doubt
Rachel: I can't wait.
Lemon: Biden who just never (and shouldn't) speak ever. And Ryan who lies
Rachel: And Ryan who is like an active force for evil on the earth, yeah.
Hoo boy.

We were emotionally spent and unable to go on, but will be back on October 11th for the vice presidential debate between Joe Biden and Paul Ryan. If you're looking for more on this debate, there have been a number of informative things published in the past 24 hours to help you out. For instance, if you're interested in fact-checking, this might be a good place to start. Here's an explanation of what Simpson-Bowles and Dodd-Frank are. And most important of all, here's the debate in gifs. Until October 11th!
Pages: 1 2See entire article on one page