Hello queermos, and welcome to Gayme Night, a new once monthly column where I encourage you to host an evening with friends and family where you play board games. Why? Because board games are fun and they foster community, and we need all the fun and community we can get as we continue to power through this Trumpian dystopia.
Speaking of Trumpian Dystopia, have I got some games for you! The Resistance and Coup are set in a science fiction universe in which a corrupt government rules at the behest of corporate billionaires. THIS DOESN'T SOUND FAMILIAR AT ALL, RIGHT? Anyhow, in Coup, we play as billionaires trying to overthrow each other's factions within said ruling class, and in The Resistance, we try to take down said corrupt government. Both games are all about lying your face off.
---
The Resistance
Wil Wheaton's tabletop has actually featured both of these games, so you can check them out. Here's the all-out psychological warfare of The Resistance, and played by lady-nerd favorites Felicia Day, Allison Scagliotti, Ashley Clements, and Amy Okuda.
---
The Coup
Here's Coup, a much shorter microgame that doesn't make me yell as much, as played by Wheaton, the Fine Brothers, and Felicia Day.
Sounds fun and not at all topical, right? Now I bet most of you have played board games, but who here has thrown a game night? I bet a lot fewer of you have! So I'm going to give you some fun stuff to make it much easier to put together a game night of your own.
---
Invite Your Guests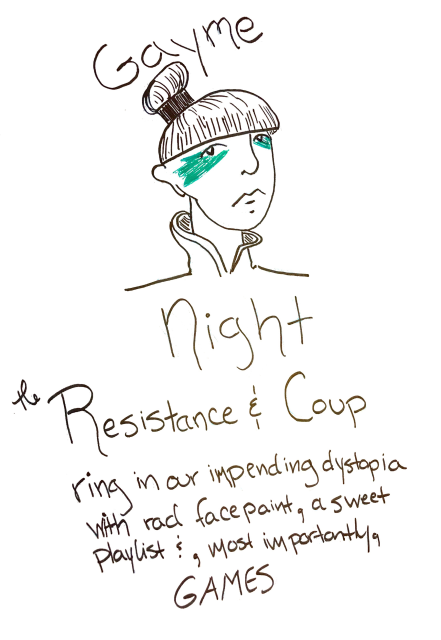 The Resistance requires five to ten players, and Coup requires two to six. So you'll want to invite four or five guests to make five or six players, including you! I hand drew you an invite image that fits nicely into a Paperless Post. You can also use it on Facebook or Eventbrite or however you're managing your guest list. Or just use this as inspiration to draw your own.
---
Plan Fun Makeup
If you check out my doodled invite, you'll notice that my character is wearing some fun eye makeup. That's because the Assassin card in Coup is wearing some fun eye makeup.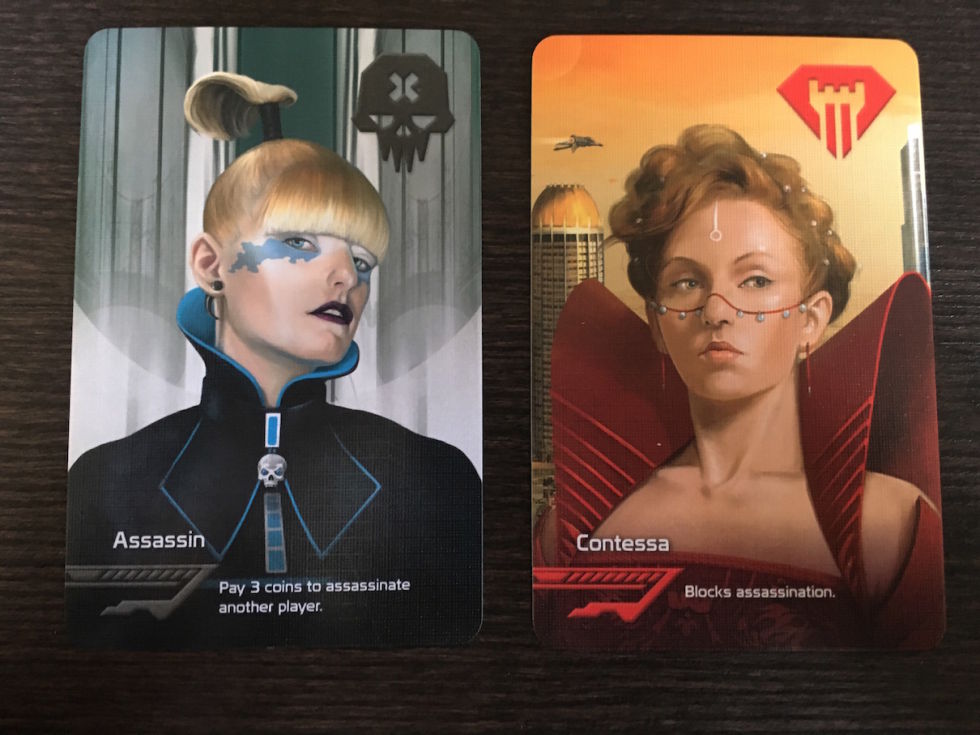 So I think it'd be a good idea if we all wore some fun and funky makeup. You can even get together and do said makeup before you play the games for a full on 90's sleepover vibe. Because we're gunning for sci-fi billionaires, I'd say we should lean into metallics. Since it's just for game night, grabbing a set of metallic eyeliners and eyeshadows on the cheap is a good way to go. I found a set of eight eyeliners for $13.95 and a pallet of 32 eyeshadow colors for $3.95.
Remember to be culturally sensitive with your makeup! The way I make sure to do this is to impersonate David Bowie. Or! You can imitate the makeup on the assassin card for greater verisimilitude. Fun game night eye makeup is for all genders and gender expressions. Remember the Autostraddle butch eyeliner tutorial by Julie and Brandy? You can apply that to some rad gold liner! Or you can do something entirely different! Follow your heart!
---
Play With a Playlist
One of the things I've learned from playing D&D is that a playlist makes everything so much more immersive, so much cooler. Give your night the right atmosphere with this futuristic playlist I made you! It's 44 minutes long, so grab up your Spotify and put this on a loop. The juxtaposition of future-peaceful and future-stressful is very intentional. If you stick it on shuffle, you never know what you're gonna get, much like the experience of approving missions while playing The Resistance!
https://play.spotify.com/user/autostraddle/playlist/1D4iuwViSMBfcwkjal0Rbj
---
Share Photos!
Because this is a monthly situation, I'd love if it y'all shared photos with us! That way, each month, I can post photos of last month's game night here. I especially want to see photos if you went full tilt into eye makeup this month, because that's just fun. Photos of our queer-ass game nights help diversify the image of what it is to be a huge nerd, so tag us on Insta or email them right to me (ali [at] autostraddle.com).
A quick note. I link to the games purchasable on Amazon here because I want you to be able to order them and play them IF you don't have a game shop in your area. If you do have a game shop in your area, I strongly recommend giving them your patronage. We want those place around—it's how people find and play new games they've never played before.