BORN THIS WAY:
If you follow Lady Gaga on Twitter, you probs saw her tweeting about her new single on New Year's Eve. "Born This Way" will be released on February 13, commence your squealing. Sadly, we have to wait until May for the release of the new album.
Lyrics of the new single include the lines: "I'm beautiful in my way, 'cause God makes no mistakes / I'm on the right track baby, I was born this way / Don't hide yourself in regret, just love yourself and you're set / I'm on the right track, baby, I was born this way." Probs inspired by gay fans, amirite?
Also there was this photo in which she looks like a superhot, naked female version of Bruce Springsteen.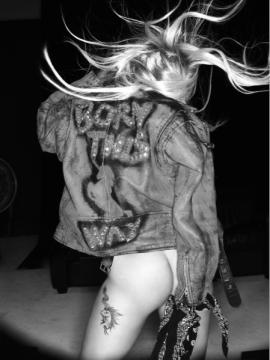 LOOK AT THAT UNICORN. It's like she can read our hearts. And does anyone know what that tattoo is?
PICK-ME-UP:
You should read this story about a formerly suicidal kid in Utah who turned out to have really accepting parents and is now the head of the gay-straight alliance at his school. I know Sunday Funday is all about happiness and light, and this has the word suicide in it, but it's actually really cute and ends well!
Oh, look, here's another cute story about Utah GSAs. Apparently the clubs are on the rise this year, thanks in part to the ACLU for threatening any Utah school districts that tried to block the GSAs.
YOU AREN'T RACHEL:
Look at that f*cking Anderson Cooper trying to be Rachel Maddow. Or maybe a Williamsburg hipster, idk. Someone needs to tell him that he is neither, and also he looks way hotter sans glasses. Or is that just me?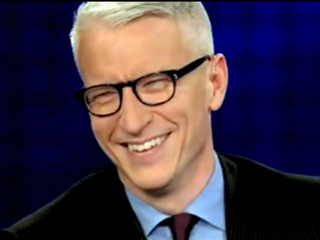 ELTON:
Elton John and his partner had a baby via surrogate on Christmas Day. (Yes, I picked that link because they make a Two and a Half Men joke.) Of the things I want to do on Christmas, be in labor is not one of them, but congrats to the new dads.
WE ARE ALL MADE OF KITTENS:
YOU'RE WELCOME. Oh and thanks, Jezebel.