Hello, my pretty tiger lilies, but not the racist character in Peter Pan, like actual tiger lilies! Welcome to the Friday Open Thread, the alternate universe Glee Club where Jane Lynch is your white savior and nobody has to share their feelings and you never sing any songs by Journey and Big Freedia is your twerk teacher. I'm so glad you're here!
I've been working on my LinkedIn profile. No, scratch that, someone requested to connect on LinkedIn and then I went to my LinkedIn page and became obsessed with updating my headline. That's the real truth.
I'm one of those people that gets off on updating my resume. I'm not sure what that says about me… probably that I am succeeding in playing the long game on my quest for fem(me)ocracy world domination. This is just a thing I do. Whether I'm looking for a job or not at all. I like to obsess over font size and adverb selection and scannability. And now that we have LinkedIn, which is like an extended resume more than anything else, I can obsess about my profile. Here are the headlines I tried out on my LinkedIn profile today: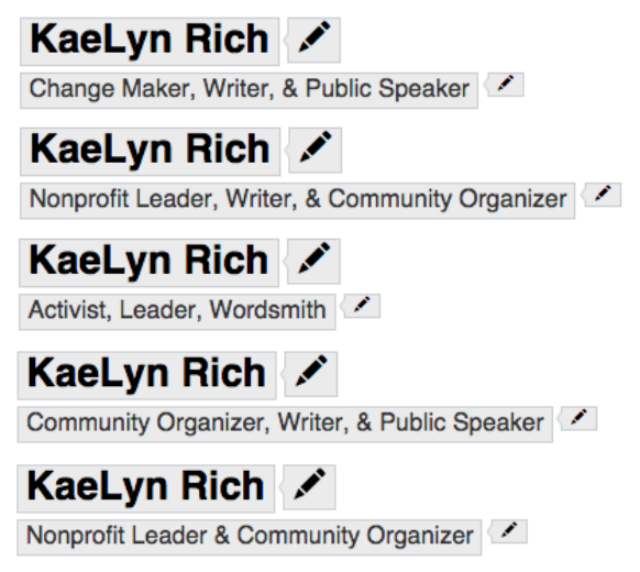 This ridiculous exercise got me thinking about all the hats I wear and all the skills I've picked up and how to summarize this in four words or less. What comes first? The nonprofit administration stuff? The community organizing stuff? The writer piece and, of that hat, the lapsed poet or the Autostraddle contributor? This may sound like torture to some of you, but I love overprocessing everything. That should be my headline. "I love overprocessing everything." Hire me!
Anyway, it got me thinking that I have lots of skills, some of which pay the bills and some that pay in life satisfaction and some that just don't pay that much at all. Like I'm pretty great at parallel parking.
I can't put it on my resume, but that is a fact. I'm pretty damn good at parallel parking. I took my road test in a purple mini-van, so I kind of had to be.
I'm also pretty decent at taking photos of my cat that capture the very essence of his existential weirdness.
So that's a marketable skill I have. New LinkedIn headline: "Expert Parallel Parker, Weird Cat Fancier."
What about you fine folks? What are you really really good at? What are your many skills? The skills you'd actually put on a resume and the ones that you are just kind of boss at? Tell me, tell the world! What would your 4-6 word headline be? Are you updating your resume? Do you even have a resume? Are you like, "F*ck the man, f*ck resumes!"? WHAT IS YOUR DEAL, YOU MASTER MADAM MYSTERY OF THE UNIVERSE?! No pressure.
Also, do you have any pet pictures or life updates or funny gifs you'd like to share with the class? Now accepting all of the things. Get in here, darling dearest, and let's obsess over life together!
---
How To Post A Photo In The Comments:
1. Find a photo! This is the easy part. Find a photo on the web, right click (on a Mac, control+click), hit "Copy Image URL" and then…
2. Code it in to your comment! Use the following code, and use a DIRECT LINK to the image. Your image link should end in .JPG or .GIF or .PNG or .CallMeWhateverYouWant even. I don't care, but it should be an image suffix! KINDA LIKE THIS:
If you need to upload the photo you love from your computer, try using imgur. To learn more about posting photos, check out Ali's step-by-step guide.
How To Post A Video In The Comments, Too:
1. Find a video on YouTube or Vimeo or WHATEVER and click "embed." Copy that code, but first make sure it's for 640 px wide or less. If your player is too large, it will not display properly.
2. Copy the code and paste it directly into your comment.
3. Go forth and jam.