Hello Rainbow Sprites and welcome to Friday Open Thread, where we save the universe from plunging into eternal night with our magical color belt and the power of goodness and unicorns.
Gal Pal Week has been the best, hasn't it? I laughed. I cried. I called my gal pals and told them all about it. We spend so much time as community obsessing over relationships and sex. It's nice to recognize the queer BFFs who hold our hands and let us cry on their shoulder or give us tips while we are processing our most recent lady love. Our BFFs can be just as or even more important to us than our significant others.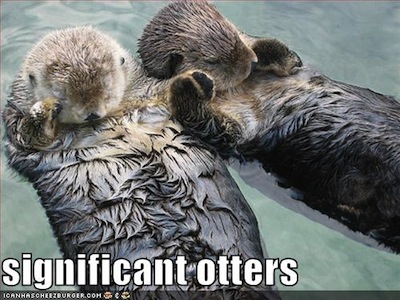 My best gal pal is about to move across the U.S. for a job, like literally in a couple weeks. We have one of those friendships where we just take each other as we are, the good and the… challenging. We forgive each other easily and we just generally treat each other with kindness. We can go for a whole month without seeing each other and then pick up right where we left off. We've seen each other through jobs and weddings and friend drama and lots and lots of marathon coffee sessions. And there's never been anything romantic between us and I doubt there ever will be. We're just two gal pals in friend love.
It's going to be hard not having her around the corner. She's one of the few people I can just randomly text if I feel like getting ice cream or coffee or need a mid-day lunch break escape. We met when I was working at Planned Parenthood and organizing a V-Day Community Campaign in 2007. It was a totally different time in our lives and we basically grew up into queer feminist adulthood together over the past eight years. We went from discussing getting our first feminist jobs to being the feminist supervisors at those jobs. When I was out of town for work, she went with my partner on short notice to help put an offer in on our house because she'd gone through the house-buying process and we hadn't. We are both ambitious go-getters that are always looking ahead to the next big thing and we love processing the what-ifs with each other. I have a lot of friends, but not a lot of very close friends and she's my gal pal main squeeze. I'm going to miss her a lot!
What about you? I know this week has got you thinking about your besties. Who are your gal pals (actual gal pals, not "gal pals") and what makes them the best? How did you meet? If you were a famous gal pal duo, who would you be? What is your favorite and/or most embarrassing story about your gal pal-ship? How does their hair smell? You know…gal pal stuff. I want your gal pal stories and pics!
Or just tell me what you're up to this week, how your babies and furbabies are doing, what you are eating, if you got my Rainbow Brite and the Star Stealer reference earlier in the post, etc. Let it all out.
---
How To Post A Photo In The Comments:
1. Find a photo! This is the easy part. Find a photo on the web, right click (on a Mac, control+click), hit "Copy Image URLwp_postsand then…
2. Code it in to your comment! Use the following code, and use a DIRECT LINK to the image. Your image link should end in .JPG or .GIF or .PNG or .CallMeWhateverYouWant even. I don't care, but it should be an image suffix! KINDA LIKE THIS:
If you need to upload the photo you love from your computer, try using imgur. To learn more about posting photos, check out Ali's step-by-step guide.
How To Post A Video In The Comments, Too:
1. Find a video on YouTube or Vimeo or WHATEVER and click "embed." Copy that code, but first make sure it's for 640 px wide or less. If your player is too large, it will not display properly.
2. Copy the code and paste it directly into your comment.
3. Go forth and jam.