Habari gani? What's the news? Kwanzaa 2017 is upon us, and maybe you, like me, have never thought to observe it. Growing up, I knew about kwanzaa, but it wasn't something my family paid much attention to, and I've heard weird things about where it originated.
The past few years however, I've noticed many of my queer black friends coming together for Kwanzaa and thinking about it in a way that's really affirming to their identities. The central theme of Kwanzaa is authentic community, and as queer people who are often forced to give up some part of ourselves every day to exist safely in the world, queering Kwanzaa becomes a beautiful way to end the year and bring in the new one.
Here are just four of the ways I think we can all learn something from the principles of Kwanzaa and the black folks who are queering them.
---
Kwanzaa builds rituals and traditions
Rituals are comforting in a world that seems super out of control. When what feels like 100 different things are happening each day, it's comforting to create a ritual of spending the last days of the year in community with other queer folks.
Whether or not you are able to formally get together with people this year, try and spend the days from December 26-January 1 thinking about Kwanzaa's Nguzo Saba, or Seven Principles. Each of these principles offers something to meditate on throughout the day. If you want some inspiration, former Autostraddle contributor Carolyn Wysinger made a series to guide you through each day. The seven principles are: umoja (unity), kujichagulia (self-determination), ujima (collective responsibility), ujamaa (cooperative economics), nia (purpose), kuumba (creativity), and imani (faith). Interpret them as loosely as you'd like to and think about them with some queer friends.
Kwanzaa is intergenerational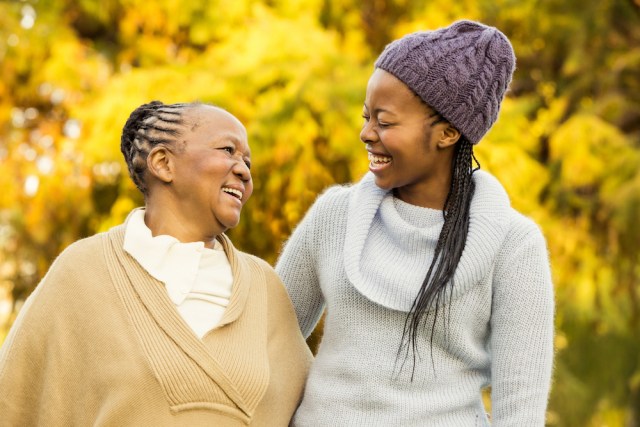 When was the last time you spent a considerable amount of time with someone who was more than 15 years older or younger than you? That doesn't happen too often for me, and Kwanzaa is a perfect time to spend time with folks of all ages. If you celebrate, extend your celebrations to those in different seasons of life than you, and make effort to think about the future with the everyone involved, from the very young to the very old. (If nothing else, give your grandma a call!)
Another great thing about Kwanzaa is that if any gifts are given, it's typically to children. Regardless of who gets a gift, it's tradition that the gift include a book and something about or supporting black folks. It's the perfect excuse to get the feminist baby in your life something from this gift guide or to pre-order Patrisse Khan-Cullors' upcoming Black Lives Matter memoir, When They Call You a Terrorist!
Kwanzaa reaffirms your chosen family
The last few days of the year can sometimes be especially lonely for folks, especially those who may not have celebrated any other holidays with their families. Instead of sitting alone for the last bit of break before the new year, celebrating Kwanzaa encourages us to spend time with our chosen family. Reaffirming our relationships with those who mean the most to us is always important, but Kwanzaa's seven principles make spending time together all the more meaningful.
Kwanzaa helps you bring light into the new year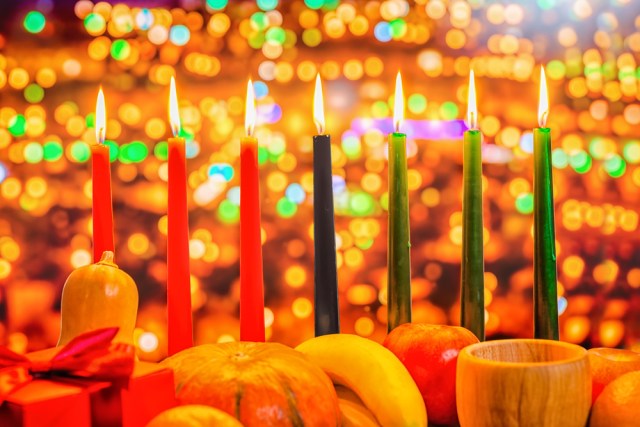 Like many other winter holidays, Kwanzaa incorporates lighting candles. At some point in the evening, folks are encouraged to gather together and light a candle on a kinara that corresponds with the daily principle. It's a time to pause and silently reflect. I love the act of lighting candles in the winter. It's literally bringing light into what sometimes feels like the darkest part of the year. Where I live, it's dark almost 13 hours a day, and it's nice to be able to bring some light into that darkness through this simple act. You don't have to get a kinara, but maybe take some time and light your favorite candle each night of Kwanzaa. The world feels pretty dark in all the ways possible, and this is just a little something we can do to bring in some light with the new year.
---
If you've been celebrating Kwanzaa, tell us about your experiences! And if you haven't, maybe this is the year that you decide to get together a few friends and celebrate. At least spend those days leading up to the new year meditating on the seven principles. Your January 1st will thank you.