Oh wow, this comic made me gay.
If you're unfamiliar with the concept of "crossplay," it's a type of cosplay where you dress as a character of another gender. Fans of manga and American comics and Anime and movies and other media often dress as their favorite characters for fun, for work, for photography or for conventions. This specific style of cosplay is what sets the stage for all of our characters in Niki Smith's new erotica comic book Crossplay from Iron Circus. Crossplay follows a group of friends as they dress up, explore their gender and sexuality and have some really hot sex. It's the perfect combination of sexy and nerdy. This comic is gorgeous, well-written, hella gay, sexy AF and one of my favorite books I've read in a while.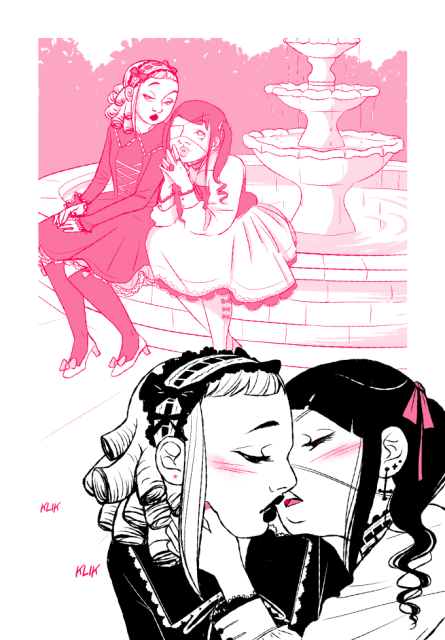 The first character we meet at the anime convention where the book takes place is Priya, an enthusiastic and blush-happy photographer, as she's taking pictures of a girlfriend and boyfriend who are cosplaying as a lesbian couple. This couple comes back later in one really hot scene, but they're mainly there to set the scene of a convention where we're going to see a lot of people messing around with gender in a lot of fun ways. After that we meet the rest of the main cast, who are all cosplayers of different genders and ethnicities and body types. They're a cute bunch of friends, and a queer bunch of friends.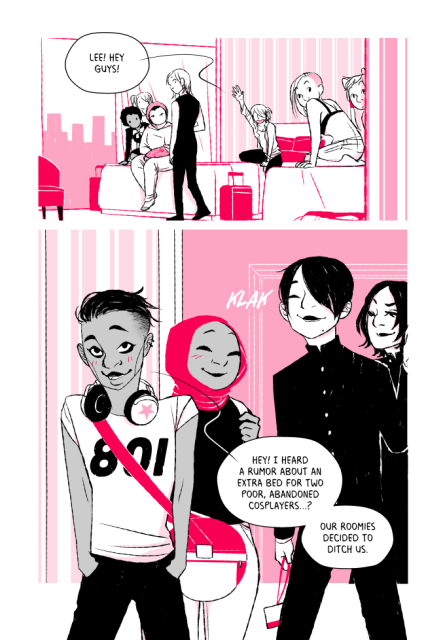 Crossplay works really well in it's convention setting in that it doesn't just focus on one person or one story, and instead we get to see a bunch of people doing a bunch of different things. Priya wants to take pictures of a cute female crossplayer she met, and she's also trying to figure out what it means that she's attracted to this person when she's never been with a girl before. Lee is non-binary and notices that one of the other people there is having some gender feelings, so they help him out, in more ways than one. Tommy and Sierra are a couple, and while Tommy doesn't cosplay himself, he is super into when Sierra dresses like a guy. Emi is best friends with Priya, but also has feelings for her and doesn't want to mess things up. They're all kinds of gay and all kinds of nerdy and I love them. And their character design is great for both the scenes in which they're cosplaying and the scenes in which they're fucking.
Don't forget, this comic is also erotica, though, and it's really good erotica. Smith is great at drawing bodies, and even better at drawing bodies intertwined with each other. She only uses black, white, grey and shades of pink and she uses all of them so well. She uses the pink to create sexy and smutty moods. Sometimes sex scenes will be done in all pinks and reds, but other times just nipples and lips and blushing cheeks and genitals. It is hot. Like, wooooo, Niki you are great at drawing naked bodies. I am a fan. This is the kind of book that you want to read alone, or with a partner, in your bedroom. Right now, the book is having a kickstarter campaign, and it's already met it's goal, but is going for some stretch goals right now. You still have about a week to support it, or you can buy it after it's printed.
New Releases (December 20)
Tomb Raider Survivor's Crusade #2
Batgirl The Bronze Age Omnibus Vol 1 HC
Batman Arkham Joker's Daughter TP
Wonder Woman The True Amazon TP
Hawkeye Kate Bishop Vol 2 Masks TP
Unbelievable Gwenpool Vol 4 Beyond the Fourth Wall TP
---
Welcome to Drawn to Comics! From diary comics to superheroes, from webcomics to graphic novels – this is where we'll be taking a look at comics by, featuring and for queer ladies. So whether you love to look at detailed personal accounts of other people's lives, explore new and creative worlds, or you just love to see hot ladies in spandex, we've got something for you.
If you have a comic that you'd like to see me review, you can email me at mey [at] autostraddle [dot] com.