Tarot and astrology go together well. Many of us who are into one are also interested in the other, though I'll confess I'm no astrologer. I can just about read my birth chart, and know a little of the significance of the zodiac signs and the planets, but I've never provided readings or considered it one of 'my things'.
Still, I always think of them as a good pair, in that together, tarot and astrology help us to interpret both our inner and outer worlds. Where tarot cards tell us about what's going on in our lives in this specific moment, the moment of a reading, letting us know about the energy within and around us right there and then, astrology can show us patterns established the moment we were born, and that ring out throughout every day of our lives. If you read your horoscopes regularly, you'll be familiar with the way they illustrate the way those faraway lumps of rock and gas influence our day-to-days. An understanding of one necessarily enhances our understanding of the other.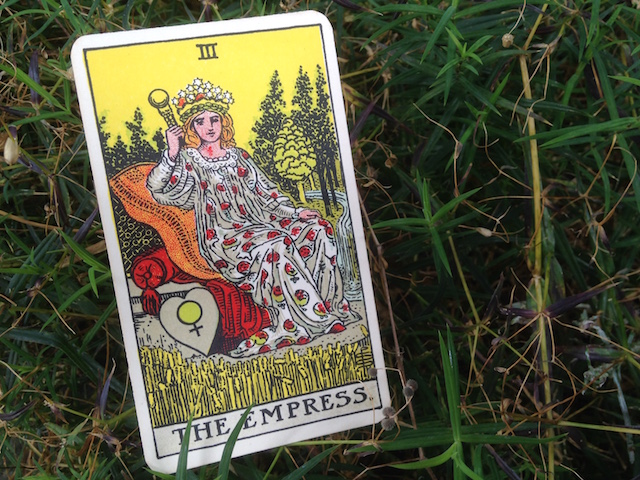 Ways you might incorporate astrology into your tarot readings include:
Interpreting astrological symbols in your cards.
Why is the Empress leaning on a rock showing the symbol of Venus? What are the astro connotations of the Sun and Moon cards? Doesn't the Star remind you of Aquarius? Look a little deeper into the planetary symbolism you see in those pictures.
Know your querents' signs.
If you know the sun, moon and rising signs (or heck, just the sun sign) of the person you're reading for, you have extra information about their energy, they ways they're likely to act and react, and you can bring this into your reading, playing off those energies with that of the cards. You could even choose a card to represent the person's sun sign (for example, for a Leo you might choose The Sun).
Reading for lunar phases.
The moon moves through different zodiac signs as it circles the earth. It's interesting to read up about its current position, and do special tarot readings to look at what's changing in your life when the moon enters a new sign.
Tarot-scopes
My friend Willow Merrymoon has been writing these brilliant 'tarotcasts' for years. Each month, she'll draw a card for each zodiac sign, so it's like a horoscope and a mini tarot reading in one! Siobhan Rene is another tarot reader who provides these – you can sign up and get them in your inbox here.
You know what would be really fun, though? Doing your own! This is a great way to help you learn about the energies of each of the 12 zodiac signs, as you find ways to blend the message of the card with what you know about each sign. For example, you might read an Emperor drawn for an Aries as encouragement to rein in that fiery, excitable temperament, whereas for a Libra, the same card might be about making a decision and committing to it.
If you're a tarot reader looking to expand your understanding of the planets, and bring a little astrology into your tarot practice, I can't offer you a crash course — I'm still learning myself. But I can share with you the resources I use to inform and develop my approach.
This is a really helpful e-book which you can download for free. In it, astrologer Amelia Quint takes you through each of the tarot cards, listing their astrological counterparts and explaining the correspondences and traits each pair shares. Get it at her website, The Midheaven.
My friend and fellow Manchester-dweller Mick Frankel offers this brilliant correspondence course which will literally teach you how to use astrology in your tarot readings. The lessons are delivered by email and are fun, accessible and genuinely informative. You send back the answers to test questions at the end of each lesson, and then you get the next one. It's awesome, and a bargain at £40 for each half.
This one's on my website, Little Red Tarot. LGBTQ youth activist Tabby Besley has created this incredible series of lessons, which will guide you step-by-step through accessing and interpreting your birth chart. Whilst this itself isn't about tarot, the lessons cover topics like the meanings of the different planets and signs – elements which are often represented in tarot symbolism. This lesson in particular on the twelve zodiac signs is something I refer to regularly — both when I see astrological symbols in my cards, and when a client shares with me their birthday, so I know what sun sign they are.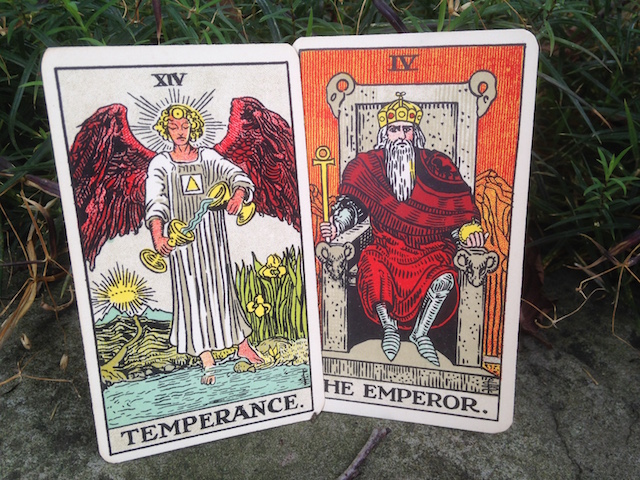 Again, not specifically about tarot, but it's helpful to regularly read horoscopes, which gradually develop your understanding of what planetary movements are doing to your life. Chani's are brilliant — thoughtful, always relevant and brilliantly written. They pop into your inbox every week for free (though you can make a donation!) And if you want to go further, she offers frequent seminars to teach you about transits, lunar phases and what's going on out there in the astrological universe.
Chani also blogs regularly about the lunar phases, explaining how the moon's energy shifts as it moves into new zodiac signs. If you subscribe to her newsletter you'll get these delivered to your inbox along with your horoscopes — win win!
Who could forget Kate's 1000% awesome and freakin' epic guide to 12×12 pairings of each of the signs? It's So Good. I just love this, on Aries and Aquarius (my partner Em and I):
The sex is fun because Aries loves an exciting challenge and Aquarius just wants to see Aries get weird in the sack. They're both independent, but Aries' intensity works well with Aquarius' free-spirited side.
Go check out if you and your boo are meant to be!
---
Want more? You can find lots more lovely LGBTQ-friendly astrology resources on witchyqueers.com.
Do you use astrology in your tarot readings? If so, how? Share your tips, techniques and ideas in the comments!