Welcome to the first Fool's Journey of 2016! I really want to bring back the part of this column where I do tarot readings for you wonderful people (I'm not quite sure why that stopped happening.) So, if you have a dilemma or a question you'd like to ask the cards, drop me a line: beth at autostraddle dot com.
To get the ball rolling, I'm so honoured to be reading for a member of the Autostraddle family who wishes to remain anonymous.
Beth, for the first time in my adult life, I have the trifecta: amazing job, sweet little apartment, and a beautiful human to love.

It's taken 33 years to get here and I'm so thankful. but here's the thing, I've also lived in NYC for 33 years and I'm burnt tf out. It's crowded, expensive, and I feel like a chubby little ant trying to survive among 40 million other ants. Except they're mean and are always late to brunch, if they even show up.

And on top of that, my lady love's education program is going to be over in 1.5 years and she's ready to burn rubber out of this town.

So, how do I leave NYC when I have all the things? Should I stay or should I go? Will I be able to rebuild a life somewhere else? If god is change, how do I keep the faith?
Thank you so much for trusting me with this question – seriously, this is huge. Tarot reading is an immense privilege and I'm sincerely grateful to you for sharing this with me and all of us.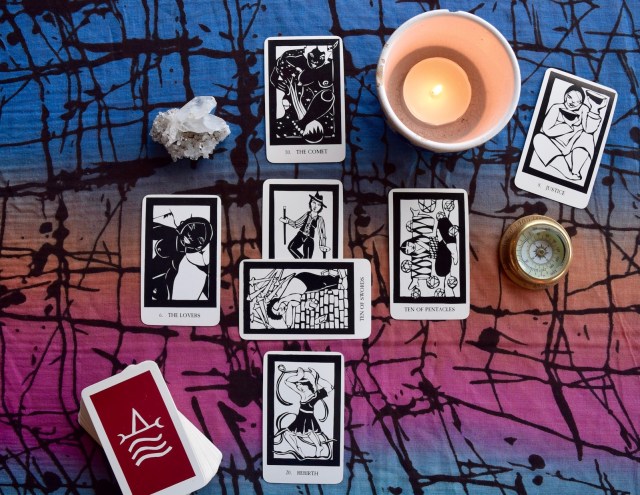 I used Thea's Tarot for your reading, by Ruth West. (For folks who aren't familiar with this deck, some cards have been renamed, so I'll include the traditional corresponding card in brackets.)
Since this is about a geographical move (among other things), I created a compass with the cards, asking for messages from the north, the south, the east and the west. In the centre of the reading is your current situation. There's also a final card for you to interpret yourself – a gift to guide you.
So let's begin!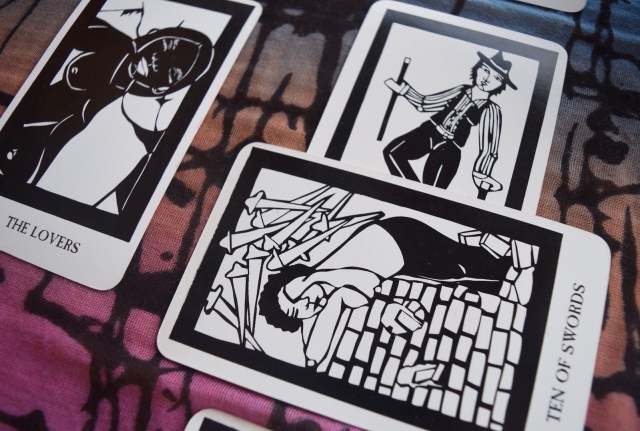 At the centre of your reading is exactly this tension you describe – a push/pull between one desire that's struggling to be expressed, and the doubts and fears that hold you back. The Two of Wands on the bottom here feels light, free and focused on moving forwards, doing something exciting and new. It's about making plans and knowing when it's the right time to put them into action. But it's crossed by the Ten of Swords – a difficult and heavy card that can represent a real 'woe is me, how can I ever do anything good ever' kind of mentality. I'm not saying you're defined by this mentality, but it's creeping in and causing a major block for you, making you unable to fully realise your own potential and the potential in the ideas you have for the life you'd like to be living. It's like a big heavy weight in a reading that's otherwise full of movement, change and bold ideas.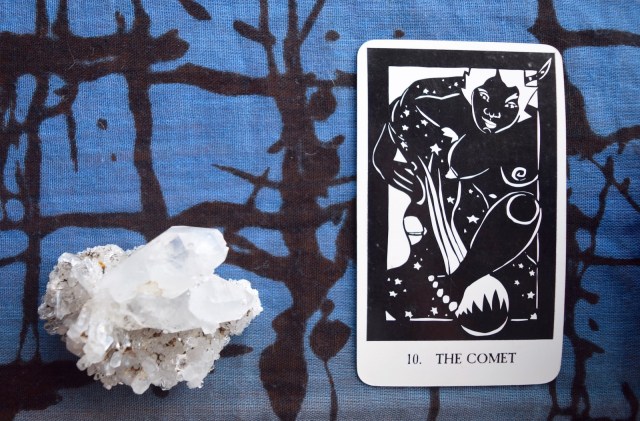 In the north, normally a space of grounding and safety, there's the Comet (Wheel of Fortune). Change is afoot – think of this as like the carpet being pulled from under your feet, whether you like it or not. The thing is, change happens and we all gotta ride it out. Looking at this card, it's feels like it's directly answering your 'change is god' question. It's an almighty goddess out in space hurling rocks around! But you're not powerless. As the north is about grounding, you can find a space to ground in all of this – not physically, perhaps, but in a clearer sense of your own responsibilities. Ask yourself what you can control in life, and what you can't. Focus on the former, on actively creating the changes you want in your life, and that which you can't influence – let it go. It's not your responsibility.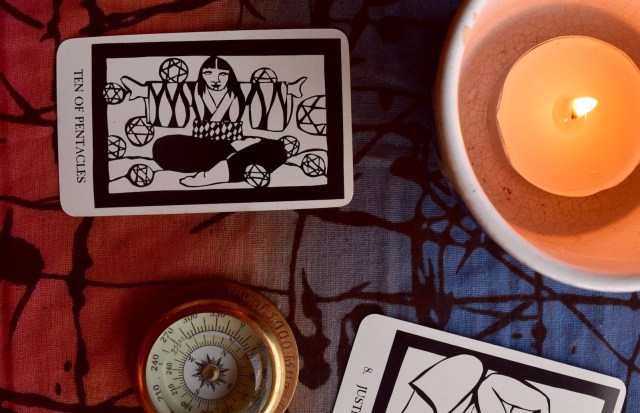 In the East, the Ten of Pentacles. This is where the sun rises, it's light, airy, filled with promise and that feeling of a new dawn. This is spring, shoots coming up, gradually giving you a clearer idea of the seeds you sowed in the previous year, and where things are going. The Ten of Pentacles is a powerful card, filled with earthy magic. Traditionally this is all about being rich, in just the ways you describe – a home you love, a job you love, a love you love. Those real-world comforts that should never be taken for granted.
In this position, in the East, there's a feeling of newness. This ability to create home, to be comfortable and secure and happy, is within you. It's in your power to create this wherever you go. It's awesome that you have it here in NYC, but that doesn't mean you can't also have it somewhere else – and in fact, though you have the trifecta, this card reminds you that there is more than this, and it's on the horizon. You're burnt out, you're fed up with the pace and the selfishness of the city – but another life is possible. Set your sights and really believe that you have this all inside you, concentrate hard and really visualise you having the life that you want.
I love how this card is about taking up space. So much so, that the image is horizontal and the card has to be read sideways. This feels like the very opposite of the crowded atmosphere you describe in NYC, and it's here, in the east, in the 'dawn'.
In the south, a space of warmth, fire, action, is Rebirth (Judgement). This is your honesty and integrity manifest, made real. The card is traditionally known as Judgement, in the sense that in facing up to our own truths, in offering up all that we are to the universe and being committed to truth, we are liberated from ourselves, we are reborn. It's a hefty concept, scarily biblical, but there's so much beauty in it.
Combining this powerful energy with the fiery dynamism of the south, you're asked to take action. You've lived in NYC your whole life – it must be so ingrained in your identity, in your concept of who you are, how you work, what you're about. Yet this card, in such an active position, asks you to actively redefine yourself, to allow yourself to evolve and be free of that identity for a moment.
What does it look like if you're 100% honest with yourself? Love is a verb, self love is a verb, facing up to all that you are, your imperfections and mistakes as well as how beautiful and unique you are, is a verb. Compare this card to the Ten of Swords in the centre – the very opposite of liberation or self-love. You can actively create rebirth in your own life if you're completely honest about what you need and what you need to let go of. Let this be an active process that fuels you this year.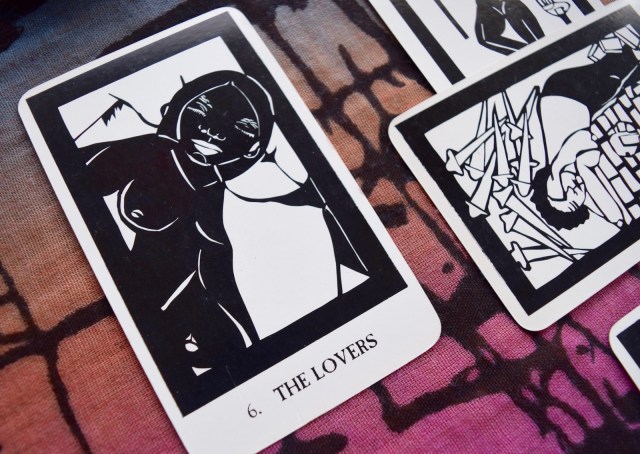 And in the West, oh wow – the Lovers. Yes, it can be about romantic love, partnership and all of that, but more than this, it's about working in partnership with ourselves. What makes you feel complete? What gives you a sense of wholeness? It's another big card and it's a card that gives you choices – the high road…or the easy one.
The west is a place of feelings and intuition, of the element of water – it's a space where you need to have flow and a sense of what you need, deep down. The Lovers asks you to prioritise what you know, what you feel on the deepest of levels, even if it presents a challenge. There's real partnership here too, of course. This is your chance to dream with your lover, to allow yourself to imagine whatever you want together. She wants to get out the city too? Go there, as a couple – make a vision board, a mind map, get drunk together and proclaim the life you really want to be living, together. Total honesty, real depth, no barriers, no 'what ifs'.
---
These cards aren't saying 'stay!' or 'go!' (tarot rarely answers our questions like that.) But as we work around this compass there's a real sense of something big building, something that encourages you to welcome change into your life and go for what you know you want. It's all there at the centre, that blocked Two of Wands, and at all points of your compass.
Where cards should be grounding (in the north) there is the archetype of change! Where things are about focus and clarity (in the east), there is a reminder of your inherent ability to ground and create home wherever you go. In the south and west, you're getting more big messages – to challenge yourself, to be completely honest about what you want and what will make you feel whole, and to take the difficult but rewarding road towards that.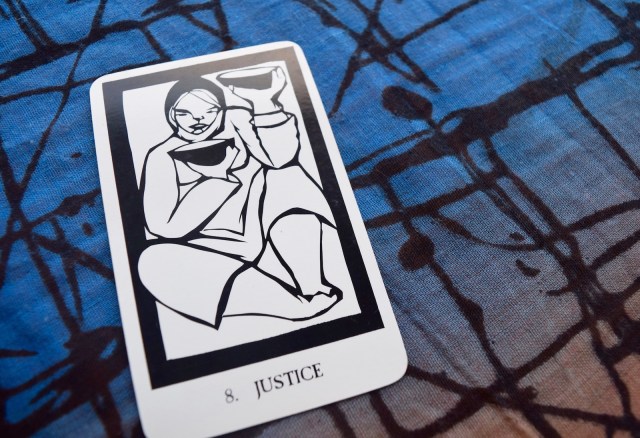 Finally, I drew a card to give to you: Justice. Interpret this as you will, take from it what you need, and let that guide you as you begin this new year and all that it holds.
Go forth, and create the life you want!
---
Are you a tarot reader or learner? What do you think of the cards in this reading? If you have a different take on these cards or your own interpretation of this reading, please add your ideas in the comments!
Got a question? Ask my cards! Email beth [at] autostraddle [dot] com
Rules and disclaimer-type thing for readings:
In sending in your question, you're allowing Autostraddle to publish your dilemma for many many pairs of curious eyes to see.
But don't worry – unless you say otherwise, we'll keep you completely anonymous. If you're happy for us to use your name, please make this clear in your email.
No third party stuff. This is all about you. That means no "does she love me?wp_postsand no "why is she doing this to me?" 
This is 'for entertainment purposes'. I am so not responsible for anything you do as a result of your reading and neither is Autostraddle. Dear reader, you are a full-grown person with a brain and you (not I) are 100% in charge of your own destiny. You wouldn't want it any other way.