Hey there cardslingers, witches, and mystical beings of ancient lore! I hope you all drew Aces of Wands this morning, and not Tens of Swords. (Just kidding! There's no such thing as a 'bad' tarot card, right?)
Today I've had a lot of coffee and I can't possibly concentrate on just one thing. Plus, I'm in the middle of a super-intense life-change that would be stressful if it wasn't so damn fun and exciting. Plus, this column was due hours ago and I'm late late late, so what the heck, please enjoy this roundup of tarot bits and bobs. Mostly queer; otherwise, just good stuff you should know about. Something for everyone! It's an Also.Also.Also purely for tarot lovers, how about that?
Before we kick off, here's a picture of my tarot desk at dawn. I'm currently living in a caravan on the Isle of Skye and it's blowing my tiny mind.
On the Decks
+ You heard that Cristy C Road's totally rad Next World Tarot is funded, right?
+ And that the Slow Holler Tarot is coming on a treat and you can totally pre-order it (and other cool merch)?
+ Ah, but did you know there is an EMILY DICKINSON TAROT? There is. I just got one!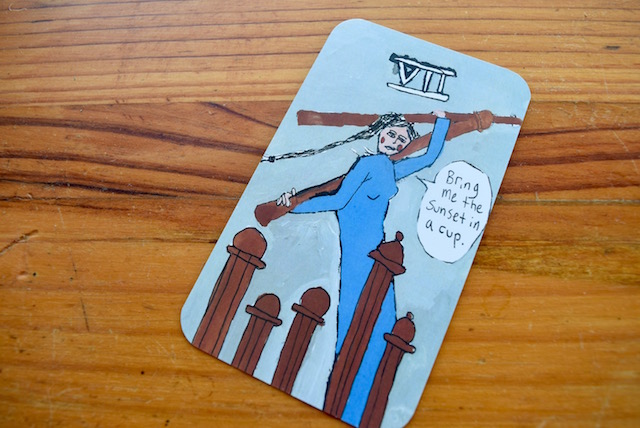 + And how about the Dark Goddess Tarot for feminine sorcery from around the world. Here are the storm-throwers, the ship-wreckers, the season-changers and the lightening-workers. It's educational, feminist and fun!
+ Tarot of the QTPOC. Asali Earthwork is critically reviewing decks that may or may not fit this category (including a much-needed response to the Ghetto Tarot.)
+ Spirit Cats. An oracle deck filled with the healing messages of 44 magical cats from the other side.
Queer Tarot Bloggers You'll Rate
+ Are you a queer tarot blogger? Drop a link in the comments so we can all have a squizz at your amazing work!
Creative Pursuits
+ Oracle decks as an alternative or addition to tarot.
+ Look look look at these wonderful grown-up fortune tellers! Pricey but nice. (I'd suggest you make your own.)
+ The Queer Tarot Project. A tarot deck made from all of our stories. Add yours!
+ How to make your own tarot or oracle deck.
Written in Stars
+ You've definitely seen Corina Dross' awesome monthly queer horoscopes (but just in case). Corina also has an amazing video course to teach you astrology. I was honoured to help Corina build her website, so I've seen the materials and this really is a quality course. Corina's teaching style is warm and intelligent. When I finally get around to learning astrology, this is gonna be my first stop.
+ Want to learn how to read your birth chart? Of course you do! Astro DIY is an accessible, free course created by queer youth activist Tabby Besley.
+ Chani Nicholas' weekly horoscopes are wonderful. Check out her lunar musings too.
+ You should also check out Siobhan's monthly Tarotscopes. (I'm a regular contributor!)
Witch Way
+ What is Chaos Magic?  Now you know.
+ You've seen Autostraddle's amazing Witch Hunt column, right? So much queer woo.
+ Do you have an altar? I'm collecting photos and anecdotes! Email a pic to beth at littleredtarot dot com with a few lines about what's on it and why!
+ Women of Power. An in-progress book by Katarzyna Majak featuring portraits of modern Polish witches.
Miscellaneous Treasure
+ You know how I got my Emily Dickinson Tarot? I traded for it in the Swap Shop forum on the Alternative Tarot Network. How neat is that? Yes of course we have a queer tarot forum too. If you so desire, you can sign up this week with the secret code FOOLS JOURNEY. See you inside!
+ The beautiful crystals many of us collect are often mined violently, which to my mind must have a powerful effect on their energetic properties. Fortunately Kacha Stones are here to bring you ethically-mined crystals from around the world.
+ Read a F*ing [Tarot] Book. Eight mini reviews from tarot lovers and learners.
+ You may have heard that pioneering tarot veteran Rachel Pollack was having treatment for Hodgkins Lymphoma – well, she's making a good recovery, hurrah!
+ Tarot cards that really really want you to care for yourself.
+ Are you in Australia? The Two Sides Tarot shop is now open!
---
PS – Want a (public-but-anonymous) tarot reading? I've reinstated the 'reader's reading' element of Fool's Journey. Send your dilemma to beth at autostraddle dot com.