25 years ago, Hattie Hasan was a teacher. Fed up with increasing bureaucracy and seeking a new challenge, she took stock of her passions – fixing things, water, and being a hero – and decided to give plumbing a go. What she didn't expect right away was the incredible demand for female tradespeople that she encountered, and her small plumbing business went from strength to strength.
16 years later, that demand showed no signs of diminishing, and Hattie embarked on her next challenge: to build an army of women plumbers to serve the UK — and beyond. She established Stopcocks Women Plumbers, the only national company of self-employed women plumbers in the world, with the aim of changing the way water is understood and managed. She went on to write The Joy of Plumbing, a book that is not only about water management, but about starting a business, being a woman in a male-dominated trade, and the joys of following your arrow.
In this insightful interview, Hattie shares her decades-long journey into self-employment: first as a sole trader, then as the CEO of a successful business offering training, admin and support to women plumbers throughout the UK. Her focus on the social justice aspects of water management led her to establish a clean water project in Meru, Kenya, again working with women to make water cleaner, safer and more sustainable.
---
55, West Yorkshire/Calder Valley, Pennines UK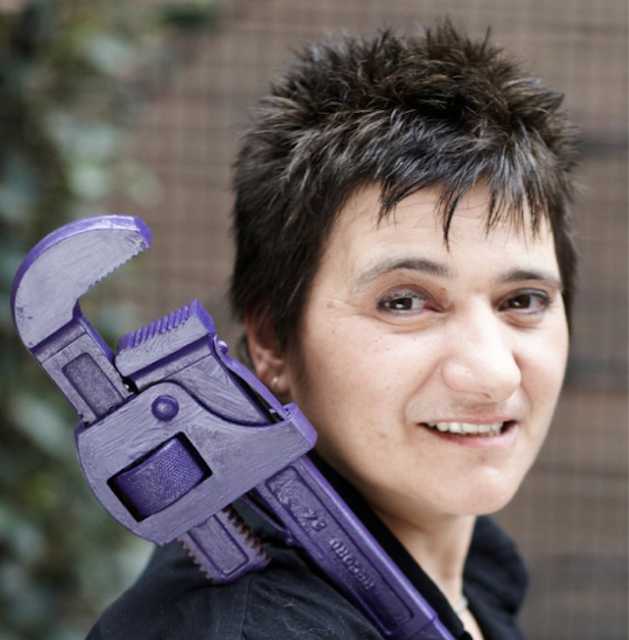 Hi Hattie! Can you describe your business/organisation in a paragraph? What's your mission? Who do you serve? What are your key products or services, how do you deliver them?
Stopcocks Women Plumbers is the only national company of self-employed female plumbers in the world. We operate a licence for female plumbers throughout the UK to work under our name and benefit from our reputation, very similar to a franchise.
We enable women to benefit from our popular and growing brand to work for themselves but not alone.
Our mission is to enable all the women and girls who want a career in construction to be able to do so, plus for all women and girls to see that they can work as whatever they want, even if that is not with us.
We take being role models very seriously. We serve the women who want careers as plumbers and in construction and female householders who are sick and tired of being patronized, let down and touched up by "traditional" (male) plumbers and construction workers. We provide great plumbing and exquisite customer service to all our customers (of all genders).
We support and mentor female plumbers, and now women in all skilled trades, to be the best they can be, we provide marketing and promotion, a phone and email answering service and we take payments so our plumbers don't have to.
To our customers we provide a brand they can trust.
Additionally we are collaborating with a growing group in Kenya to provide clean water through sustainable systems. This is a new strand of work that we are developing after our trip to Meru in Kenya last October/November, where we worked in collaboration with a Community Home to provide them with a simple, cheap, effective rainwater harvesting system.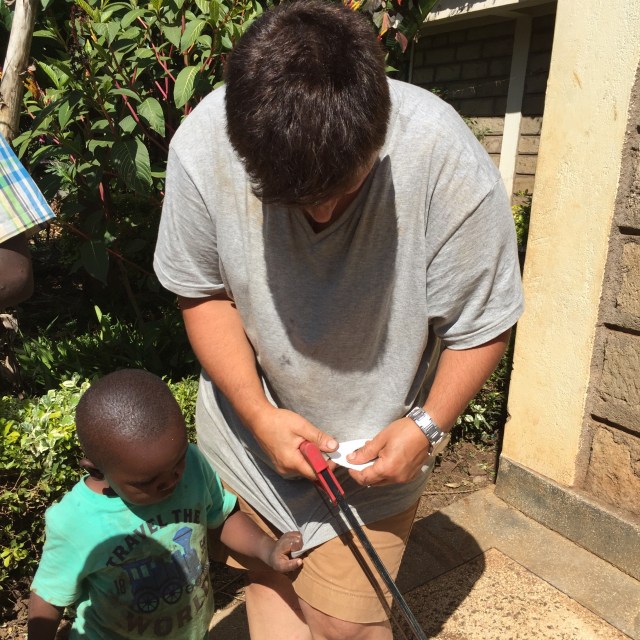 How would you describe your approach to business? What personal qualities inform your approach?
A big but practical planner. Often ahead of the game. Personal qualities? Determination, innovation, doing it like a girl.
What does a typical day look like for you? What is your workspace like?
There's no such thing as a typical day! Today, setting up automation to make our plumbers and tradeswomen's lives easier. Tomorrow, teaching our office manager to use it. Wednesday, traveling to London to look at a bathroom installation I'll complete as a piece of mentoring with one of our plumbers, if we get the contract (we probably will, as this guy saw his downstairs neighbor's bathroom we installed and called us). Thursday, completing a small job for a regular customer in London, putting finishing touches to some training in the new system to deliver to our plumbers. Friday, meeting with a publisher who's recently published a book, My Mummy is a Plumber. We connected with them via Twitter. Saturday, meeting with all except one of our nationally-based plumbers for a get-together and training in the new system at a Central London venue.
Workspace varies, a home office or wherever the work takes me. I often talk business and do planning from my car on long journeys.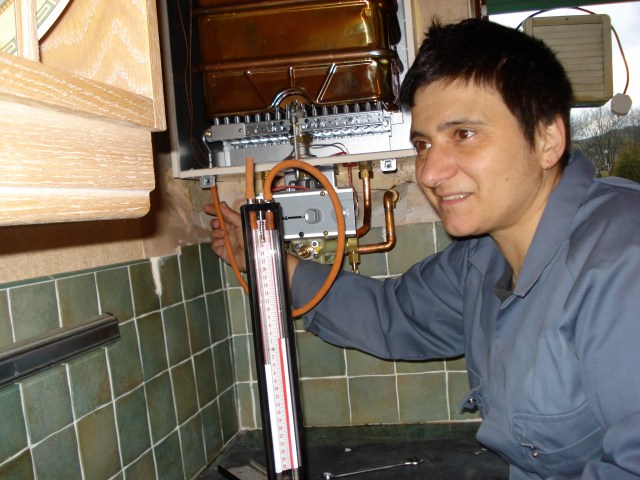 When did you know that this was what you wanted to do? And what were your early goals, your first steps?
I left teaching because the changes in the education system meant I was putting more energy into admin than into teaching children. I looked around at my life and what I love doing. Fixing things, being a hero, and my passion for water all took me towards plumbing. I didn't know I'd be setting up as a sole trader immediately; I thought I'd get a job, but after contacting every plumbing company in Leeds and getting not even a reply, I had to pay the bills so started working for myself straight away.
I bought some tools at the local second-hand market, a second-hand telephone answering machine (no mobiles then) and printed some flyers off at the library; then, I waited for the phone to ring.
Stopcocks Woman Plumber ("No mess and no messing") was born, and I didn't have to wait long for work. This was in 1990.
In 2006, I was at an entrepreneurs convention and was picked out to speak about my business. I committed in front of 250 entrepreneurs to build an army of women plumbers to change the way water is managed; since it is always women who are impacted by problems with water, whether that is waiting in all day for a plumber who never arrives here in UK or risking their lives, walking miles carrying water in the developing world.
Having said that, in front of all those people, I had to set about doing it. There have been mistakes along the way, because no one has ever done this before, but now we have women plumbers in Manchester, Oldham, London, Surrey, Cornwall and Bristol and we're taking on women in other skilled trades. We are strengthening our network in Kenya to return to complete more work and training there later this year.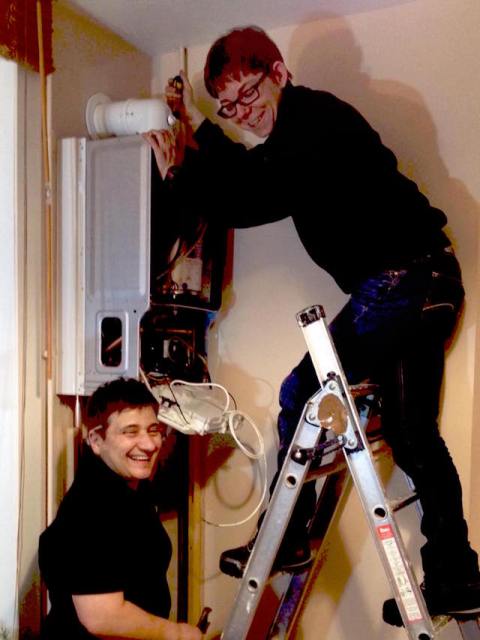 Why do you do this? What makes you spring out of bed in the morning? What's the best thing about the work you do?
Sometimes I wonder why I do this, it isn't easy; women in the skilled trades in construction represent less than one percent of all trades workers and there is massive opposition (and inertia) within the industry itself. There is no funding support and yet there is a popular belief that we must be a charity in receipt of funding (and therefore, a wage) if we're providing this service. That is not the case, we're a business. This work is not a priority to charity (or other) funders and anyhow, we don't want or need to be tied to anyone else's rules and agendas.
We are now in a position to show how our much quicker our licencees can make their businesses more profitable by joining us than on their own. So we're not just great at what we do, we can easily prove that.
When we speak to our plumbers and they say things like, "I would have been in the gutter if I hadn't found you" and we can see how someone who was really struggling is now happy in her life and work — she's blossoming, in fact, and making a great income, it makes it all worth while.
Then, our trip to Kenya last year was brilliant. We were so very well received there. We worked in collaboration with the community, creating a solution that women and girls there can replicate and maintain cheaply and easily. Each time we go back, we will be working in slightly different circumstances and will come up with a solution that is appropriate for that situation. Some places will need filters, some will need pumps, and some can harvest clean rain they can use immediately. We now have great links into the communities there so we can connect with places where our work fits with other empowerment projects, creating greater independence. So thats really exciting too.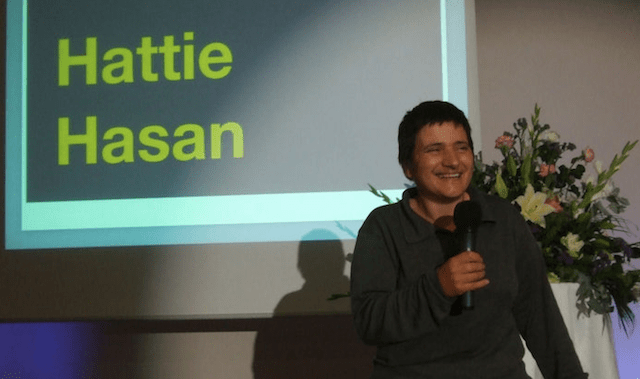 And the worst?
The worst? See above, being criticized because we charge users for what we do. There's a persistent belief that women shouldn't get paid a decent wage for their work and expertise, especially when their client group is other women. We dispute this. We do not believe that women are "charity cases." We all deserve to invest in our own futures and to receive a decent income.
What are the key challenges you face in your work? What are your tactics for overcoming these?
Luckily for us, our customers totally "get" what we're doing and why. There are plenty of customers who are just delighted to have the opportunity to employ a woman to do skilled trades work in their home.
Our key challenge is the lack of interest in the construction industry. They believe diversity is just "political correctness gone mad" and that it is preventing them from working. Many actively want to keep things as they are, with poor quality of work, zero customer service and they really really don't want women involved.
This actually goes for all under represented groups. We're only taking on the challenge of binary gender in this industry. There is a gay group too and groups working on race issues. Construction is incredibly old fashioned in its attitudes. We are taking this on and now working with one of the bigger construction organizations who are in the process of a massive consultation, which is their first step to tackle the lack of diversity. We're involving ourselves, which will bring us closer to other groups tackling diversity issues.
Many in the industry seem to believe that women having a stake and being involved will take something away from them. They seem to perceive powerful women as wanting/needing to take something (power?) away from them. Actually, it's just about us having the right to do it, do it our own way and to have happy customers.
Tactics? Strategic alliances, endless creativity about our approach, great support, not giving up. The long view, our wonderful plumbers and the great things customers say about them.
Continuing to grow our community of female plumbers and extending that to include women in any trade. Join us, we are expanding and constantly growing more skilled tradeswomen's businesses.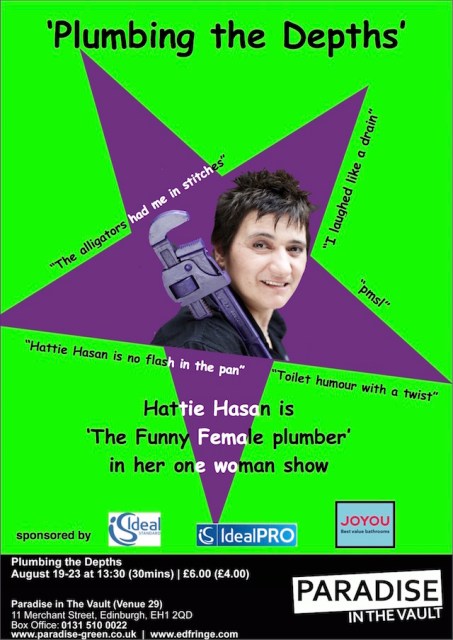 How do you approach time management?
I used to work all the time. Whenever anything came up, I did it. Now, I work 9-6 Mondays through Friday and on Saturdays if it's necessary. Before going to Kenya, this broke down as I had to make sure everything was able to run without me, so I worked all hours. While there, I started about 8 and worked till it was dark, 6:30 or 7:00.
Because we had a limited amount of time there and we had a big target we worked solidly till it was done and had time off at the end.
When I got back I had an operation on my foot and couldn't even leave my house for almost two weeks. I took a month off and am just getting back into it, so I effectively stopped a lot of my work activities that bring in money from mid October until January.
So I'm flexible about time management.
Now that we have licensed plumbers completing work and the business is operating effectively as a business, I don't just swap my time for money. I do that when interesting work comes along (whether that is plumbing I want to do or a mentoring project with one of our plumbers), but the business now also brings in a growing flow of money.
And what about work-life balance? Has your social life been impacted?
What's work-life balance? (laugh) Well my business partner is my life partner, so I get to see plenty of her, but there are issues for anyone when they work with a life partner.
Having a dog is an excellent way to maintain some balance as they simply have to be taken out every day, and the work in Kenya has added an excellent strand of satisfaction.
I genuinely believe in doing something you love so that you gain your pleasure from your work; then it doesn't feel like work.
I don't have my own kids, but socialize with friends and family who do.
Life is all about juggling, isn't it? It's never simple. We don't do 9-5, but if we do, that's when we do our work. If we're working towards a big project, we work more.
We're lucky we live in a beautiful place, so just going out for a walk is relatively easy.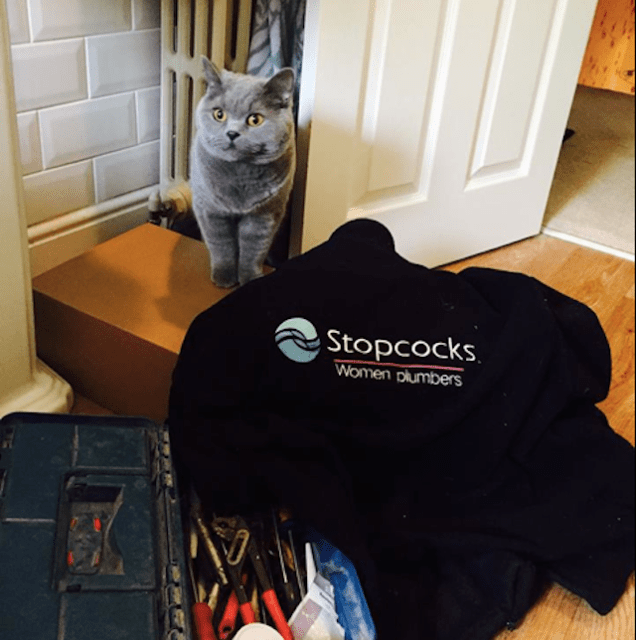 Can you tell us about your financial situation when you started out?
I've never had any financial help of any kind.
When I started working for myself it was because I needed to pay my bills and could not get a job as a plumber.
After a few years I was doing very nicely, thank you. I could work three days a week and have as many holidays as I wanted a year and I bought a house in a beautiful place with my partner. I even had savings as well.
When I began turning from employing myself to setting up a business, that gobbled up money and for a time it was hand to mouth.
As I invented the way the business would work, there were times of feast and famine and I really had to keep the faith.
There were times our plumbers earned considerably more than I did myself. This is very common for a new business as distinct from working for yourself. The responsibilities and outlay involved in running a business is something no one tells you about.
If I'd known, I doubt I would have done it; financial security is very important to me.
Now, we're back on an even keel, our plumbers are doing well and we have new systems that make all our incomes more predictable and of course, vitally, enough for a good quality of life.
Is your business sustainable now? And how do you feel about the money side of 'following your arrow'?
Yes, we're sustainable now; although, when we went national there was a longer time than I'd intended when I paid our bills by plumbing not my business.
It feels like we are now approaching a stable and smooth financial life after a very long hard track.
We chose to go into something that had never been done. This meant that we don't just have to be the best, we also have to explain our point of difference to some people.
Obstacles from within the industry and the women's community have made this path more rocky than we'd ever have imagined.
There have been times the arrow tumbled into a deep, stinking, thorny bog and following it was horrible and difficult because we couldn't see the way but we feel that we now have a straight run into good times.
Where would you like to see yourself in five, ten years' time?
In five years the business will run smoothly and other people will do most of the day to day work. We'll have lots of mentors and my involvement will mostly be strategic.
I'll be spending probably up to half the year in Kenya, training and supporting Water Women to create sustainable water systems for their homes and communities.
In ten years, the Water Women will be working throughout Africa and other countries in the developing world.
How do you market your business?
Mostly through our website, which has good Google rankings for our plumber pages. We have become pretty good at organic SEO, blogging and social media, especially Twitter and Facebook.
We also put ads for our plumbers in the A5 booklets that arrive free through people's doors.
Having a clear brand that makes people laugh is priceless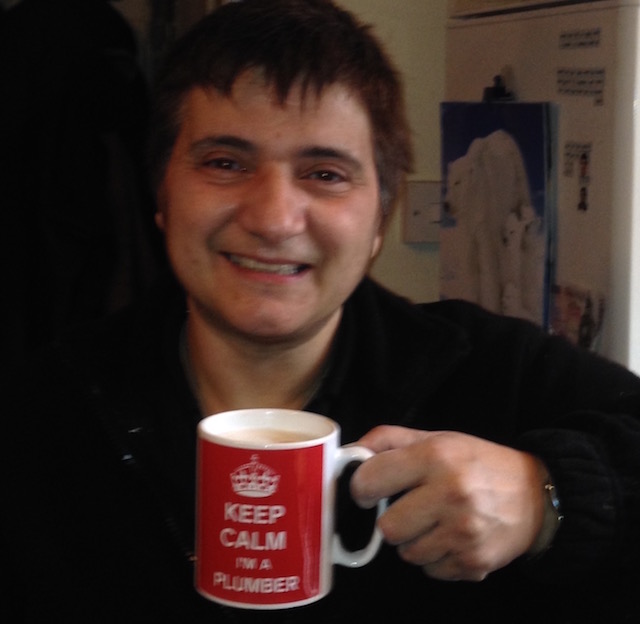 What's the most valuable tool in your kit?
Our brilliant brand.
How does being LGBTQ impact on your business (if at all)? Do you mention it, make a big deal out of it, hide it, not really think about it?
Not much. About half our plumbers are lesbian or bisexual, but that is by accident, not design. We think that women living outside the dominant box are probably more likely to also work outside of it.
Our end customers, householders are mostly but not all women and many are living with men. We also have single women, LGBTQ women and men as customers, though we don't ask and nor do they.
I think there's probably an assumption that a lot of our plumbers are butch. Some are, but some are butch straight.
What three websites, blogs, books or people do you rate for business advice or ideas about your work?
Books: The Joy of Plumbing, a Guide to Having The Life You Really, Really Want by Hattie Hasan. Become a Key Person of Influence by Daniel Priestley, on branding and becoming key in your own industry
Lynn Serafinn on blogging, Twitter and use of Social media for ethical (and effective) business marketing.
What's your hot tip for queer women who want to start their own business?
You need to be totally committed to and passionate about your business.
You don't need tons of money but you do need tons of determination.
Contrary to popular belief, it isn't just about the idea, you need a route to make it happen.
Just start.
Make sure you are surrounded by people who "get" what you're doing. These will probably not be people with jobs or traditional lives.
Pay yourself!
All this is as valid for working for yourself as a sole trader to running a business, but do be aware that these two things are as different from one another as having a job and working for yourself.
---
You can find out more about Stopcocks Women Plumbers at stopcocks.uk, and if you're interested in joining Hattie's army and becoming a plumber, check out this page! Read more about Hattie's journey in her book The Joy of Plumbing. You can also follow Stopcocks on Facebook, Twitter and YouTube.