Here's a frustrating cycle I go through about once a year: I decide it's time to stop with the drink-a-bottle-of-wine-and-hack-my-hair-off thing, make like a real adult and find a hairdresser who will make me look — at least vaguely — like I have my shit together. I make an appointment at some trendy salon and turn up full of hope excitement that I'm finally going to get the alternative lifestyle haircut of my dreams and announce my queerness to the world. One hour later I leave the joint a precious 50 quid lighter and feeling frumpy, crestfallen and misunderstood. So I head home, grab the wine and the scissors, and start hacking away at that expensive 'do until I feel a bit more like me again.
My guess is that at least, hmm, 75% of you will relate? So I'm ridiculously excited to introduce you to Klara Vanova, a London-based barber who serves the queer community with ridiculously stylish and affordable haircuts that make clients feel supported and understood. Her gender-neutral salon, Barberette, is a radical space indeed: it has the look and feel of a queer/DIY space, but is staffed by professional barbers who are passionate about giving you the haircut you actually want.
I took a trip to London last month, and my visit to Barberette was without doubt the highlight. After years of crushing hairdresser experiences, it was revolutionary to feel heard and understood in a hair salon. My barber, Rose, didn't try to 'feminise' my request, or hold back in the places where I wanted a really close shave. I was so happy with my do I wanted to freeze time so it would remain that way forever!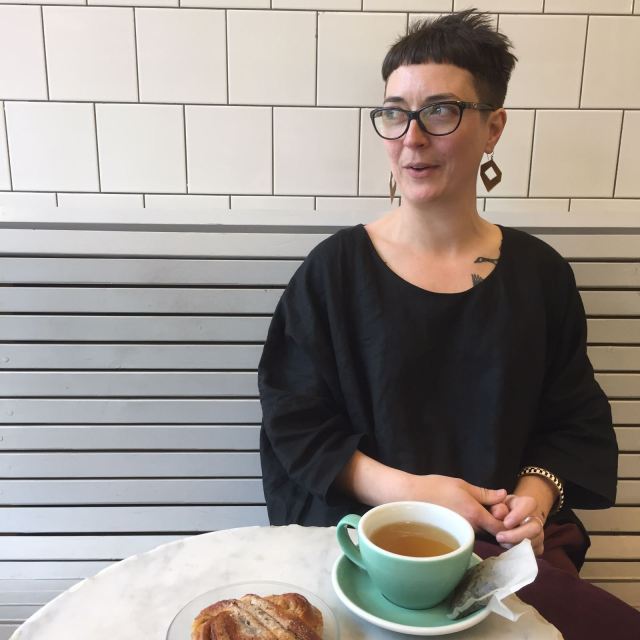 In this month's Follow Your Arrow, Klara shares the story of her gender-neutral barbershop business, how she made the leap from office-worker to sole-trader, and the importance of building trust in the community she serves.
---
Klara Vanova, barber and founder of Barberette
Age 37, London
Hi Klara! Can you introduce us to your business? What's your mission? Who do you serve?
At Barberette we offer distinctive hair styles, cuts, colours and cut-throat shaves, specialising in sharp, sculpted shapes. Our pricing is gender-neutral: we charge on the basis of the work we do for you, not on your gender. We cover everything from quiffs to long hair, pin ups, flat-tops to razor shaves, decorative clipper work to colouring. Most importantly, we give you the cut you want: we have no boundaries or pre-set ideas about what is best for you.
Barberette is constantly working to challenge sexist pricing structures and this attitude of some salons who impose their own stereotypical ideas of what their clients want. We actively campaign for change across mainstream media (including the BBC, Modern Barber and Marie Claire) and we are in discussion with national hairdressing organisations and educational establishments to ensure that people of all genders, races and sexualities be made welcome, safe, equal and listened to, side by side in salons.
Barberette also has an active role in the Hackney community running pop-ups and sponsored cuts and shaves for charities such as Indigo, Opening Doors, Stonewall, Scope, Little Princess Trust, Moorfields Eye Hospital, Kith and Kids, Breast Cancer Awareness and homeless charities.
How would you describe your approach to self-employment or business? What personal qualities inform your approach?
I follow my heart, instinct and passion. But behind everything it's hard work, organising, planning, trying to find the best way possible to achieve things. Also collaboration, guidance and lots and lots of time and dedication. Not only from me but the team behind Barberette — our barbers and colourist Mako and Rose, our social media person, plus creative partners and friends.
What does a typical day look like for you?
I work most days. When you have your own business, there is no 9-to-5. I cut hair four days a week, 10 hours in the shop and two days are admin, organising, guiding, planning. Some weeks more, some less, depending on our extra projects.
How about your workspace? Barberette is such a lovely space to visit! How did you find your premises?
I spent a year and a half renting a chair in a barbershop with Barberette ethos in Camden Town before I found (online) a little studio tucked away in a Hackney warehouse. The space is small in size but has a huge community impact.  We're surrounded by various artists, hat makers, fashion designers, photographers, theatre and holistic spaces, coffee makers, a gin distillery and lovely cafe.
It's also off-road which makes it a safe space for people who wanting more privacy or just a bit more quirkiness. I love the space because everyone contributes to how it looks by bringing flyers, artwork to exhibit (our exhibition changes every month), barbering tools as presents, painted portraits of us, you name it.
When did you know that this was what you wanted to do? And what were your early goals, your first steps?
I grew up under my mum's hairdressing legs. I loved the atmosphere, the smells, the community and the bond between the clients and their hairdressers. At the same time, I knew that it wouldn't be for me the way it was for her — very gendered. I wanted to focus on short hair whatever the gender. I remember thinking about it when I was young, but I thought it would be impossible. I remind myself of this when I feel exhausted nowadays: to never give up your dreams and what you believe in.
What's the best thing about the work you do?
Our clients' smiles, their happiness, hugs after the haircuts, the trust in us and the stories shared. The feeling I have such a wonderful team around me. And the feeling you get when you do a great haircut.
And the worst?
Paperwork, no question.
What are the key challenges you face in your work? What are your tactics for overcoming these?
The greatest challenge is time management. There is never enough time in a day. So many ideas, projects and plans… it's hard to make all of them happen. On a positive note, the beauty of having your own business is that there is always something new and exciting to do. Barberette is a life for me.
How do you approach time management?
Lots of notes, being very focused and regimented at work. I cannot say "I will do it tomorrow" because tomorrow there will be another task to complete. I think this makes a successful business owner: you have to be a doer.
And what about work-life balance? Has your social life been impacted?
I love what I do completely and my hobby is my business. I also have a wonderful and supportive girlfriend. But it didn't just happen overnight. Sometimes I say to myself that business is like a computer game: when you complete one level, the next one opens up and you have to gather all your strength and do it again. I love it. It gives me a purpose in life. When I worked in an office, as a foreign person in the UK, I always wanted to prove something to someone. Now I've found my peace. I'm grateful for every day.
Can you tell us about your financial situation when you started out?
I started small and grew the business organically step by step. It's a self-funded business and I'm very proud of that. I worked full-time in the office while renting a chair at weekends to build up my client base. After a while I worked part time in the office for three months. Then I had to jump, so I did. Risk is something that makes you appreciate your ability to push yourself harder.
Is your business sustainable now? How do you feel about the money side of 'following your arrow'?
Yes it is and I'm happy that it benefits everyone. I'm proud that all the team are paid more then the London living wage. For me it's important to look after and check on everyone's well being. From clients to the staff. I call myself the socialists-capitalist. It works.
Where would you like to see yourself in five, ten years' time?
Be healthy and working.
How do you market your business?
Word of mouth mostly. Which means we have to deliver 100% every single time. It keeps our skills up to scratch.
What's the most valuable tool in your kit?
My hands.
How does being LGBTQ impact on your business (if at all)?
Our LGBTQ clients are very faithful and supportive. I'm proud being a lesbian but mostly being a person. I wouldn't change it for anything. We are such a wonderful community.
What three websites, blogs, books or people do you rate for business advice or ideas about your work?
Lou Palmer from Sit Up Design is the back-bone behind much of Barberette, one of the most wonderful, humble and talented advisors/people I've ever met. Most of our graphic design and web work is from her. Haircut-wise, Mikey Henger.
What's your hot tip for queer women who want to start their own business?
Follow your dreams and don't give up.
Fancy a new look? Visit barberette.co.uk to find out more about Klara and her team, or get some gender-neutral hair inspiration on Instagram! You can also keep up with Barberette via Facebook.
---
Are you a queer-identified business owner? Or do you know someone who'd be perfect for Follow Your Arrow? Let me know by emailing beth at autostraddle dot com.