Find Your Fit is a style advice column helping real queer people find the masculine, butch, and tomboy styles that make them look and feel hot.
Todays' fit is for Karli!
Hi Mika,
Omg I need help. I work a construction job where I am onsite a lot but not on the tools. At the moment I wear jeans and a t-shirt with a pair of boots… but I have to meet big deal bosses/clients and I get the vibe I look too unprofessional. Basically I need help find a style that's both practical and hot.
I guess I'm more masculine presenting — definitely at work anyway. I'm into prints and soft pastels as well. I'm not USA-based but I shop a lot online so doesn't matter where it would be from.
Sizing I wear a medium on top and a medium/large on the bottom (got thigh/booty). I'm not into super tight clothes.
I could literally only find one full length photo of myself because I was forced to take it before I went to a wedding.
In terms of style icons I can could only say Antoni from QE, and Donald Glover… would be my dream look.
Much love from NZ
Karli

I'm so happy you're the first international FYF! I think we can definitely put together a practical look that brings in a little more of formality and intentionality and is also flexible enough to accommodate everything you want without losing comfort/practicality.
Casual Uniform

1 / Jacket
2 / Tee 
3 / Jeans
4 / Shoes 
5 / Sunglasses
6 / Watch
Inspo:
So something that worked out great with your two style icons is that Antoni actually has two distinct looks that can (sometimes) overlap in a nice way, and most definitely can cover your needs (especially for work). I'm going to start with this first look, which I think is the most classic casual one.
Styling:
For this fit you already have the most important element: denim. Antoni loves a tee/blue denim combo. During the first season of Queer Eye he wore it like an uniform, similar to how you've described you do at work. The key here is to learn how to style these simple pieces in a way that looks a little more intentional and less basic. A graphic tee is always a good way to go, because clearly it's basic but it has some design element that adds an extra dimension. I picked this one from Wildfang because it's pretty iconic and their tees tend to fit pretty nicely and not too tight. I picked some jeans from ASOS but if you already own a pair of jeans you like wear those; just make sure you stay in either the light or mid-wash blue range!
The next step is to accessorize. When you wear an outfit often or an outfit that is very simple, adding and rotating accessories is key to elevating the fit and keeping it fresh. You can do this a few different ways: if it's hot try adding jewelry, watches, bags or sunglasses. Pay particular attention to how you style your hair and the pieces — roll up the ankles, show socks or don't, tuck in the tee, roll the sleeves or don't roll them. Whichever you decide to do, just make sure you keep rotating it.
If it's colder, you can add in a jacket layer — this worker jacket will definitely fit with the outfit but because it's a little more fitted than, for example, a worker jacket from Carhartt, and the fabric is a little thinner to adds a raw edge to the fit without sacrificing that bit of sophistication.
Finally, switch up your boot for a sneaker. I picked these all-white Converse because they're classic, comfortable and very iconic and will definitely add a pop to the fit. But If you're a not a fan of Converse (or if white would get too dirty onsite), just think simple: get a one-color sneaker in a simple shape and something you can incorporate in multiple outfits. Think flexibility.
Monday Meeting

1 / Trousers
2 / Shirt
3 / Chain
4 / Loafers
5 / Sunglasses
6 / Watch
Inspo:
This fit is reflective of more Season 2 or red carpet Antoni. He still has the same style and classic look but he's made it more formal. Something that works well is that he loves a statement trouser and simple top, which I think will work great for you!
Styling:
The centerpiece of this fit is the trouser. I picked these stripe ones from ASOS because the fabric pattern is a statement itself, and this allows for incredible flexibility everywhere else. You can roll the ankles or not, you can wear this kind of pant with shirts or t-shirts, with sneakers or formal shoes.
I picked a simple viscose black shirt for the top. Make sure that you buy it one or two sizes bigger so it fits a little looser, and that way you avoid it shrinking after washing. If you roll the sleeves try closing all the buttons all the way to top. Antoni loves a mid-range chain and ASOS currently has a bunch of options that are pretty affordable. Try tucking the shirt out and rolling the ankles of the trousers.
When Antoni wears formal wear and even sometimes when he mixes up his denim with a more formal top, he loves a loafer, so that's what I picked for you. However, if that's not your preference of shoe, I'd recommend a simple black oxford. Clearly you can wear them with formal trousers but they also work great with jeans and shorts, so you'll have flexibility in that area, just make sure you get a more formal black shoe that isn't a sneaker or a boot!
TGIF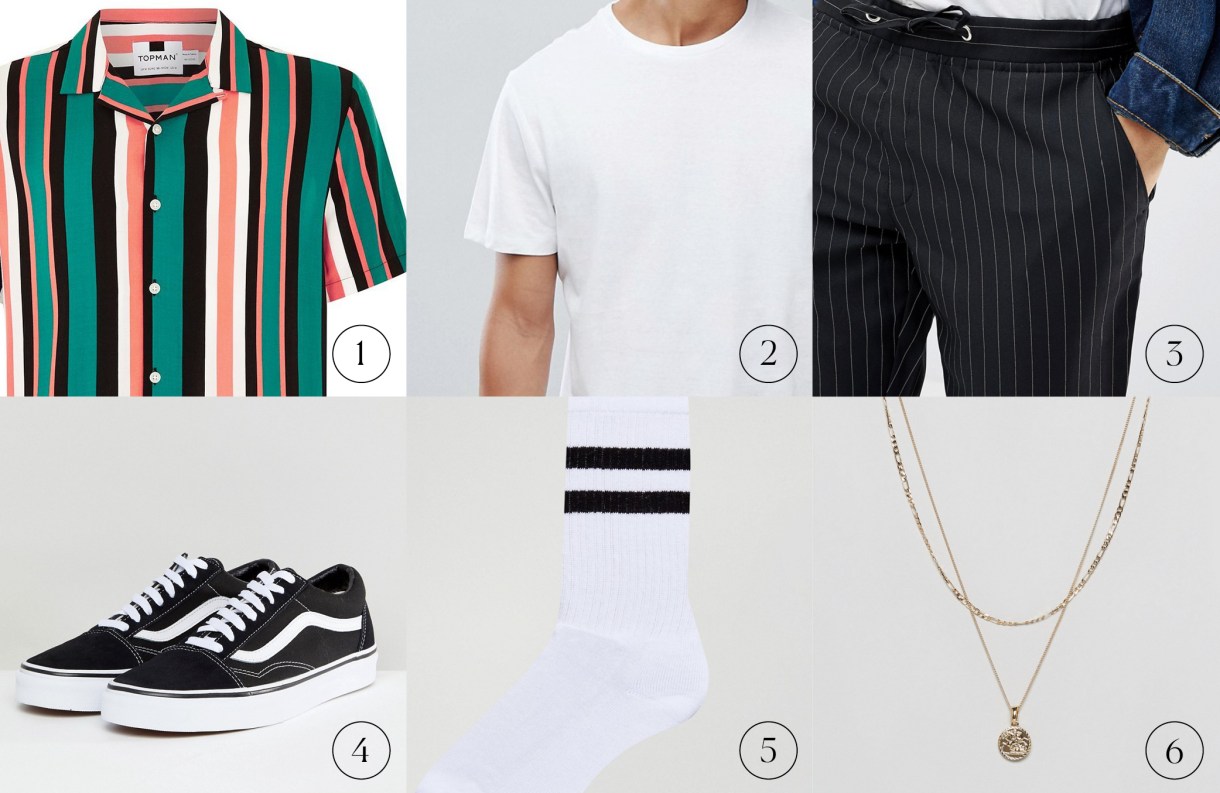 1 /  
2 / Tee 
3 / Pants 
4 / Vans
5 / Socks 
6 / Necklace 
Inspo:
Donald's style right now is one of my favorites in Hollywood; he mixes a lot of bold pieces and jewelry with a very clear 70s influence. Now what I wanna accomplish is borrow some of that (especially his use of color) but make it fit what I think you want, which includes a wardrobe in which every item can play with each other.
Styling:
This final look works as a great middle ground between the first two. It can be formal if you switch up your shoes from a sneaker to a dress shoe or a little bit of both, kinda how I did here.
The starting point for a fit like this is always the shirt. You can ditch the under tee if you want and just button it up, or you can wear it as an overshirt. If you do this, I picked this necklace from ASOS that should work great over a white or black tee. Play with tucking the tee and leaving the overshirt untucked.
I picked these trouser/pants from ASOS because even though they look like trousers, they should feel more like joggers. They're comfortable yet chic and sophisticated. Wear them with white or black socks or no socks at all if you wear a low cut shoe.
These three looks should give you a range of options from basics to combine with more standout centerpieces, and comfortable enough to do your job while also totally confident meeting clients.
---
For help finding your fit, write to mika [at] autostraddle [dot] com with a little about yourself, your personal style icons, and three or four selfies in your current favorite outfit(s)!