It is currently one thousand degrees in my apartment. I am aware that I chose to live in a desert and that comes with consequences but I'm still going to complain about it. I'm at "lying down and doing nothing but breathing still makes me sweaty and uncomfortable" level hot this week. This means my stove and oven and I are NOT friends. There is literally no one that I would ignite a flame for right now. I've been surviving on water and pre-made salads for the last few days cause even chopping is doing too much.
Then I remembered I needed to create the second installment of Femme Brûleé and almost panicked, but for fear of overheating chose to stay calm. I dragged myself into the kitchen and stared at the fruit on my counter wondering if I could get away with making an entire post about fruit salad, then thankfully realized I had a bunch of avocados that needed to be eaten. Usually when I end up with too many ripe avocados to eat before they go bad I make them into vegan chocolate pudding. I know, you might think that sounds gross, but hear me out! It's creamy and delicious and simple, and most people that I feed it to unwittingly have no idea that they are eating avocado. Seriously! Plus avocados are nature's most beautiful gift to mankind.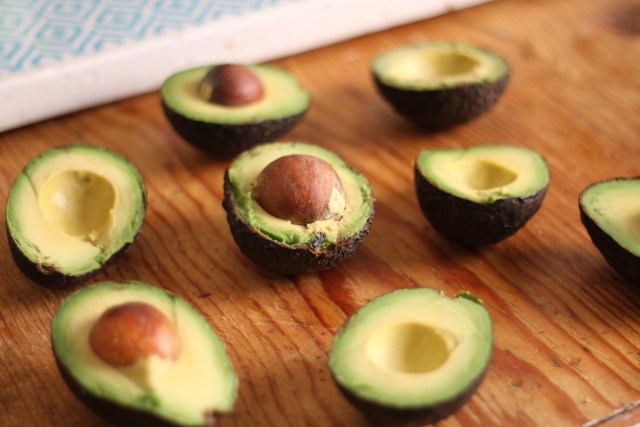 LOOK AT THEM
While assembling everything I needed to make the pudding, I saw raspberries in the fridge and graham crackers on the shelf and knew that this needed to be a no-bake icebox pie instead. Side note: I think icebox is way more fun to say than refrigerator, so that's what I'm going to say instead for the entirety of this post. Back to business, this pie is super easy to make. It requires no baking or cooking, takes 15 minutes or less to assemble, and all five of the non-vegan people I tested it on loved it and didn't guess that it was vegan or avocado based. I fed it to Mey Rude and her mom and Mey said "It's the best chocolate and raspberry thing I've ever eaten in my life." Given how bratty Mey is about all things, especially food, I think that's really all that needs to be said.
Vegan Icebox Pie
For the Crust:
2 cups honey graham cracker crumbs
1/2 cup coconut oil
1/2 cup brown sugar
1/2 Tbs cinnamon
pinch of salt
For the Filling:
1.5 pounds (680 grams) Avocado*
4 dates, soaked
1 banana
1 cup semisweet chocolate chips
3/4 cup cocoa powder
1/2 cup coconut milk
2-4 Tbs maple syrup
2 Tbs very strong coffee
2 tsp vanilla extract
pinch of salt
Topping:
3 pints raspberries
2 Tbs powdered sugar
Appliances:
Food processor
*Note: weight is for whole avocados, unpeeled with pit intact. Will be about 4 medium or 2 large avocados.
1. Place dates in a cup of hot water to soak and soften. Set aside. Next make a small amount of very strong coffee. Do not skip this step. I initially skipped it because despite knowing the coffee is what brings this whole thing together, it is so hot in my apartment that I thought I'd melt along with my chocolate chips if I dared to make a hot beverage. Then I got to the end of making this and it didn't taste right and I knew exactly why and had to make it anyway and I was VERY annoyed with me in the past for being lazy so just do it. If you're smarter than me and have cold brew concentrate, definitely use that.
2. Assemble the Crust: If using whole graham crackers (I used about 12) break them into pieces, place into the bowl of a food processor, and blend until you have fine crumbs. Next add coconut oil, cinnamon, and salt and pulse until combined.
3. Pour the crust into a 9-inch pie pan — OR if you're like me and get to this step and realize you left your pie plate at a friend's house last time you made pie but can't remember who or when and no one has told you that you forgot it because they're probably hoping you won't remember so they can keep it for themselves (side-eye), you can use a springform pan instead — and form the crust by pressing it into the pan with your hands or a measuring cup. Place the crust in the icebox.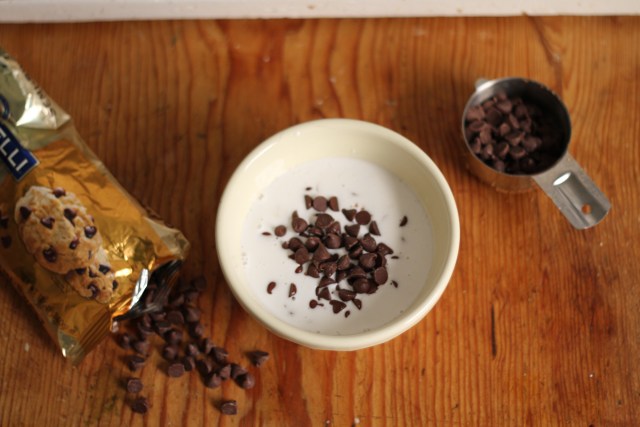 4. Next, make the filling! Pour the coconut milk into a microwave safe bowl (or a pan if you're not into microwaves) and heat for 30 seconds or until hot, but not simmering. Next, pour the chocolate chips into the bowl of hot milk and allow them to melt. This is the time to eat a handful of chocolate chips while you wait.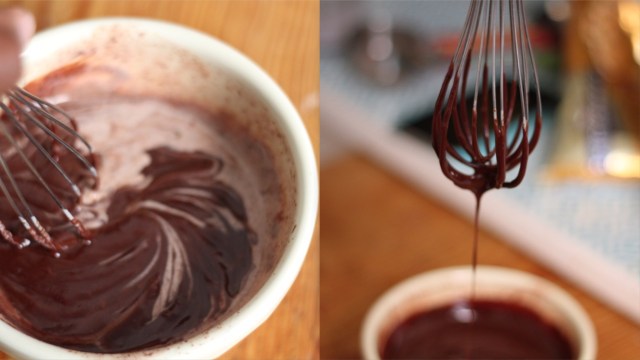 Once the chips are soft, whisk them into the milk until you've got a smooth chocolate sauce. I hope I don't have to tell you to lick the whisk once you're done.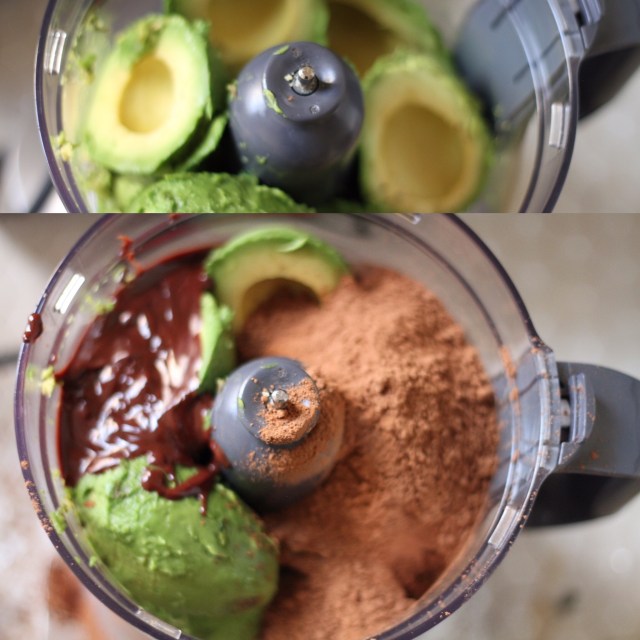 5. Halve, pit, and scoop out the gorgeous, silky, buttery, magical avocados and put them in the bowl of your food processor along with the banana, pitted soaked dates, chocolate sauce, cocoa powder, coffee, vanilla extract and salt. Blend until completely smooth and creamy, about two minutes, stopping halfway to scrape the sides of the bowl with a rubber spatula.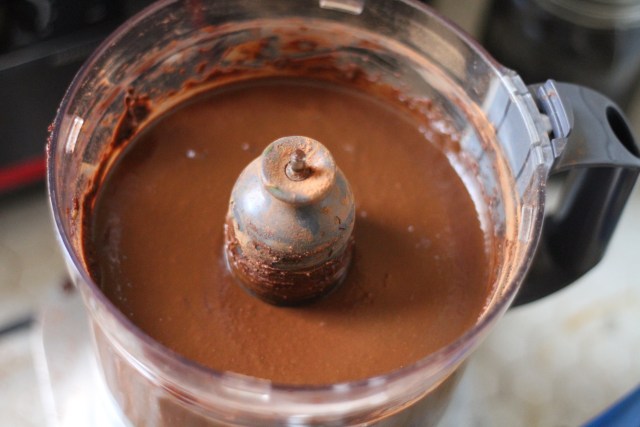 Now taste the filling and add maple syrup a tablespoon at a time until you hit your sweet spot. You'll know when you do because you'll want to keep "tasting" it and start licking everything clean. Clearly I totally support you in that but maybe don't lick the processor blades. I've been there, it's just not worth it.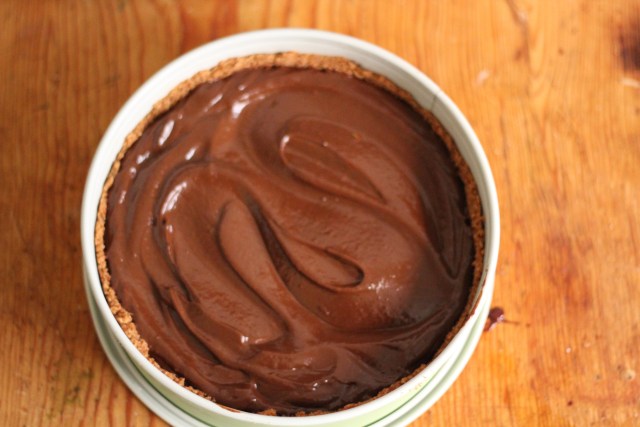 6. Take the pie crust out of the icebox and pour your "I can't believe it's not dairy and egg filled" chocolate filling in. Spread it into an even layer with a knife or rubber spatula, make cute swirls at the top if you're feeling fancy, then put it back in the icebox to set. Overnight is best but four hours minimum will work. If you're really impatient you can put it in the freezer for an hour but you don't get to blame me if it falls apart the second you try to cut into it.
7. Top the pie! You could totally eat the pie topless (Mey: "And bottomless" ) but it's SO good with the raspberries. Once you've waited patiently for the pie to cool and set while sweating profusely in your volcanic apartment and moved on from being insanely jealous that it got to spend the night in a refreshingly cool place that you're too big to fit into, wash the raspberries and pile them on top. Lastly, sift on some powdered sugar, wish for snow in July, then feed your gloriously cool and chocolatey icebox pie to your friends and enjoy the looks on their faces when you tell them what it's made of.