Today is Saint Patrick's Day and that is great! It is also my best friend Lizz's birthday and given that I'm not Irish it is my one and only reason for loving this day/holiday. I love birthdays, I love my best friends, and when the two combine I have a habit of going overboard (that is when proximity and my wallet allow). For Lizz's 17th birthday I not only decorated her locker and put her favorite drink from Starbucks inside it in a brand new shamrock-covered coffee mug, I also bought SEVENTEEN St Patrick's day themed birthday presents. They were small, and silly, but still. One of the gifts was a shamrock cake made out of cupcakes that I begged my mom to drive me to pick up at sunrise so I'd have time to get everything set up. When we left the store one of us put the cupcakes on top of the car while we loaded the other groceries she bought. She swore it was me, I of course insisted it was her, and it was over ten years ago so I'm gonna let it go in another ten. Anyway, we got to school, I grabbed my birthday haul, realized I couldn't find the cupcake cake and had a teenager tantrum fit for television. I assumed she had left the cake at the store and wanted to go back but she said there wasn't time. I started stomping up the stairs to the school, turned back to give one last evil eye I'm sure, and instead saw that the top of her car was covered in dots and smears of shamrock green frosting. It was honestly hysterical. I had an act to keep up though so I whipped back around and marched into the school to set up my now cake-less birthday surprise.
When I realized this post would fall on St Patrick's Day, I thought about this story and decided I wanted to bake a cake to make up for the one I lost to the highway all those years ago. Unfortunately, Lizz won't get to eat this one either because I live across the country now, but it's the thought that counts! I've also been on a serious Matcha kick lately because I become more of an LA stereotype every day. It's so delicious. I have it every morning with a little milk and it just seemed like making my morning matcha into cheesecake for the sake of my best friend and Saint Patrick was the right thing to do. Well I did it, and it was. The matcha and mint flavors blend seamlessly into the cream cheese. Given that mint and matcha are fresh, bright flavors, they also lighten the cake up. My least favorite thing about cheesecake is how heavy some of them can be; this does not have that problem. The filling is so soft and airy it basically melts in your mouth, leaving just a hint of lemony sunshine peeking through at the end of each bite. I used shortbread cookies (Trader Joe's Toasted Coconut Cookie Thins to be exact) instead of graham crackers for the crust, which really makes it taste like tea time in cake form. I can't wait to make this again in the summer and pile a mountain of berries on top. Or maybe add a dark chocolate layer or white chocolate swirl? The possibilities are as endless as my desire to eat this cheesecake every day. I hope you'll make it and tell me all about it!
One note of caution, this is a recipe that should be read carefully, planned and made ahead as there are ingredients that need to be brought to room temperature, and the whole cake needs to be chilled after baking and cooling. Okay, now happy baking!
P.S. Happy Birthday Lizz!!
Matcha Mint Cheesecake
For the crust:
9 oz shortbread, sugar, or any other buttery cookie
1/4 cup brown sugar
1/2 cup coconut oil OR 1 stick butter, melted
1/2 teaspoon salt
For the filling:
Three 8oz (so 24oz total) packages of cream cheese at room temperature
8oz plain greek yogurt at room temperature
3/4 cup granulated sugar
10 mint leaves, diced
1/4 teaspoon lemon zest
1/2 teaspoon salt
2 tablespoons matcha powder
3 eggs and 1 egg yolk at room temperature
Preheat oven to 350° F
Dump the cookies into the bowl of a food processor and pulse until you've got crumbs. Alternatively, you can go the stress relief route by putting them in a large ziploc bag and smashing them with a rolling pin. Either way, once the cookies are crumbled add in the oil (or butter), sugar, and salt and mix until it starts to clump together.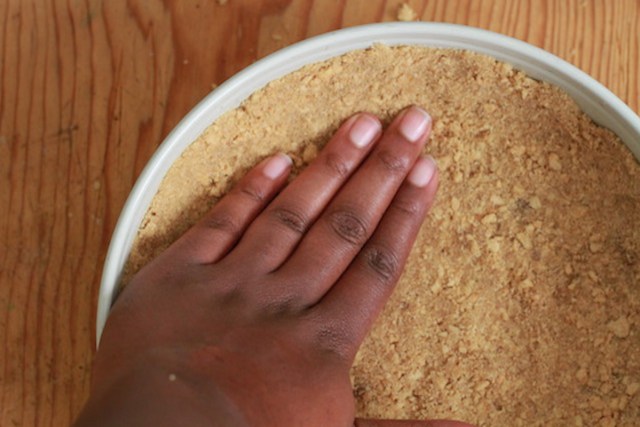 Pour the crust into a 9 inch springform pan and press it into the bottom and around the sides of the pan, keeping the thickness as even as possible. It's fine if the crust is taller in some places than others but you don't want the bottom to be super thin in some spots and an inch deep in others.

Next, place the crust in the oven and bake for 15 minutes, then set aside to cool.
Reduce the oven temperature to 300°F. If your oven doesn't have a digital thermometer I'd suggest you leave the door open for a bit to help it cool down. I'm giving this its own line because it is VERY IMPORTANT so please don't forget okay? Okay.

Grab a medium-sized bowl, pour the sugar, diced mint, and lemon zest in, and rub it all together until the oils release and you can smell the lemon and mint in the sugar. I'll call myself out because I know someone else will anyway: this picture is from another post. I forgot to take one this time but fortunately I'm so obsessed with rubbing things into sugar I had a backup!

Add the room temperature cream cheese, yogurt, salt, and your delicious-smelling sugar to a large bowl and beat until fluffy, about 4 minutes with a hand mixer, 8-10 minutes if whisking by hand (if this is you, can I feel your muscles?)  or 2 minutes with a stand mixer.

Next add the matcha powder, then blend in the eggs and egg yolk one at a time until everything is mixed really well. Be sure to scrape down the sides and bottom of the bowl to make sure no cream cheese was left out of the mixing process. You should now have a very smooth, adorable, light green filling in your bowl.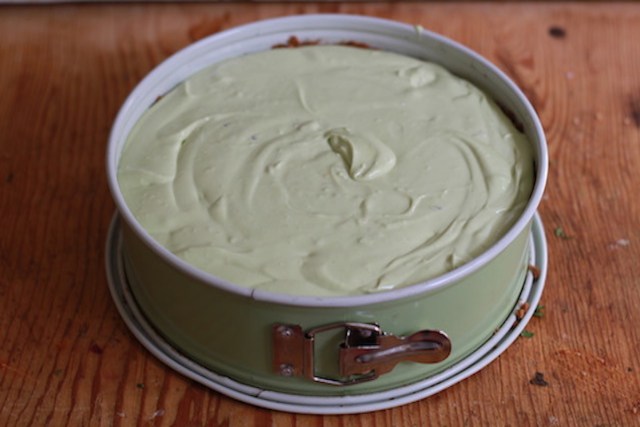 Pour the filling into your pre-baked crust and place it in the oven that is now 300°F because you definitely did not forget to lower the temperature after you baked the crust.

Set a timer for 60 minutes and go do something else. Do not under any circumstances open the oven door and disturb the cake. This is the cake's "me time." Once the timer goes off, turn off the oven and leave the cake for ten more minutes. Once the ten minute timer ends, open the oven door, leave it open, and let the cake cool in there for about 15 minutes. All of this is to prevent your cake from cracking. I didn't hear my ten minute timer go off because I was watching Jessica Jones and some very serious stuff was going down. By the time I remembered my cake had cracked. Just remember, distracted baking equals still delicious but less instagrammable baking.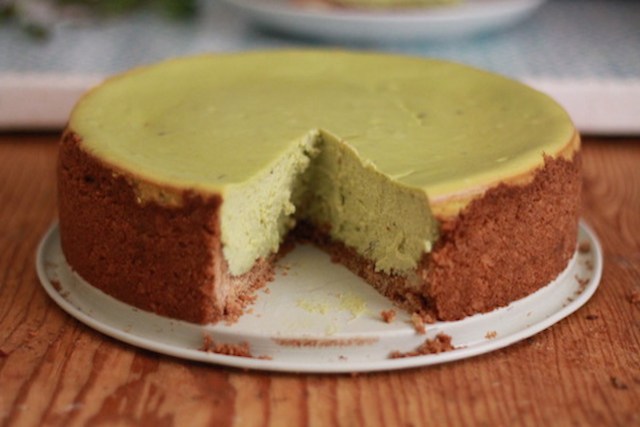 Let the cake cool completely to room temperature — this could take anywhere from 1-2 hours — then put in the fridge. It needs to chill for a minimum of 4 hours; 6 is better; overnight is best. The longer the cake has to cool, the better the texture will be when you cut into it. See how amazing that filling looks up there? That's because I left the cake alone! If you cut the cake without chilling, it will be very dense, not super flavorful and you'll need three glasses of water to get through it. If you wait, it will be silky and smooth and delicious and put you in danger of eating two pieces without realizing it happened.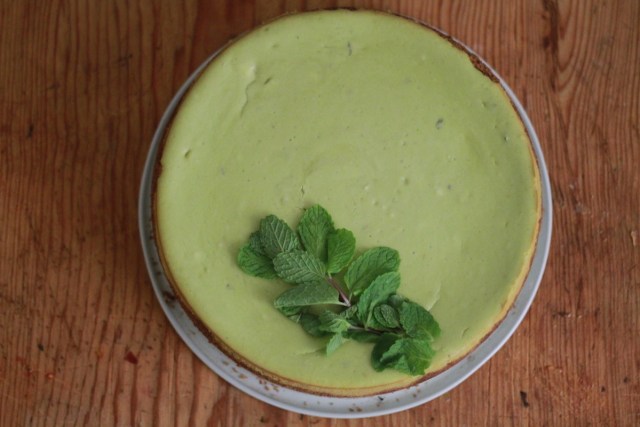 Good morning! You waited! I'm so proud of you! Now you can optionally garnish your cake with some mint leaves, which is an easy way to cover up any cracks, then it's time to get down. Eat your cake, take it bar hopping, share it with a leprechaun at the end of the rainbow, maybe deliver it to my best friend and sing her happy birthday? The world is yours!