It's stone fruit season here in the U.S. which means I've been very sticky lately. I never learned how to eat a perfectly ripe peach or plum or nectarine or any of their cute little rump shaped friends neatly. If I'm eating a peach, there will be juice running down my face and between my fingers leaving behind trails of goodness that I will absolutely lick with satisfaction at the end. A lot of people like watching me eat peaches. Even if I'm holding a napkin it ends up soaked through and somehow disintegrating but sticking to my fingers at the same time and I'm still a mess. I can't help it! I get so overwhelmed by the experience. Biting into the slightly acidic peel to release a flood of peachy floral nectar sweetness. I love the way the peach flesh feels on my lips and coats them with juice so I know if I kissed someone it would taste so good. Plus when I close my eyes, it smells like I'm in an orchard and the only thing that matters is eating as much fruit as I can handle.
I really love stone fruit season.
I also love preparing these fruits that are perfection on their own in slightly unexpected ways. Specifically, peaches are my favorite fruit to make sweet and savory desserts with. They pair so well with other flavors, especially earthy ones that have a floral hint to them, like for example the olive oil, thyme, and honey in this recipe. Since this is such a simple recipe, it's more about the quality of ingredients used so I'd suggest using the highest quality oil and honey you have access to. I used a yuzu (Asian citrus) infused olive oil in my preparation for this which if you can find I HIGHLY recommend (but any olive oil that's more on the light/floral/herby side of the spectrum will work wonderfully here ) and dandelion honey to really bring it home with layers of lightly floral summer flavors. Finished with a little sprinkle of sea salt, they're irresistible. The oil and honey drip into the grilled peach juices and pick up the slight char flavor from the grill so each bite is truly a journey. A playful and delicious journey that I hope you'll be taking very soon.
This is a great dessert for a hot summer date. For that I'd recommend some ice cream and if it's your style, an old fashioned on the side. Or, I'm always an advocate of just making it as a treat for yourself and eating it with your fingers standing over the sink like I just did. Either way I hope you eat as many peaches as your heart desires this summer.
Makes 4 servings.
Ingredients:
2 just ripe peaches, halved and pitted.
2 tablespoons yuzu infused olive oil
1/4 teaspoon chopped fresh thyme (plus 1 or 2 sprigs for garnish if desired)
2 tablespoons honey
1/4 teaspoon flaked sea salt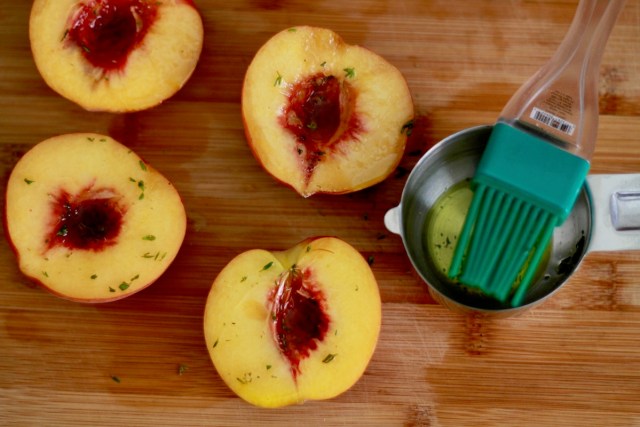 Preheat your grill or grill pan over medium heat. Combine 1/4 teaspoon fresh thyme and 1 tablespoon olive oil, then brush the mixture over the cut side of the halved peaches.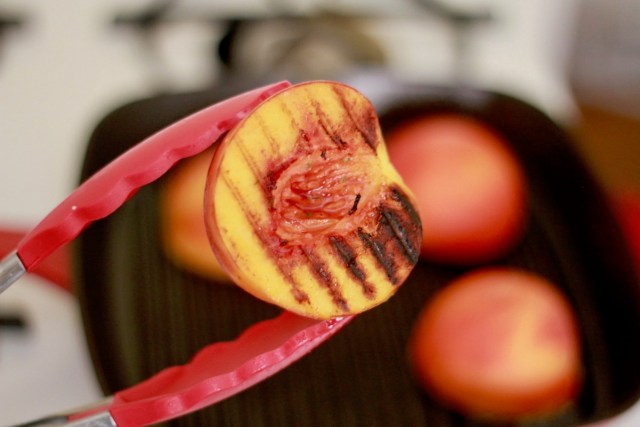 Grill peaches cut side down without moving until they've started to soften and grill marks appear. About 4 minutes.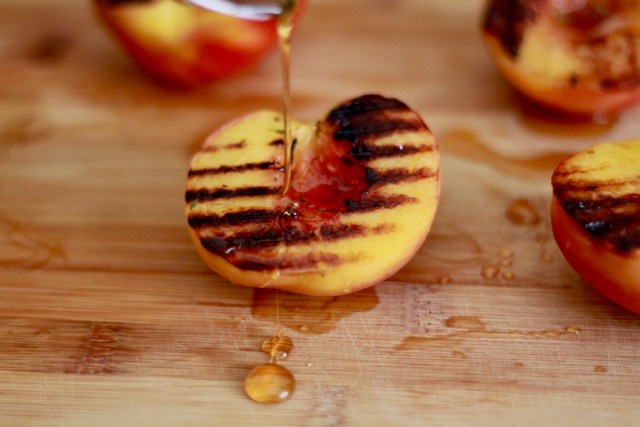 Remove from the heat and immediately drizzle with honey.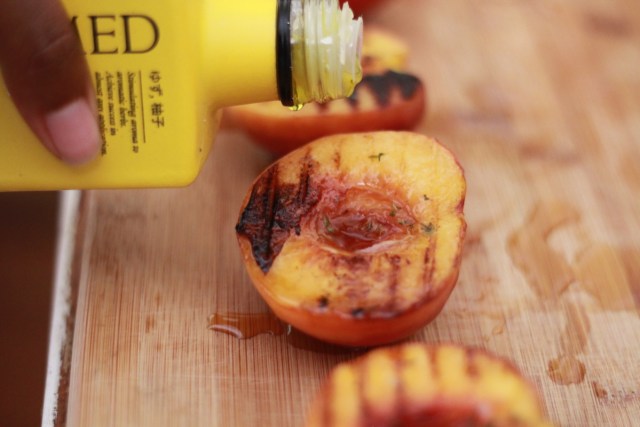 And the remaining olive oil.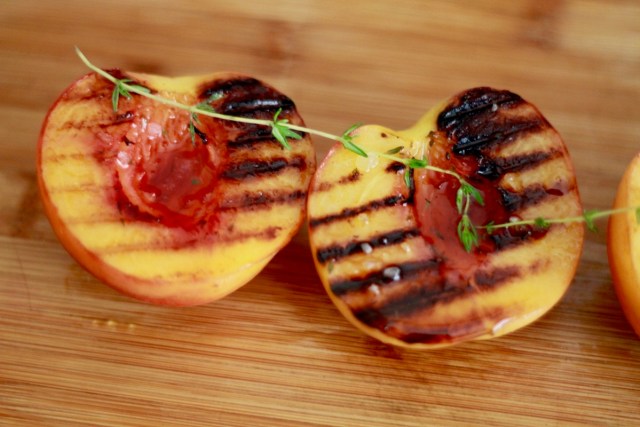 Then sprinkle each with a small pinch of sea salt, add thyme sprigs for garnish if using, and get messy!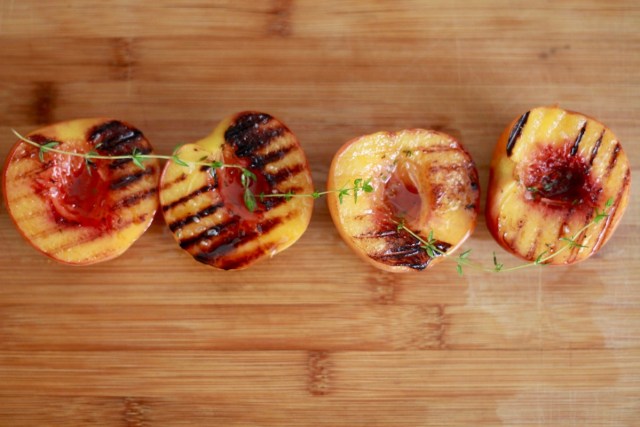 Happy stone fruit season!