Fantasy Island knows it's a primetime soap and that's what makes it work. It's ridiculous and overwrought and often problematic because people come to the island with a lifetime of baggage, hoping to satisfy their deepest desires and fulfill their secret dreams in 45 minutes, while also sharing every episode with another guest character trying to do the same thing. But also it's fun and diverting and even if the only good thing happening in the episode is Roselyn Sanchez popping up out of nowhere in various white suits against idyllic island backdrops, well, it's a nice break from reality. There's also a queer main character, Ruby, whomst I wrote about already, and last week's penultimate episode was also gay as all heck.
In "The Romance and the Bromance," our protagonist, Isabel, arrives on the island with a Rory Gilmore-sized backpack full of books talking about how she doesn't want to live in the real world because she prefers the world of Jane Austen and fictional author R.S. Coldwater. She wants to learn to say "yes!" to life. She hands over the R.S. Coldwater series to Ruby, who clocks the woman in full body armor on the cover and immediately discerns that Isabel, like herself, is a raging homosexual. Elena decides to send Isabel into the world of R.S. Colwater. Like into the actual past. Which is a little bit weird because Fantasy Island is about, you know, fantasies — and so it has seemed mostly like guests are getting in touch with the imaginary people trapped in their minds. Otherwise, Bellamy Young totally cannibalized her step-dad in the pilot!
Anyhoodle, Isabel arrives into R.S. Coldwater's lil castle mansion and immediately falls in love with his wife, Rachel, who's wearing trousers and a waistcoat and has ink all over her fingers. Isabel figures out immediately that she's actually the author of the Agnes books! But her husband is publishing them because only men can publish things in this era unless they are Jo March! Isabel and Rachel take their turns about the garden, lie together in the grass, make very erotic small talk about the Agnes books using a rose as a prop, eat their meals together, drink their little sherries, dance, and caress each other's faces and hair. And that's when Rachel's husband's publisher shows up demanding to know if he actually is writing these books, or if the rumors are true and his filthy wife if the true genius behind the bestsellers.
Hope is not lost, however, because Isabel is from the future! Where she had access to Wikipedia! So she lays all this grimy publisher's secrets bare and he agrees to keep publishing the books and also to clean up his act (at least financially)! Isabel and Rachel fall into bed to celebrate owning another stupid man, but when Isabel wakes up it's Elena who's there, reminding her she's actually on a weekend getaway in 2021 and not in the 1800s wooing a famous fantasy author. But hey — she learned to say yes, right? That's what she came on this vacation for!
Isabel is heartbroken when she returns to the real world, leaving Rachel behind. She wants to bring her back home, to her present day, but Ruby swoops in with her Blanche Deveraux accent and explains that if Rachel comes home with Isabel, she won't write the Agnes books in the 1800s, and so all the women who were turned gay by them will stay straight, etc. Isabel agrees that it's her responsibility to preserve generations of fictional lesbian angst, and says goodbye to R.S. Coldwater.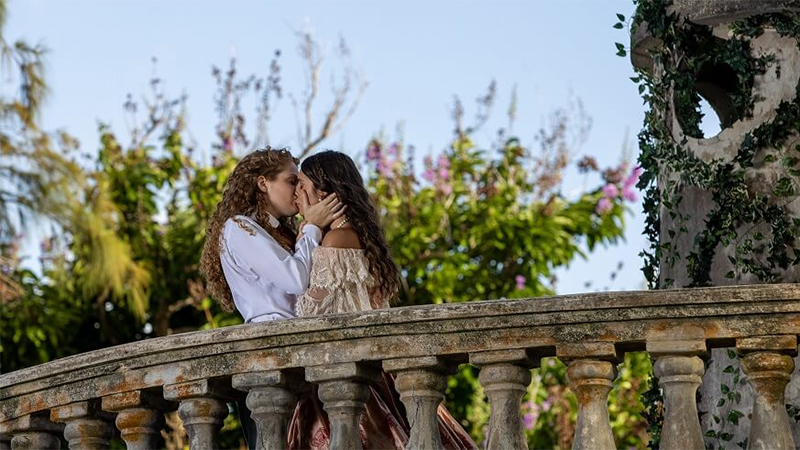 But then! At the last minute! Because she, too, is a hopeless romantic, Elena lets Isabel return to the past to live out her days with her favorite author. (I find it best not to ask any complicated questions about time travel ethics and just enjoy the fan fic.)
"The Romance and the Bromance" isn't some artistic masterpiece, but it's very lighthearted and lovely and gay and that's exactly what I'm looking for in my stories right now.