HAPPY MONDAY HOMOS, guess what, I have some great news for everyone who loved the Drew Barrymore / Aubrey Plaza / mommy / baby clip that went viral at the end of last year (aka everyone with a pulse!!!). Shelli brought to our attention in this perfect write up and breakdown in December, thank the goddess. If you missed it, here's the most important thing you need to know: Aubrey called Drew her mommi, and Drew completely played along. It's really worth watching, so if you haven't seen it, I strongly recommend you take 36 seconds of your life to go check it out!
So okay, what's the great news today? Our favorite talk show host — that would be Mommy Drew Barrymore, noted 90s bisexual — is at it again!
I was happily going about my day, minding my own business and scrolling Instagram stories while I took a bathroom break (as one does) when suddenly my jaw hit the floor as this incredible and lightly unhinged clip started to play on my phone:
.@DrewBarrymore and @nlyonne are proud parents to Aubrey Plaza 😂 pic.twitter.com/ghe9mOdsZG

— The Drew Barrymore Show (@DrewBarrymoreTV) January 30, 2023
Drew Barrymore is interviewing Natasha Lyonne, the two of them each looking fucking hot as hell in very different outfits but equally alluring outfits, and at the very top of the clip Drew says, "You were with my baby. Aubrey Plaza is my baby now, and I'm her mommy." It's a clear throwback to her segment with Aubrey Plaza, and it's beautiful. But the duo don't stop there. The audience cheers wildly, I almost dropped my phone before passing out, and then, not to be outdone, Natasha smiles and says, "But but but, I'm the daddy."
Drew is delighted and plays along immediately, exclaiming, "Are you the daddy?!" She then slides off her chair with ease, slides across the studio floor on her knees with her arms out to Natasha and asks, "Did we make a baby?!"
The two embrace, and it's impossible not to just die on the spot. I mean okay maybe you are fine, but I do feel as though I am personally being bullied by Drew Barrymore and Natasha Lyonne in this moment and frankly, I love that for me!!!!
Not to be left out of the fun, Aubrey hopped onto Drew's Instagram and posted two very important comments, one right after the other. Mama. Dada. IT'S FINE, I'M FINE.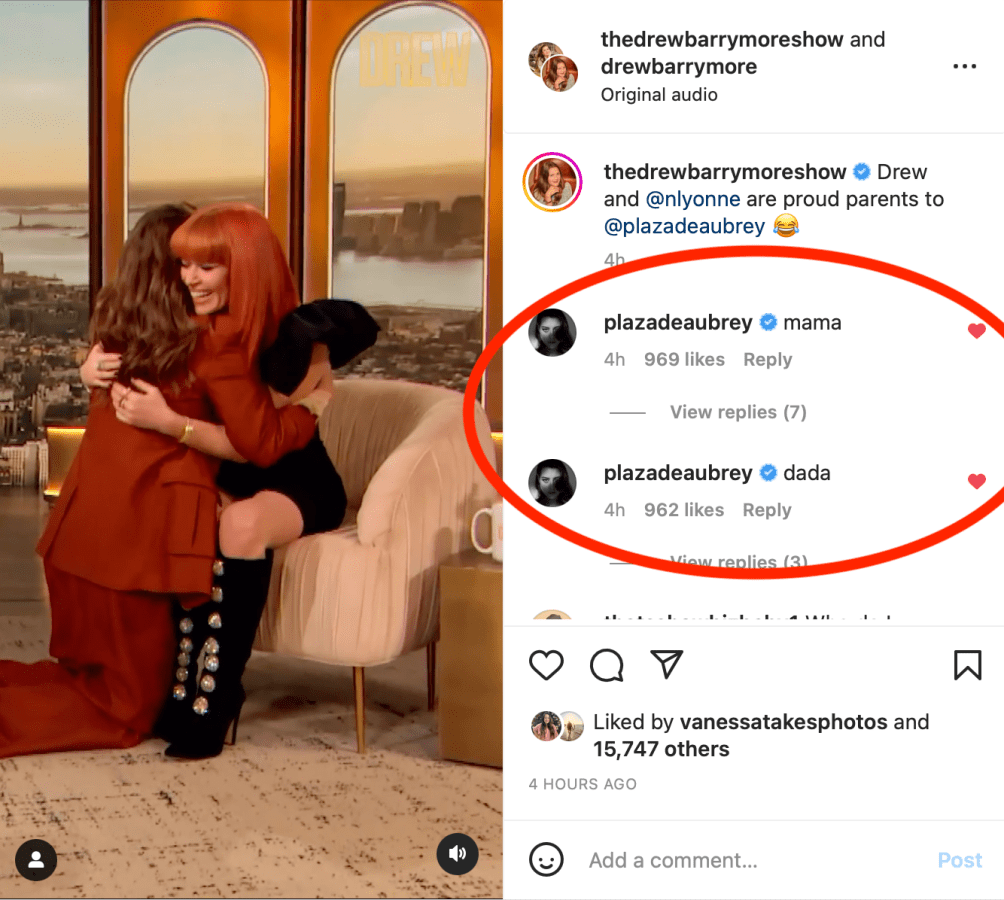 The clip is only 42 seconds long, and I had no idea I could have my life ruined in such a short amount of time, but it's cool to know we can still learn new things about ourselves all the time!!! Drew and Natasha conclude by gushing over Aubrey, their "baby," with Drew cooing "Isn't our daughter doing so well?" and Natasha responding "She's thriving, I'm so proud of her!" Then they both say, "She did such a good job," a couple of times, and well anyway, I am a ghost, I am dead, goodbye, I'll miss you all, what a way to go!!!
Is Drew pandering to a very specific kind of dyke (me)? Is she catering to anyone/everyone in a mommy/baby dynamic? Is this a joke straight people understand or is she literally just doing it for the gays? I don't know! I don't care! I have watched this clip 50+ times at this point and I shan't be stopping anytime soon. Mazel tov to Aubrey Plaza's proud mama and dada, Drew Barrymore and Natasha Lyonne — I'm so happy for your family, I love you all, and I am forever grateful for this gift!!!