Actress Maria Bello was this week's New York Times "Modern Love" columnist, and what she had to share about her family came as a relative surprise to most of the universe — the renowned actress and activist is in a long-term relationship with her best friend, social activist Clare Munn.
In the Modern Love piece, entitled "Coming Out as a Modern Family," Bello recalls a transformative experience looking through her old journals, reading "passages rife with pain and angst" about her past relationships — one of which was with another woman. Bello realized that "it seemed when I was physically attracted to someone, I would put them in the box of being my "soul mate" and then be crushed when things didn't turn out as I had hoped." She recalled disastrous relationships with men she'd met on film sets and contrasted these fallouts with the happiness and comfort exuded in a picture she came across of her and Clare from a recent New Year's Eve. Suddenly, things began falling into place:
We had an immediate connection but didn't think of it as romantic or sexual. She was one of the most beautiful, charming, brilliant and funny people I had ever met, but it didn't occur to me, until that soul-searching moment in my garden, that we could perhaps choose to love each other romantically.

What had I been waiting for all of these years? She is the person I like being with the most, the one with whom I am most myself.

The next time I saw her, in New York, I shared my confusing feelings, and we began the long, painful, wonderful process of trying to figure out what our relationship was supposed to be.
Bello details coming out to her son (it went well) and to her "large, Italian-Polish, "traditional" Philadelphia family (they approved) and the difficulty of defining the roles any of the people she considers "family" play in her life — like her son's father, TV Executive Dan McDermott, who "will always be my partner because we share Jack," and her ex Bryan, who she says "remains my partner because we share our activism." She recalls that this past summer, while very ill, "the people who were at my bedside every day at the hospital were many of my life partners: my mother, Jackson, Dan, my brother Chris and Clare." It's a really touching and well-written piece that reflects a more fluid and evolving family structure than we usually have a chance to see in the media.
46-year-old Maria Bello was born in Pennsylvania to a Polish-American mother and Italian-American father, and was a Political Science major at Villanova planning on becoming a lawyer when she took an acting class and got hooked. Bello started out in off-Broadway plays, and gradually worked her way onto television shows like Misery Loves Company and Due South, eventually snagging a spot on the cast of E.R. as Dr. Anna Del Amico. She has since done commercial movies like Coyote Ugly and The Mummy: Tomb of the Dragon Empire, but has received the most acclaim (and Golden Globe nods) for her work in indie-ish films like The Cooler and A History of Violence. She recently played the lead role in the TV series Prime Suspect and Grace Dover in the film Prisoners.
Bello is also a dedicated activist, founding WE ADVANCE in 2010 in the aftermath of the Haiti Earthquake, a "women's rights-based, grassroots movement." WE ADVANCE focuses on "capacity building for women throughout the country" by providing a health clinic, education and empowerment programs, and advocating for women in local, national and international levels.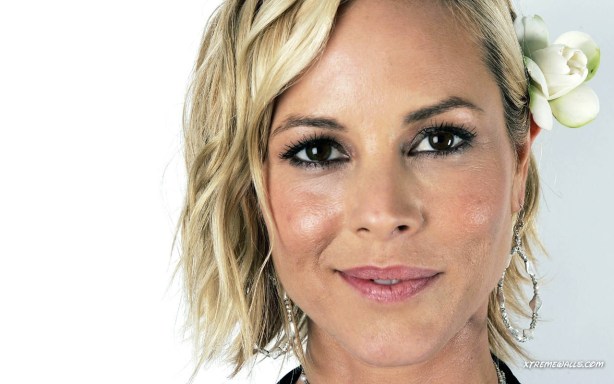 Today, on her blog, Bello posted a photograph of the published article, with the following message:
After a love packed three days on the east coast with my beloved; modern family, extended family and dearest friends, I am now returning home filled to the brim. As I fly out of JFK I am reading the article I wrote in today's New York Times section, Modern Love, and I am so happy I wrote this and so grateful to all the people worldwide who have sent in 100s and 100s of beautiful tweets or posts about it. Thank you. May we all learn to live and love our truth. Fully and graciously.