Photos via Getty Images 
The Family Equality Council held its 11th annual awards dinner this past Saturday at the Beverly Hilton in LA. The Family Equality Council are the people who you don't see on TV, but are listed on every amicus brief dealing with the rights of LGBTQ families. They connect families who are struggling with adoption, marriage or health rights so that they have a support network. Additionally, they do LGBTQ family advocacy work on local, state and federal levels all over the country. Each year they honor people, companies and groups who have done successful work that moves the LGBTQ rights movement forward.
This year the LA Awards kicked off with a musical set by the always fabulous Sandra Bernhard that led right into an equally amazing stand up set. Sandra was the sequined-covered, and almost politically incorrect, host for a night of disco and graham crackers.
The night's honorees included Honey Maid, who not only made a national commercial featuring a family with two dads, but responded to the criticism with another commercial about love. The couple featured in the commercial even stopped by to tell the story and present the award to Honey Maid representatives Lauren Jacobsen and Jonathan Mekeel.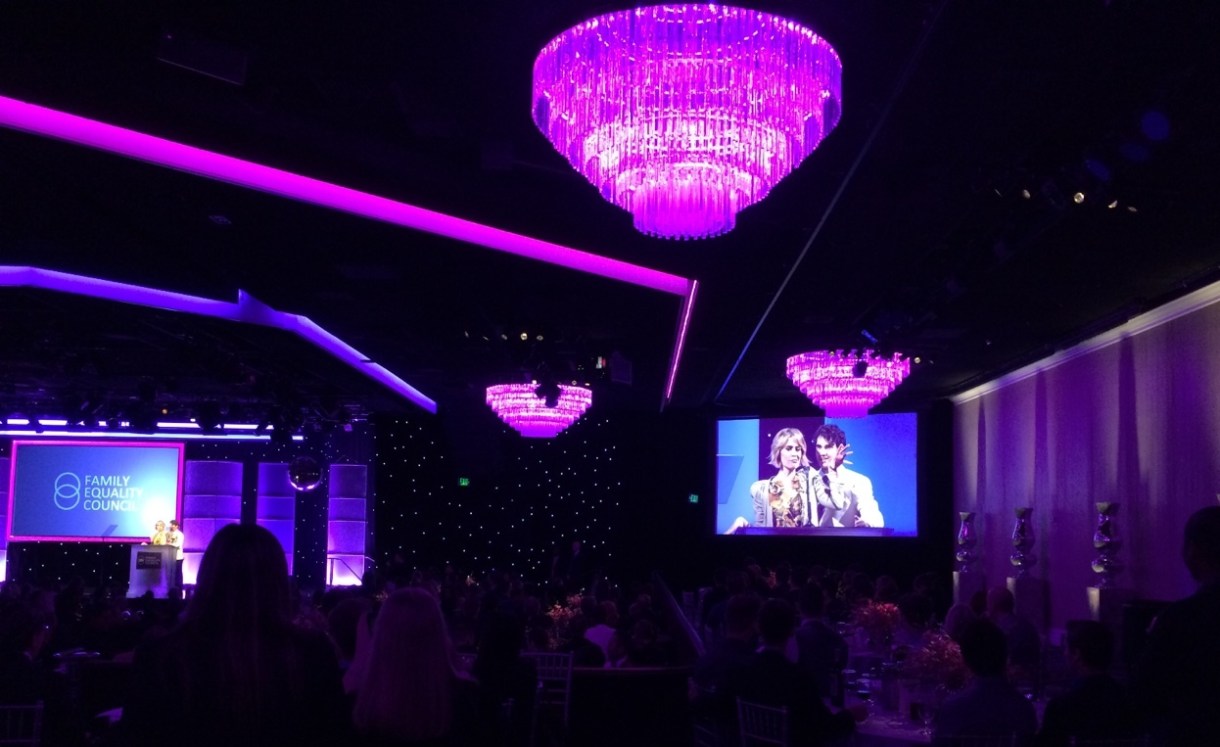 Also honored were Modern Family and Glee. Both shows were honored for moving the social acceptance of LGBTQ people forward by writing interesting characters that have relatable experiences. Modern Family's co-creator Steve Levitan and producer Jeffrey Richman were on hand to crack jokes about being single gay men standing up for the rights of LGBTQ people to have families, and about how the award bowls look like vaginas. It was a funny, silly and really supportive set of acceptance speeches that left the crowd in stiches. Ryan Murphy was on hand to accept on behalf of Glee and spoke about executives in the early days of his career that sent him notes asking him to tone down the gay characters he had created. He followed that up by saying, "And I'm happy to say that the executives who gave me those notes are no longer employed." He proceeded to thank "a new breed" of executives like Dana Walden and Joe Earley for encouraging the creation and inclusion of LGBTQ characters.
Rounding out the honoree pool was Houston Mayor Annise Parker. She has worked on everything from getting curbside recycling at every Houston home, to getting a LGBT non-discrimination ordinance passed, all while raising three kids with her wife Kathy Hubbard. In her third term as mayor, she is continuing her work in the communities under her purview as well as doing work on the national stage to ensure the rights of all families. She is the only person in the history of Houston to be a controller, council member and mayor. Videos from her partner and children gave the entire audience reasons to smile.
The night also included several show stopping performances by disco star Maxine Nightingale, Cheyenne Jackson (seriously, his cover of "A Change Is Gonna Come" is a revelation) and of course, the cast of Glee. Alex Newell blew the roof off of the Beverly Hilton and was joined by Becca Tobin, Chord Overstreet, Jenna Ushkowitz, Darren Criss, Harry Shum and Lea Michele. They covered Destiny's Child as well as a bitter sweet rendition of Glee's signature "Don't Stop Believing." I think the whole crowd got a bit misty eyed when Chord sang what was originally Corey Monteith's verse.
Spotted in the crowd getting down were Patti Lupone, Lance Bass, Lisa Vanderpump, Wilson Cruz, Alec Mapa and JJ Toah aka Myron on Glee (FYI, he is a perfect angel baby who loves Gaga and totally sang Miley Cyrus with me).
All in all the Family Equality Council threw a fabulous shindig that honored the different ways in which people are fighting for LGBTQ equality. Plus, they had an excellent dessert selection.