So a few of y'all commented on Laura's STEM gift guide for kiddos and said, "but what about STEM ladies and such who are big kids now?" Adult STEM queers, rejoice! Here's how to inject a little science, technology, engineering and maths into your holiday gift giving this year. If you've got a STEM person on your list (or hey, someone who wants to transition into a STEM field), here are some toys, clothes and games for the big kids.
---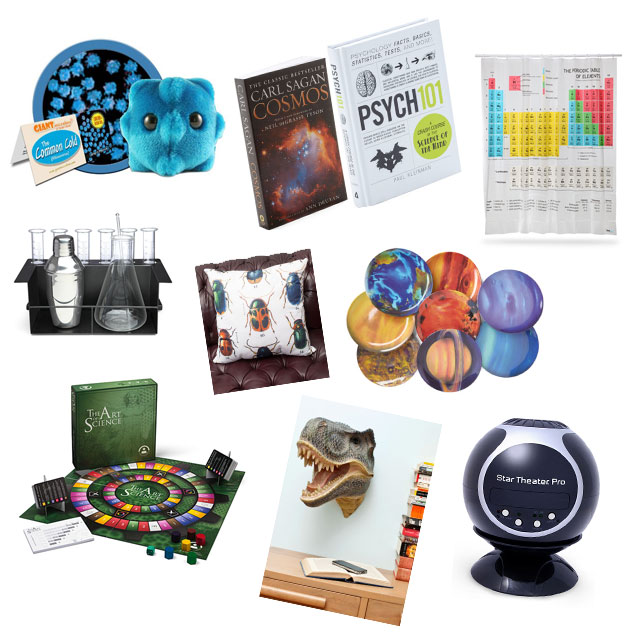 Science
Giant Microbe: Common Cold, $9. That little guy is p. cute.
Cosmos by Carl Sagan, $15. Just the first gift suggestion in a long line of gift suggestions that illustrates my bias toward space.
Psych 101 by Paul Kleinmen, $16. For the person who's a bit curious about the inside of our heads.
Periodic Table Shower Curtain, $30. Behind the curtain, we have H2O. <–I'm so funny.
Chemist's Cocktail Kit, $30. Combining all my loves and interests, really. This is also probably true of you and yours.
Let It Beetle Pillow, $35. I see you, biologists. I didn't forget you.
When The Planets A-Dine Plate Set, $45. Doesn't include Pluto :0(
The Art of Science Advanced Trivia Game, $50. It's basically all the hardest categories in Trivial Pursuit.
Dinosaur Wall Art, $80. And for the paleontologists in the crowd!
Star Theater Home Planetarium, $120. Lives in a light polluted area? Is a space nerd? No problem!
---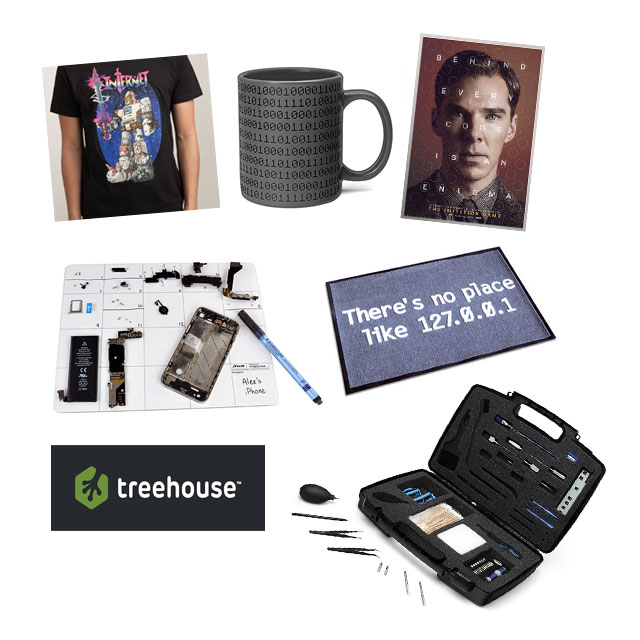 Technology
Internet shirt, $12. The internet is made of cats. Also comes in a variety of other clothing types/art prints/iPhone cases.
Hot Binary Mug, $12. The binary for "hot" appears when you pour hot liquid in it. Great for both early morning and late night coding. And during the day. We have coffee at all hours, let's be real.
Tickets to The Imitation Game, price varies depending on location. It opened on November 28th (yesterday). It stars Benedict Cumberbatch as Alan Turing, so basically it is everything.
Magnetic Project Mat, $20. Keeps screws and such from rolling about, super helpful for anyone building their own computer.
There's No Place Like 127.0.0.1 Door Mat, $60. So people know what they're getting into before they even come in.
Three Month Subscription to Treehouse, $75. Treehouse is probably the best tool out there for teaching yourself coding. This makes a really cool "oh shit, I need this gift right now" gift, because your recipient will get an email instantaneously.
Game Console and Electronics Refurb Kit, $100. For those who want to crack open their Wii and see what's inside*.
*Please don't break your Wii.
---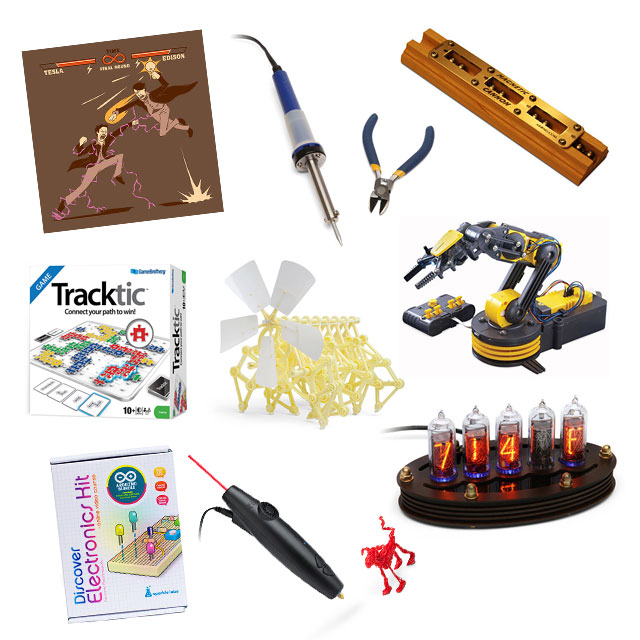 Engineering
Tesla v. Edison Tee, $10. Cue argument in the comments! Are you #TeamTesla? Or #TeamEdison?
Beginner Solder Kit, $16. For the person who might, in future, build our new robot overlords.
Magnetic Accelerator Canon, $30. Bowl with science at your office party/desk.
Tracktic, $35. Create the longest path to win, otherwise known as "everyone will beat me, personally, at this game; have at it engineers." It's sort of a mix between tic-tac-toe and Othello.
Strandbeest Kit, $35. Build a creepy alien spider that walks in the wind!
Robotic Arm Kit, $50. No soldering required, pictures exist of this robo-arm playing chess which is amazing.
Discovering Arduino Kit, $70. If your loved one wants a crash course in both electricity and Arduino, check this one out.
3D Printing Doodler Pen, $100. This is actually supposed to be extremely difficult to use, and I feel like only the engineers at heart will be able to pull the sword from the stone.
DIY Nixie Tube Thermometer Kit, $180. Soldering definitely required, all sorts of dangerous parts, not for the faint of heart.
---
Maths
Zombies & Calculus by Colin Adams, $20. It's a novel. About a calculus professor. Battling zombies. Using calculus. I can't make this shit up.
The Mathematic Cube: 3D Logic Puzzle, $20. This puzzle is so maths-person oriented that I can't even conceptualize actually ever solving it.
Pi by the Numbers Fleece Blanket, $20. Wrap your beloved nerd in the first 413 digits of Pi. Then feed them pie. #perfectholigay
How Not To Be Wrong by Jordan Ellenberg, $23. Not your basic book about math. Written earlier this year, it definitely goes deeper than your normal mainstream math book
Pop Quiz Clock, $25. Just ask your students to tell you the time and assign grade accordingly.
Fresh Take Leggings, $25. For lounging and solving.
I Know My Calculous Shot Glass Set, $40. For after grading exams.
Three Player Circular Chess, $50. Perfect for rest between solving equations.
Cute and Astute Necklace, $100. Yes, it was featured on the Nerdy Love Song gift guide last year, but it's still real cute. And astute. And worthy of being featured again.
---
This has been the one-hundred-sixth installment of  Queer Your Tech with Fun, Autostraddle's nerdy tech column. Not everything we cover is queer per se, but we talk about customizing this awesome technology you've got. Having it our way, expressing our appy selves just like we do with our identities. Here we can talk about anything from app recommendations to choosing a wireless printer to web sites you have to favorite to any other fun shit we can do with technology. Header by Rory Midhani. 
Feature image via Shutterstock.