Feature image via Shutterstock.
There is a misconception that sometimes even I buy into: based on my job title here, my status as a nerd, etc., that technology behaves well around me at all times. That I'm good at all the technology. That I love technology for every single task and think technology is our salvation. While this week I did use Fiverr to get something transcribed, and that went really well for me, that's about the only thing about technology this week that didn't make me want to defenestrate my computer/anything I own with circuit boards. Here is a list of literally everything that frustrated me about technology this week, from apps to industry to games. Now excuse me while I turn off my computer for the entire weekend.
Scrivener Launched a Mobile App Right After I Switched
I used. Scrivener. For. Years. YEARS. And for YEARS they promised a syncable mobile app. And for YEARS I waited. I put so much effort into cram-jamming my creative workflow into Scrivener's toolset. I wrote the first draft of my first novel in Scrivener. And I loved it. Mostly. But I couldn't get past the cluttered look and the total lack of understanding that sometimes writing happens when you're not perched in front of your computer. So I switched to Ulysses. And then, three months after that happens, SCRIVENER LAUNCHES THEIR MOBILE APP?!? Ugggghhhhh. Well at least Ulysses also launched WordPress support. This isn't really a judgement call on either app, mostly just complete and total frustration at my timing.
Try Scrivener's iOS app, it's $20. Ulysses is about the same.
---
This Game Is So Hard
Seriously, it is. NASA released this Mars Rover game and the highest I've been able to score is a 34, and that was beginners luck. Since then, mostly my score has been 7. WHY AM I SO BAD AT COMPUTER GAMES GOSH WHY CAN'T EVERYTHING JUST BE A TABLETOP GAME TO ME?? *tosses computer up in the air*
Mars Rover is free for iOS and Android, and you can also play on your computer.
---
Why Can't I Easily Watch The Olympics Without A Television?
Remember London? How they had that bright pink app? Sure, you still needed to log in with a family member's cable subscription, but at least it didn't seem so overwhelming and at least it was all in one place. But the Rio App, while it seems great, only has results and no options for watching. Why are people making spreadsheets to figure out what to watch? JUST EMAIL ME WHEN THE USWNT IS PLAYING OKAY WITH LIKE A LINK TO A LIVESTREAM OF THE GAME? (Oh, um. Never mind. Laura Mandanas did that for all of us.)
The closest thing I can find to easy is SlingTV, which is internet television. There's a 7 day free trial, so if you're feeling one event in particular, you can totally grab a free trial and then cancel. However. $20 per month will get you a package with ESPN and a $25 per month package will get you the one with NBC. So ugggghhhhhh maybe it's worth it to pay for a month to watch the Olympics without having to cobble together a plan involving someone's Xfinity log-in and maybe a sports bar. GOSH WHY IS EVERYTHING FRUSTRATING? *purposefully pours tea on my computer*
Also if that's not frustrating enough, speaking of television, Comcast is arguing that they should be able to charge customers to not sell their data.
---
This Headline Is Wildly Overstating Success
Wouldn't it be nice if we actually lived in a world where this headline was at all accurate? WELL WE DON'T. It's true that Apple has pretty much fixed the pay gap between men and women working for their company, but women made 99.6 cents to the dollar. The bigger issue is that somehow, in 2016, Apple's workforce is still only 32% female and their leadership team and their executives are actually whiter than before. Here is a more accurate headline about Apple's current numbers: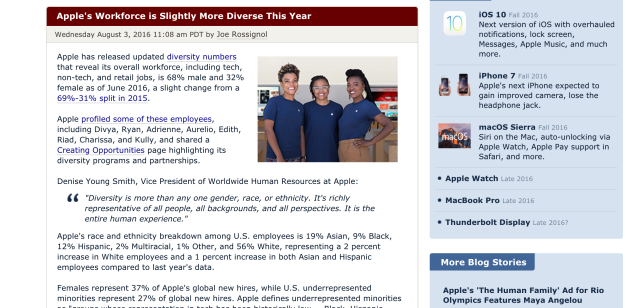 ---
I Will Never Have a Vive And That Is Seriously Impacting My Ability To Remain On the Cutting Edge
Here's the reality of writing about technology on the budget of a writer: I can't cover hardware and I can't review cutting edge new things. And that's because I can't afford to pay for them. And not a day goes by that I don't think about how I wish I could be writing more in-depth pieces about using virtual reality as a queer woman. I wish desperately that I could write you all pieces like this about products like these:
https://vimeo.com/176061417
The barrier for entry is so high sometimes, and I feel like all the tech vloggers are dudes. Do you know how much I want to be the person that can tell all y'all queers about the progress and drawbacks of all the new ish? Also this MetaWorld thing looks really cool and it would mean I could hang out with all of us who can't make it to A-Camp 7.5 this Fall
---
There Are No Good Calendar Apps That Work For Me Right now
Do you know what I wanted to do this week? My fiancée has been asking me to find her a replacement for Sunrise since it shuttered earlier this year. I wanted to write you a post about Calendar apps to replace it. And do you know why I haven't? BECAUSE I HATE ALL OF THEM! I haven't found one single calendar app that I can comfortably recommend to the queer internet OR my fiancée because I use it for two seconds, declare it dead to me and uninstall it. Cal is the closest thing to good, and it's mobile only. Google Calendar's app is pretty frickin' sweet, but I wish there was a desktop version I'm sure the calendar software that costs $50 is awesome, but see above frustrating thing. You know what I've done instead? For most of 2016, I've been using a Passion Planner. That's a paper planner, y'all. I've taken inspiration from Studyblr and I've gotten myself a set of 20 candy-color Staedtler markers and I've not looked back. Sometimes I am not the tech person. This is one of those times.
What technology are you uggggghing over this week?