As featured at A-Camp 8.0!
---
Escape rooms are the hot new trend that ground mind games into the physical realm. If you've never been to one, what happens is you're locked in a room with five to ten other people and are given one hour to solve a series of puzzles that can assist in your escape. Not every escape room follows the same format – some escape rooms rely on clues that are sequential and some take a concurrent approach, room presentations can vary from heavily stylized to worrisome bunker, and some are themed and some are not! But what they all have in common is that they're hard to get out of.
Something else that's hard to get out of? A lesbian relationship.
I combined the two for an activity at A-Camp, and of the three teams that participated, two teams escaped (although I'd argue one of those teams completed the room via brute force [ripping two safes open??]) and one team only came close, which I considered a healthy ratio for a game of unhealthy dynamics! Here's a detailed breakdown of how the room was setup in case you want to throw a party and play it with all of your big gay friends or if you just want to come along for the journey.
---
Concept
It's a race against the clock as the urge to merge has upgraded from cohabitation, a mixing of finances, and the dissolution of self to pet ownership! You and your partner leave for the adoption agency in one hour unless you can solve a series of puzzles that'll free you from this prison of your own making!
Objectives
Closet divorce asset settlement
Put to rest your lesbian bed
Separate your now consolidated friend group
Uncover your dissolved sense of self
Execution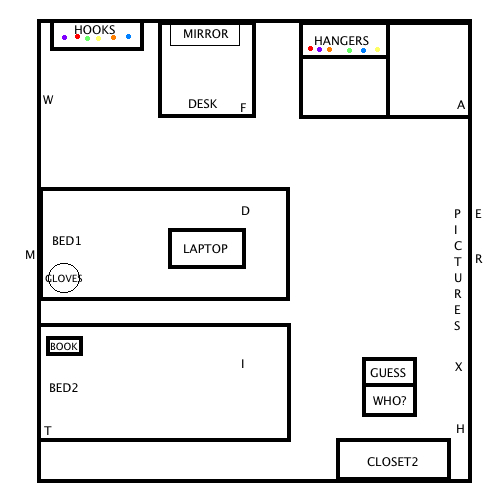 1.
On one side of the room are hooks, each discretely colored red, orange, yellow, green, blue, or violet. By each hook is the top half a letter. In the closet are clothes on discretely colored hangers. On each hanger is the bottom half of a letter. In order to separate your clothes, because you now dress the same, you have to remove the hangers from the closet and place them on their corresponding colored hooks. When placed on those hooks, a letter reveals itself. You now have 6 letters. Putting them in the rainbow's order, the letters spell out "R-I-P-B-E-D".
2.
On the bed sits a laptop marked "1wp_postswith a lock screen. Entering "R-I-P-B-E-Dwp_postsbrings you to the main screen where a video of a hand plays the first 11 notes of "The Funeral March". There are only 3 keys that are used, and for those that don't play the piano, the fingers that play each note will be of interest because… Next to the bed are latex gloves for all the sex you used to have when you tried to be open.
One glove has the note each finger plays (A, C, B.) written on the fingertips. Adding together where those letters land numerically in the alphabet and how many times each appears gives you a page number. (Our book was Lesbian Ethics). The underlined letters on that page (other pages are circled and underlined as decoys) when combined spell out two two-digit numbers. That leads you to Safe 1, which is marked.
3.
Inside Safe 1 will be a paper with a word on it. A safe word.
4.
On a shelf sits a game of Guess Who? marked "2". Next to it on a wall is a picture of four women. Just below that is a picture highlighting two of the women but ripped in half. Our couple splitting up. Then just below that are all four women rearranged into pairs. Who gets what friend! Wherever the friends' faces appear on either side of the Guess Who? board (row 2, over 4 spaces, or row 3, over 1 space, etc.) gives you numbers that lead you to Safe 2, which is marked.
5.
Safe 2 will have another safe word. One for each partner.
6.
Now that everyone has their safe word, the bondage rope that's in a desk will maybe make more sense. Throughout the room are small letters on various items and walls. Maybe the letters make up your safe words! But they're all so far apart, so how do they relate?
7.
Using the rope to spell out your safe words – which in our case were "WARMTH FIXEDwp_postsand "PUNKY CLOGSwp_postsbecause letters can't repeat and coming up with three five-letter words and one six-letter word where letters don't repeat is a more difficult task than you can imagine – gives you numbers. For example, spelling out WARMTH FIXED gave us…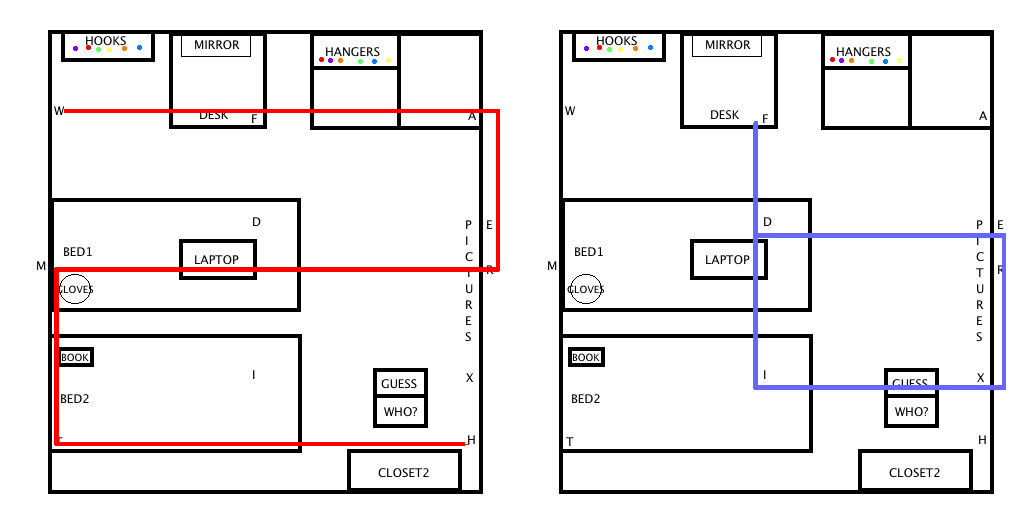 8.
Spelling out both phrases gives you numbers that open Safe 3, which is also marked. Inside Safe 3 is a small circular mirror marked with numbers and the words "TOP" and "BOTTOM" so you'll know which way to orient yourself when the time comes.
9.
The mirror has suctions on the back. The mirror on the desk has a ring of letters written on the glass. YOU BET YOUR ASS THE CIRCULAR MIRROR WITH SUCTIONS FITS WITHIN THE RING OF LETTERS ON THE MIRROR ON THE DESK!!!

9.
And not only that, now you can really see yourself. You were lost and now you're found. You're so close. Following numbers one through eight and their corresponding letters gives you "S-A-Y-E-L-L-E-N". Say it.
10.
Ellen.
You are free.