EVEN BETTER THAN MODERN BRIDE:
The best part about the launch of Equally Wed, a brand-new magazine for same-sex weddings, is that it's already touting itself as "The Nation's Premier Same-Sex Wedding Magazine," which is like when my Mom says I'm her favorite daughter b/c I'm her only daughter.
But regardless! Spearheaded by Georgia natives Kirsten Palladino and her wife Maria (the two are not legally wed b/c America blows), the mag is already looking like one of the most carefully assembled, diverse-yet-honest representations of our community we've seen online, despite its niche-within-a-niche topic.
Equally Wed is the nation's premier same-sex wedding magazine, providing gay, lesbian, bisexual and transgender couples with a modern, elegant and unique guide to wedding planning, from ring shopping and proposing to tying the knot and living happily ever after—and everything in between. Fresh and innovative, Equally Wed offers a closer look into Real Weddings around the world, as well as engagement stories, a socially interactive community and Local Resources, a vetted marketplace rich with GLBT-friendly wedding vendors.
The second-best part about this magazine is that whereas Bridal Magazines literally consume an entire rack at the mag-stand, the "groom" market has never exactly caught on. Based on a few episodes of Bridezilla, we conclude this is because grooms are all overweight cheez-doodle-huffing slobs with bad taste who just want to get the bru-ha-ha over with so they can go have drunk-sex in Aruba with their over-manicured princess-of-the-pea wives, right? In conclusion, Equally Wed might have its finger on the pulse of two burgeoning wedding-related markets: here's a way to reach not only unreachable queers, but the previously untappable male wedding-prep market as well.
When there's money to be made, laws change quickly, yes? So we say hurrah! The premier issue features articles like the Top 10 Wedding Style Trends of 2010 from Kleinfeld Bridal's Fashion Director Randy Fenoli of TLC's "Say Yes to the Dress," a state-by-state guide to same-sex marriage laws, cute proposal stories sent in by readers, "real weddings" like supercuties Aly & Elroi (as photographed by Labour of Love) and Cheryl & Monica (below) and how to buy the right suit for your bod, "masculine or feminine."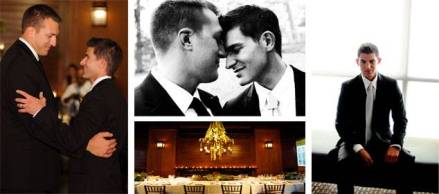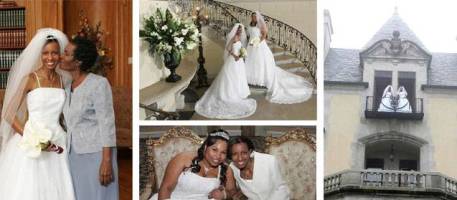 The Bridal Magazine market, once a mainstay for the publishing industry, has been crashing in recent years as women have gone online for tips and found traditional magazines too mainstream for their tastes. Modern Bride, Elegant Bride and InStyle Weddings have all shuttered over the past few years. This places Equally Wed in a key position to shake up the industry with a new take on an old genre.
Basically, all this magazine needs is a gigantic multi-page feature on Autostraddle's photoblogger, esteemed wedding photographer Robin Roemer!
COLLEGE:
Before They Were Titans, Moguls and Newsmakers, These People Were…Rejected: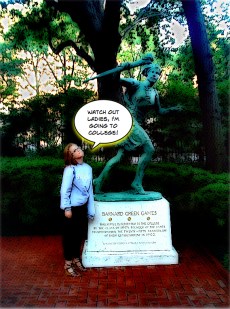 The Wall Street Journal has discovered that a lot of really famous people got rejected from Harvard, because really nobody gets into Harvard, and therefore you should not feel bad about not getting into Harvard. BTW; that's Rule #1 of College Admissions. Rule #2 is "nobody gets into Columbia." Rule #3 is "NYU accepts & rejects students at random following no particular discernible paradigm." Rule #4 is "in a year, you'll wish you'd spent less time worrying about this shit and just gone to a state school to save some motherfracking $$$." This still doesn't explain how Pandora & Thomas got into Harvard, however. The moral of the story, as Autostraddle's college graduates can tell you, dear high school seniors, is that what school you get into will never matter as much to you as it does this month. Oh and if you're doing the college thing now, check out Campus Pride's equality index.
MARY JANE:
When legalizing pot becomes a gay issue: "Imagine, if you will, a world in which AIDS organizations raise money by selling medical marijuana instead of used clothes and furniture? Currently any organization that receives any federal funding is prohibited from this venture. Gays and lesbians have been in the forefront of the fight to legalize marijuana and medical marijuana, and without the AIDS/HIV health concerns in the mid-'90s medical marijuana never would have passed in California." (@opposing views) Speaking of have you seen weed and hips? Good stuff.
TOILETS: Yep, there's really a bill called the Potty Parity Act. Congress's new measure wants to balance out the number of male and female bathrooms in federal buildings. (@salon)
REAL LESBIAN HOUSEWIVES: That woman from that annoying teevee show has a girlfriend for reals, and she says:"I don't believe love has a gender… I'm among the millions of parents who have been in a gay or lesbian relationship. It hasn't been an easy road lately, but I feel there are no mistakes in my life. Everything happens for a reason. To have the opportunity to speak for myself and to have people understand what I'm going through is really special."
STYLE: If you haven't yet, run on over and check out Katrina's piece on the lesbians hipster. And if you're tired of the word hipster, Gawker's got a suggestion for you: fauxhemian.
MATH AND SCIENCE: A new study on the underrepresentation of women in maths and sciences rolls out Monday. It was funded by the National Science Foundation, which means that the government cares about equality, guys! "There's a real danger in assuming that innate differences are important in determining who will succeed, so we looked at the cultural factors, to see what evidence there is on the nurture side of nature or nurture." (@nyt)
CHANGING HAPPILY EVER AFTER: Changing Happily Ever After: remaking the fairytale for single women over 30.
(@feministing)
THOUGHTS ON PROM: If you're going to read one more thing about Gay Promgate 2010, you should read Sugarbutch's latest column in SEXIS magazine, entitled Prom is So Gay. (@sexis)
VIOLENCE: Have you heard of the situation at South Philly High? Let me paint this picture for you: Asian American students are getting beaten up, and no one knows what to do about it. Just like Sarah Palin can see Russia from her porch, I can see South Philly High from my bedroom window, but no one here is talking about it even though it happens year after year.
Latoya Peterson at Racialicious has a great article on the media coverage surrounding the attacks. "The mainstream media does not find this story compelling because it is the story of the brown, the story of the poor, the story of generation 1 and generation 1.5, the story of kids with accents, the story of violence between two groups no one wants to talk about anyway."
FAMOUS FEMINISTS: Liz Carpenter, founder of the National Women's Political Caucus, has died. (@nyt)
IT'S NATURAL: Feministing takes a look at doing gender with makeup and how makeup companies sell their products using the "natural" approach: "The fact that these people are often allowed to see us naked before they're allowed to see us without makeup on says something about how committed we are to the performance of effortless natural beauty." (@feministing)