Of the many injustices and forms of marginalization that trans* people suffer, job discrimination is one of the most pervasive. Shockingly few legal protections exist for trans* and non-gender conforming employees in the workplace; in many states, it's totally possible to fire or refuse to hire someone because of discomfort with their trans status or gender identity, and for that person to have no legal recourse. Many workplaces that have sexual orientation included in their non-discrimination policies leave out gender identity and expression, and attempts to get a gender-identity-inclusive version of ENDA passed through Congress have consistently failed.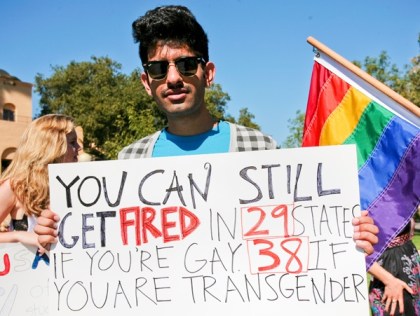 There are other, smaller pieces of legislation that have made strides in the direction of equality, though. 2011 was called by some a "year of significant progress in the struggle for trans* equality" after a series of lawsuits and rulings established some precedent for workplace equality. Massachusetts passed a law in November (which will go into effect in July) that will make it the 16th state that prohibits discrimination based on gender identity. But maybe the most important step of all has happened in 2012; on April 20, the Equal Employment Opportunity Commission ruled that Mia Macy had been refused a job because of her trans status, and the EEOC ruled that "intentional discrimination against a transgender individual because that person is transgender is gender discrimination prohibited by Title VII." Title VII is the portion of the Civil Rights Act of 1964 that prohibits discrimination based on sex, and according to the EEOC's ruling, the fact that Macy was told she would definitely be hired at the crime laboratory where she was interviewing pending a background check and then told funding was cut once her status as transitioning was disclosed (and someone else was later given the position), constitutes a violation of Title VII, and therefore sets an important precedent for trans* employees everywhere.
The EEOC's ruling went into effect yesterday, which means that now if a trans* person is fired or treated unfairly by an employer and suspect it's because of their gender identity, they have a legal precedent to point to, and much steadier ground to stand on if they choose to pursue legal action. Masen Davis of the Transgender Law Center said in a statement celebrating the ruling that "If you think you are being targeted with harassment or discrimination at work, I urge you to contact your local EEOC office and file a complaint.wp_postsAlthough the case the EEOC ruled on involved a government employee, it's likely that their decision will still be applicable to employees in the private sector. This means that individuals can now file charges of employment discrimination based on gender identity with the EEOC — something that may seem like an obvious right, but still isn't for many trans* and gender-nonconforming people.
Based on the EEOC's ruling, companies may no longer make hiring or firing decisions based on gender identity, and to avoid litigation, they're recommended to update their in-house policies to be in accordance with the law. Employee trainings and handbooks are now recommended to include information on how discrimination based on gender identity and gender expression is illegal, and employers are encouraged to train management staff on how to react when employees approach them about transitioning.
Back in January, Annika wrote about Vandy Beth Glenn, who was fired from her job when she began her transition. Her lawsuit in US District Court was decided in her favor, and it's helped contribute to the momentum that has finally brought us to a moment where she would have had legal recourse laid out for her at the moment of her termination. It's heartbreaking and enraging that so many trans* people and allies have had to work so hard and so long to gain what should be basic rights, but the progress they've made is proof that nothing will stop their progress towards the life that they, and all trans* people everywhere, deserve.