Sydney, the young trans girl who co-stars in Mel Gillman's artistic triumph of a webcomic As The Crow Flies is a wonderfully delightful creation. She's spirited, she's sure of herself, she's realistic and she won't compromise her love of skirts and cute shoes for a hiking trip. Now, thanks to the support Gillman got during their Kickstarter campaign for the book version of their webcomic, they've released a short — but not too short — prequel comic called "Pockets" about Sydney before she went to the Christian girl's summer camp that As The Crow Flies takes place at. It's cute, it's complicated and it's a great addition to the ATCF world. It also helps show that the more we flesh out our trans characters and the more stories we tell about them, the better representation is going to be.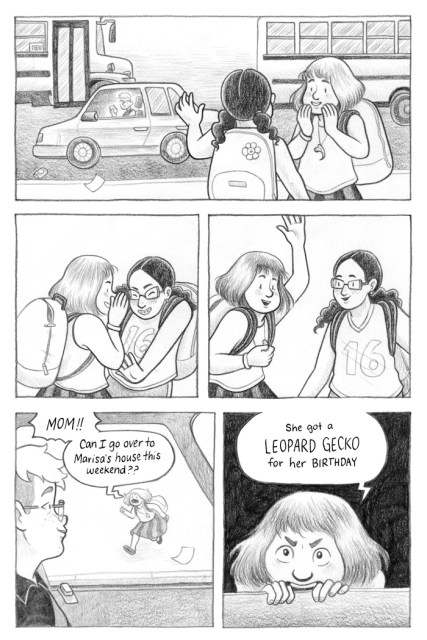 In "Pockets," Sydney and her mom are on their way to go shopping for some hiking boots and shorts for Sydney's trip. She's normally wearing skirts and cute flats, but her mom is understandably concerned about those kind of clothes while she's hiking up a mountain for a week. But Sydney has other plans. She's a smart girl and places more importance on fashion than function, and wants to just wear more cute flats and skirts. Another thing that complicates this shopping trip is that Sydney's mom is a struggling single mother who works long shifts at a diner in order to support her and her daughter. She's worked extra hard and has $14 to spend at the Goodwill for Sydney's trip. She's using every last ounce of strength she has to make sure her daughter has the best life she can give her, but sometimes she gets stressed out and sometimes she feels like she doesn't have enough.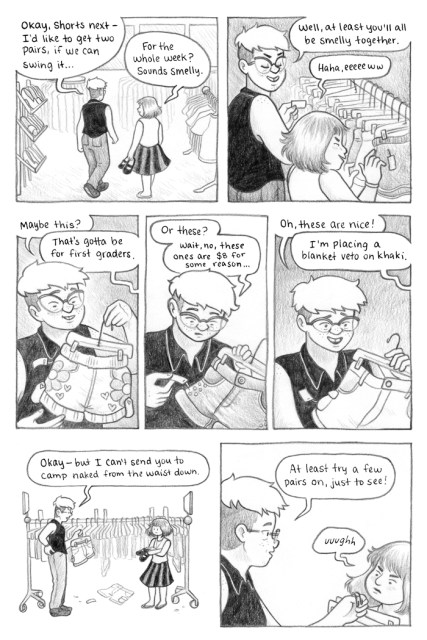 In this comic we get to see Sydney smiling and talking with friends, we get to see her excited and happy, we get to see that she has a mom who loves and supports her. But we also see that not everything's perfect. The story is realistic, but it doesn't fetishize or even focus on trans suffering. So often if there's a trans character, her entire story focuses on the grief and trauma she deals with because she's trans. It's a story about how brave the trans character is for overcoming all the obstacles that being trans has placed in her life. And, it's true, being trans sucks sometimes. But we also need happy trans stories, and we also need boring trans stories, and we also need mostly happy with a little sad stories.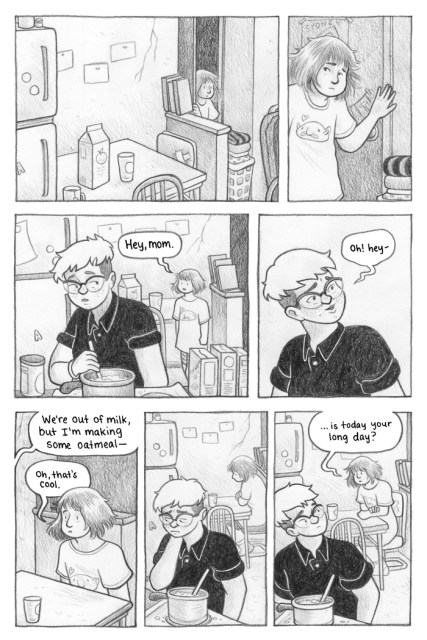 Gillman has been constantly writing some of my favorite trans characters in comics for years. There's of course Sydney, the young trans girl in "Pockets" and Gillman's regular webcomic As The Crow Flies that's going to be published as a book soon. When they were writing the monthly Steven Universe comic, they wrote a wonderfully sweet issue about non-binary character Stevonnie that I loved. They're also working on another trans character that is one of my all-time favorite trans characters in anything that I've read or seen. Gillman themself is non-binary and understands that the best way to get quality trans representation is to have trans creators and cis creators who care, to put out as many different kinds of trans stories and characters as they can. Melanie Gillman is pushing the quality of trans representation forward every day, and this story is one great example of that.
New Releases (October 4)
Harley & Ivy Meet Betty & Veronica #1
Supergirl by Peter David Book 3 TP
Wonder Woman & The Justice League of America Vol 2 TP
Wonder Woman Rebirth DLX Coll Book 1 HC
Journey to Star Wars: The Last Jedi: Captain Phasma #3
Miraculous Adventures Ladybug Cat Noir #3
---
Welcome to Drawn to Comics! From diary comics to superheroes, from webcomics to graphic novels – this is where we'll be taking a look at comics by, featuring and for queer ladies. So whether you love to look at detailed personal accounts of other people's lives, explore new and creative worlds, or you just love to see hot ladies in spandex, we've got something for you.

If you have a comic that you'd like to see me review, you can email me at mey [at] autostraddle [dot] com