The only webcomic I regularly read that doesn't star queer women or at least heavily feature them is Nicole Mannino's This is Not Fiction. Yeah, it's so good that it doesn't even need queer ladies to make me love it and be completely into the characters and the story. The main characters are two queer boys who are discovering their feelings each other while they go through high school. At it's center, This is Not Fiction is about two boys who couldn't really be more different, Julian and Landon, and it's about all the things that bring them together. And at its center, it's also one of the sweetest, kindest pieces of media I've seen in a long time.
Julian is a shy but emotional, chubby, sensitive high school boy who loves good food, cute animals, oversized sweaters and romance novels. He's in love with the author of his favorite romance novels, Sydney Morgan, and is dying to meet them. He's a good, soft boy and I love him. His foil, friend and love interest is another high school boy named Landon. Landon is outgoing, overly confident, charming and roguish. He's constantly flirting with Julian in the way that someone does to hide the fact that they really do like a person, but they want it to make it seem like they're the cool one. They're also accompanied by Isaiah, Jules' best friend, who's always looking out for him and always wants to protect the people he loves, and Selby, Landon's intern (Landon calls himself the Godfather of High School, so he gave himself an intern). All of these characters play so well off each other. They're really sweet to one another and love one another and help one another and it's nice to see teens being friends like that.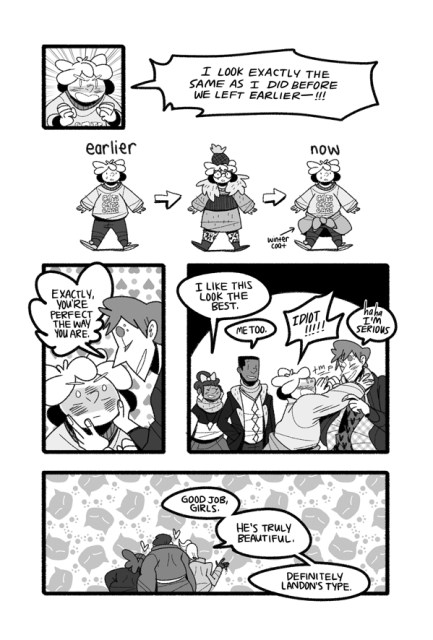 This is Not Fiction kicks off it's story by having Julian missing a chance to meet his favorite author Sydney Morgan. Isaiah wants to protect and help Jules, so he goes to Landon for help. After some flirting and teasing, Landon starts leading them in an investigation to figure out the mysterious author's identity. For a while the comic focuses on their disguises and hijinks in trying to figure that out, but recently it's been focusing more and more on Landon and Jules' relationship. It's getting so freaking cute. It's one queer teen who's too shy to tell the boy he likes that he likes him, and one queer teen who's too cool to reveal how true his feelings are for the boy he likes. It's perfect and it's cute and it's stressful (in a fun way) and it's so, so gay.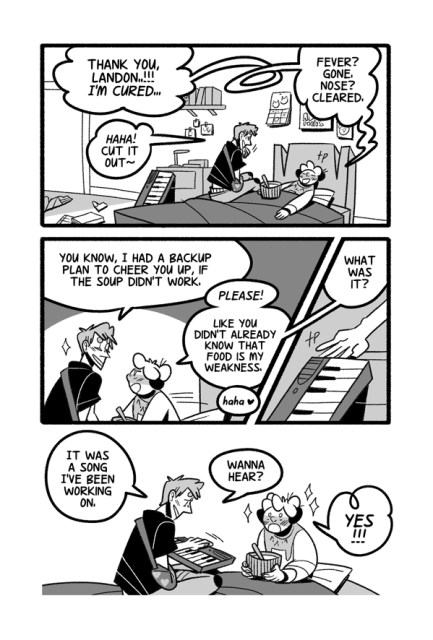 This comic is soft. I know that a lot of the comics I recommend here could be described that way, and that's because I want media that makes me feel calm and happy and loved. It's nice to have these things that feel like a warm blanket and someone taking care of you. It's a great palate cleanser after watching the news or looking at twitter or listening to a true crime podcast or watching a horror movie. It's like a video of kittens or a picture of Gina Rodriguez smiling, it just makes you feel so much better. If you're tired of all the terrible things we all see on a daily basis and want something to help you calm down before bed, This is Not Fiction is the gay teen comic for you.
New Releases (October 11)
Harrow County Vol 6 Hedge Magic TP
Batgirl and the Bids of Prey #15
DC Comics Bombshells Vol 5 Death of Illusion TP
Adventure Time 2017 Spoooktacular #1
Alters #7
---
Welcome to Drawn to Comics! From diary comics to superheroes, from webcomics to graphic novels – this is where we'll be taking a look at comics by, featuring and for queer ladies. So whether you love to look at detailed personal accounts of other people's lives, explore new and creative worlds, or you just love to see hot ladies in spandex, we've got something for you.

If you have a comic that you'd like to see me review, you can email me at mey [at] autostraddle [dot] com