When we were first introduced to the Lumberjanes, we saw that their camp was called Miss Quinzella Thiskwin Penniquiqul Thistle Crumpet's Camp for Hardcore Lady Types. At first it seemed like a cool, inclusive title, one that was more of a part of the setting than a plot device. As the book moved on, however, and we saw more and more campers, we stared to see that anyone who identifies as a lady-type person really was welcomed, affirmed and supported. Now that credo has been really hammered home in a recent issue where Barney, who was once a Scouting Lad, joins the Lumberjanes and the book starts clearly using they/them pronouns for them.
Previously we had seen Jo, one of the main Lumberjanes, come out as a trans girl (when talking to Barney, as it happens), but trans girls aren't lady types, they're just ladies. Still, though, it was wonderful and amazing to see a trans girl so strongly welcomed in a space like this. Especially when it's in a comic book about kids and meant for kids.
In that original run of issues where Jo talks to Barney about being trans, we see that Barney also has some feelings that maybe the Scouting Lads isn't where they belong. They talk about how they're not sure what their place is or who they want to be. And Jo understands. She used to be in a similar place to where Barney is. She's a trans girl and she understands, and she wants to help.
Another thing I really, really love is the relationship that has been building between Barney and Jo. In real life, we often rely on help from trans people who have already come out to help up and guide us. We need these sisters, aunties and elders. And so to show that type of relationship in this all-ages comic is kind of revolutionary. This is what being a young or newly-out trans person is like, and to show such an accurate depiction of that is exactly the kind of trans representation I love in comics.
Issue #28 has a really, really gorgeous scene where Barney builds up their courage and asks the Lumberjanes Council if they can join the Lumberjanes. They now know where they belong, and it's not with the Scouting Lads. Even though they're not a binary girl, they're still a lady type, and that's what's important. Both Barney, the Council and the other lumberjanes know that and they all affirm Barney's place among them.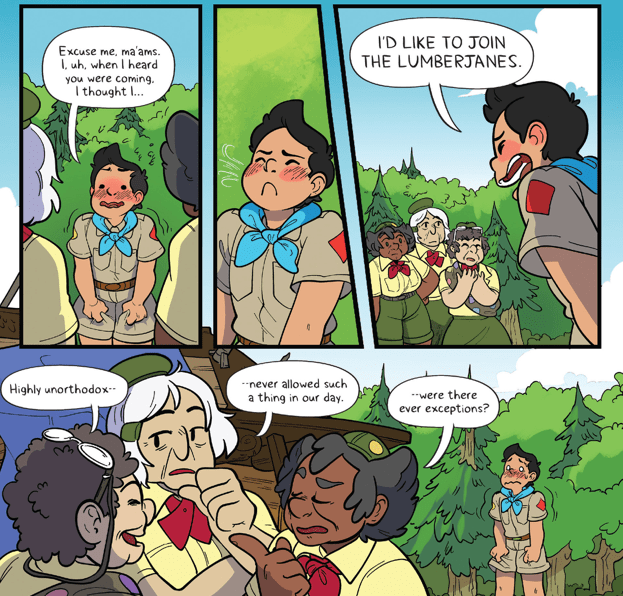 This scene is so well done. The writing and art and characterization are just wonderful. I really want to praise the Lumberjanes team for doing such a great job at writing queer and trans characters. Sometimes people in comics seem like they don't even try to do a good job, but here (and in some other comics, like those by Kate Leth, Kelly Sue DeConnick, Marguerite Bennett and Ryan North) you can tell that they really care about their LGBTQ readership and getting these characters and moments right.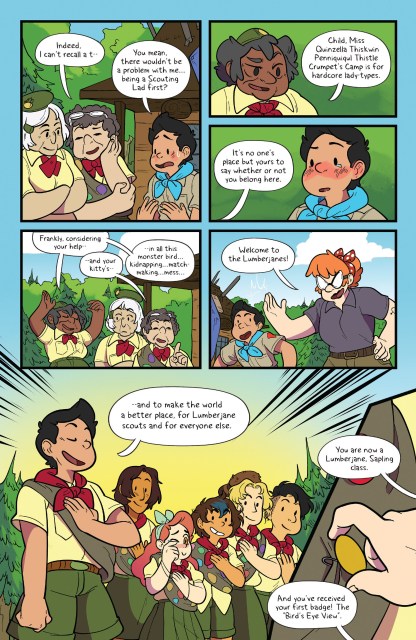 I think that it really helps when we celebrate the good trans and queer representation we get. I think it helps when we thank creators like Kat Leyh, Shannon Watters, Ayme Sotuyo and Carey Pietsch for doing such a great job on Lumberjanes. I think it helps when we thank Ryan North and Erica Henderson for their work in bringing the brilliant trans man character Koi Boi to the pages of The Unbeatable Squirrel Girl. I think it helps when we thank Kate Leth and Brittney Williams for their queer cast and settings and jokes in Patsy Walker, AKA Hellcat. Good representation isn't just good writing and art, it's something that actually helps people feel good about themselves, come out as themselves and love themselves. It changes and saves lives. If we only ever talk about trans and queer representation when we're complaining about a lack of it or the bad or questionable representation, we're only fighting half the battle, maybe even less than that. Let's acknowledge and thank the people who work extra hard and oftentimes have to fight and risk their jobs and careers to get this kind of great representation on the pages of our comics. Thank you to the Lumberjanes team and to everyone else who's fighting this urgently important fight.
Also, a reminder, voting is still open for the Autostraddle Comic and Sequential Art Awards.
New Releases (September 14)
Harrow County Vol 3 Snake Doctor TP
Batgirl and the Birds of Prey #2
Gotham Academy Second Semester #1
Harley Quinn The Joker's Last Laugh HC
Harley Quinn Vol 4: A Call To Arms TP
Wonder Woman #2
Wonder Woman Vol 9 Resurrection HC
Wonder Woman Vol 8 Twist of Fate TP
Judge Anderson PSY Files Vol 5 TP
---
Welcome to Drawn to Comics! From diary comics to superheroes, from webcomics to graphic novels – this is where we'll be taking a look at comics by, featuring and for queer ladies. So whether you love to look at detailed personal accounts of other people's lives, explore new and creative worlds, or you just love to see hot ladies in spandex, we've got something for you.
If you have a comic that you'd like to see me review, you can email me at mey [at] autostraddle [dot] com.