When I talk about my best friends, I talk about Cecelia Kyoko, I talk about Heather Hogan and if you follow me on twitter, you know I talk about Maddi Gonzalez. All three of these people mean more than the world to me, more than the galaxy, more than the universe. I met the first two through Autostraddle, but I met Maddi because I saw some of her comics on tumblr. I was reading a comic of hers called Phases, that's about all the different, well, phases, that she went through growing up (including Green Day fan, message board nerd and a bunch of others) and I checked out her blog and I feel in love with her art style immediately. Ever since then, I've been a huge fan and now a close friend. She recently came out publicly on twitter (congratulations! I love you!!!) and so I'm writing about her here. She's been deserving of a highlight for a long time, and now she's getting it.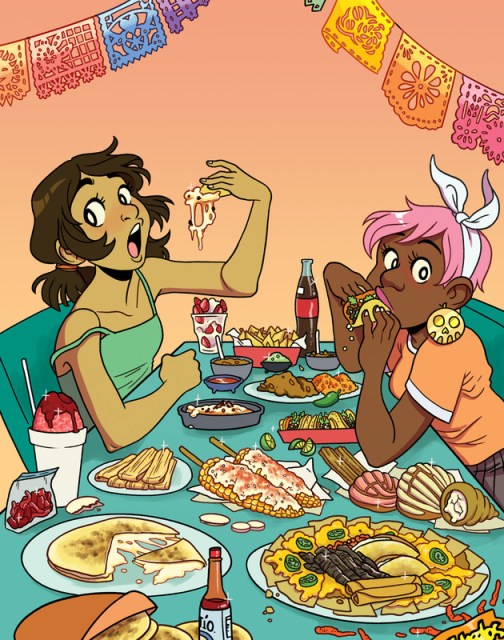 Maddi is doing some really brilliant art right now. She was already doing brilliant art — my last three twitter icons have all been drawn by her and I'm guessing that she's going to draw all my future ones. Recently, though, it seems she's had a breakthrough, and she's having a ton of fun and loosening up her style at the same time as she's refining it and finding her real voice in her art. It's really wonderful and cool to see this happening. I love the brightness, fullness and fun in her art. She has such a strong sense of lines and colors and curves, and it makes all of her art just seem so vivid and full of life. And boy oh boy is she great at drawing people of color. So many artists just give up when it comes to drawing poc hair, noses and lips, but Maddi nails it. I love the way her lines curve around and come to life and create these unique characters that stick in your memory. She's my favorite Chicana and my favorite Latinx artist ever.
She also recently published two new comics that are, in my opinion, some of the best she's ever produced. Both are dealing with her mental health, and both are extremely personal in a way that does a great job at showing off her unique voice. She also does a brilliant job of balancing her humor and personality with showing how serious and real the situation was for her. The first, Buggy Brains #1, is the shorter of the two, and it deals with her experiences taking antidepressants and how her life is different now that she's doing that. It's also a more recent comic, so you can really see some of her great new art. Maddi is making great comics that have a great message about how getting help for your mental illness is a good thing that you shouldn't feel ashamed or afraid of doing.
Her longer comic, Panic at the Psych Ward, is a masterpiece of journal comics. It's made up of comics that she did while she was hospitalized last year for mental issues. I love this comic; as someone who's had similar mental problems for most of my life, I love Maddi's straightforward and often humorous look at her time in the hospital, and it's has made me accept myself and my mental health problems a whole lot more than I ever thought I would. She makes me feel like it's okay that I have depression and that I'm getting help for it. When you have depression and anxiety, it can seem like you have to take everything so seriously all the time; Maddi definitely takes it all seriously in this comic, but she also takes it lightly. That's a thing that Maddi's really great at doing in her comics: being wise and serious, but also weird and funny, she strikes a really freaking great balance.
Maddi Gonzalez has easily one of the best twitters in existence, everyone should follow her there. She posts a ton of super great fanart and is just hilarious but also really smart and wise. You can also check out her website and follow her on tumblr and instagram, and email her at maddigonzalez.art@gmail.com if you want to commission her to do work for you (she does really brilliant work). If you want to buy comics from her, you can go to her online stores and if you want to throw some support her way, you can donate to her ko-fi account. She's also currently the artist on the funny and fun high school graphic novel Uncanny Valley High, the first two chapters of which are available to purchase online. Maddi is one of the best people on the planet, please support her.
New Releases (April 5)
Batgirl & The Birds of Prey Vol 1: Who is Oracle TP
---
Welcome to Drawn to Comics! From diary comics to superheroes, from webcomics to graphic novels – this is where we'll be taking a look at comics by, featuring and for queer ladies. So whether you love to look at detailed personal accounts of other people's lives, explore new and creative worlds, or you just love to see hot ladies in spandex, we've got something for you.
If you have a comic that you'd like to see me review, you can email me at mey [at] autostraddle [dot] com.