Everyone on earth knows that I'm gay for ladies in armor, whether it's Gwendoline Christie in Game of Thrones, Gwendoline Christie in Star Wars: The Force Awakens, Milla Jovavich in The Messenger: The Story of Joan of Arc, Leelee Sobieski in Joan of Arc, Rinko Kikuchi in Pacific Rim or hopefully Rinko Kikuchi in Pacific Rim: Uprising. So even if The Order of Belfry by Barbara Perez and MJ Barros was just a series of drawings and didn't have any story at all, I'd still be madly in love with it. But the story is great too! It's fun and intriguing and exciting, and it always leaves you wanting more! Perez does a great job of crafting a world where the characters that Barros draws live in and get to become awesome people who are brave, unique and often very sexy.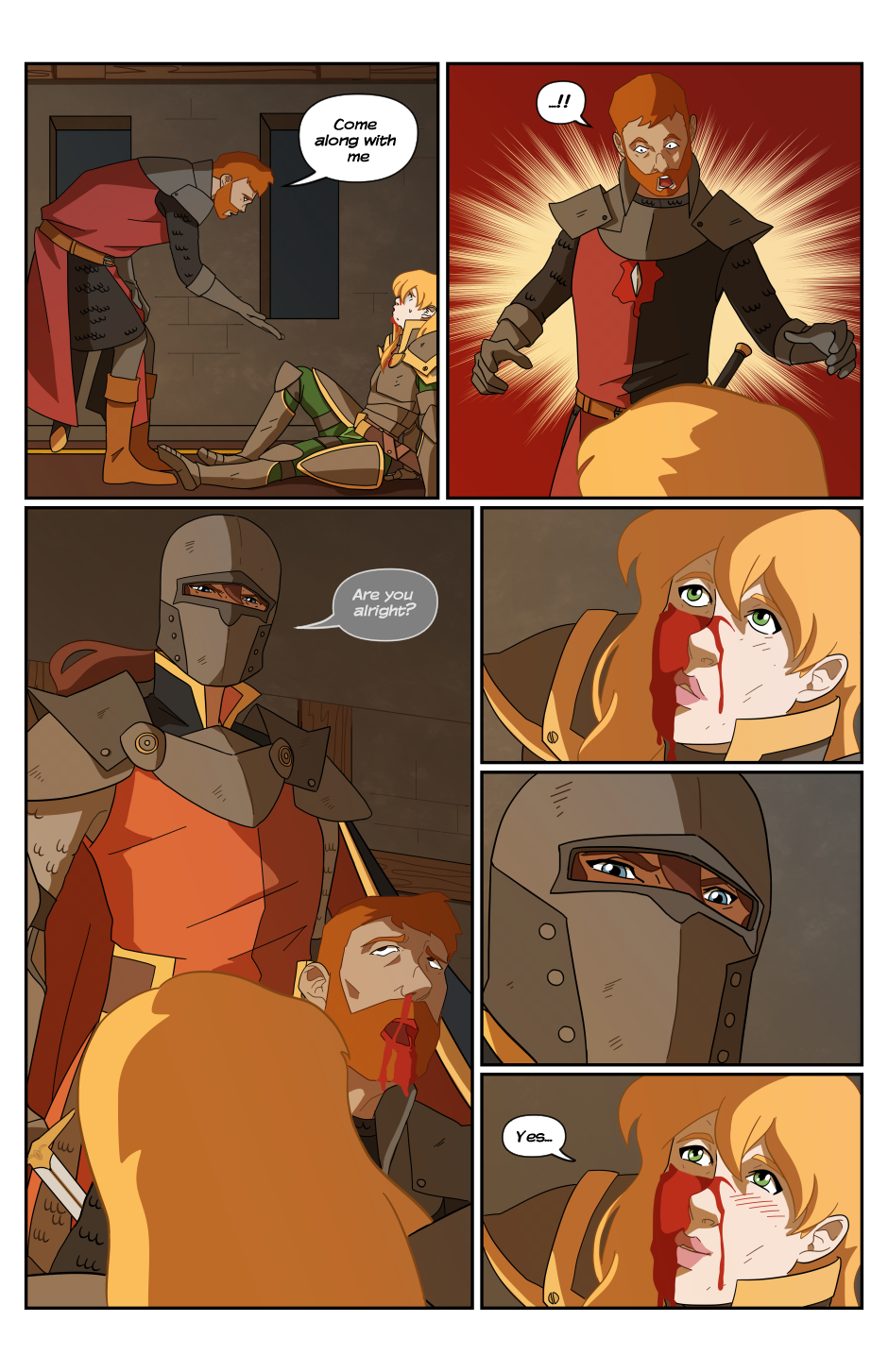 The Order of Belfry is about a secret order of female knights who fight to protect people during a war between two kingdoms. When the son of one of the kings gets captured during battle, his sister puts on her own suit of armor and goes to rescue him, only to find herself outmatched. Princess Idina Rotwell is just 18 but has some skill with a sword, but going in alone shows she also has a lot of learning to do. Lucky for her, she's rescued by a mysterious knight with gorgeous eyes and an explosion and huge puff of smoke. After she gets sent off to live in a tower with some other women (can you say gay?) she learns that it was a secret order of female knights based in that tower that came to her rescue, and soon, they're going to help her get back and save her brother. But first, she needs to train and the lady knights need to flirt and make out.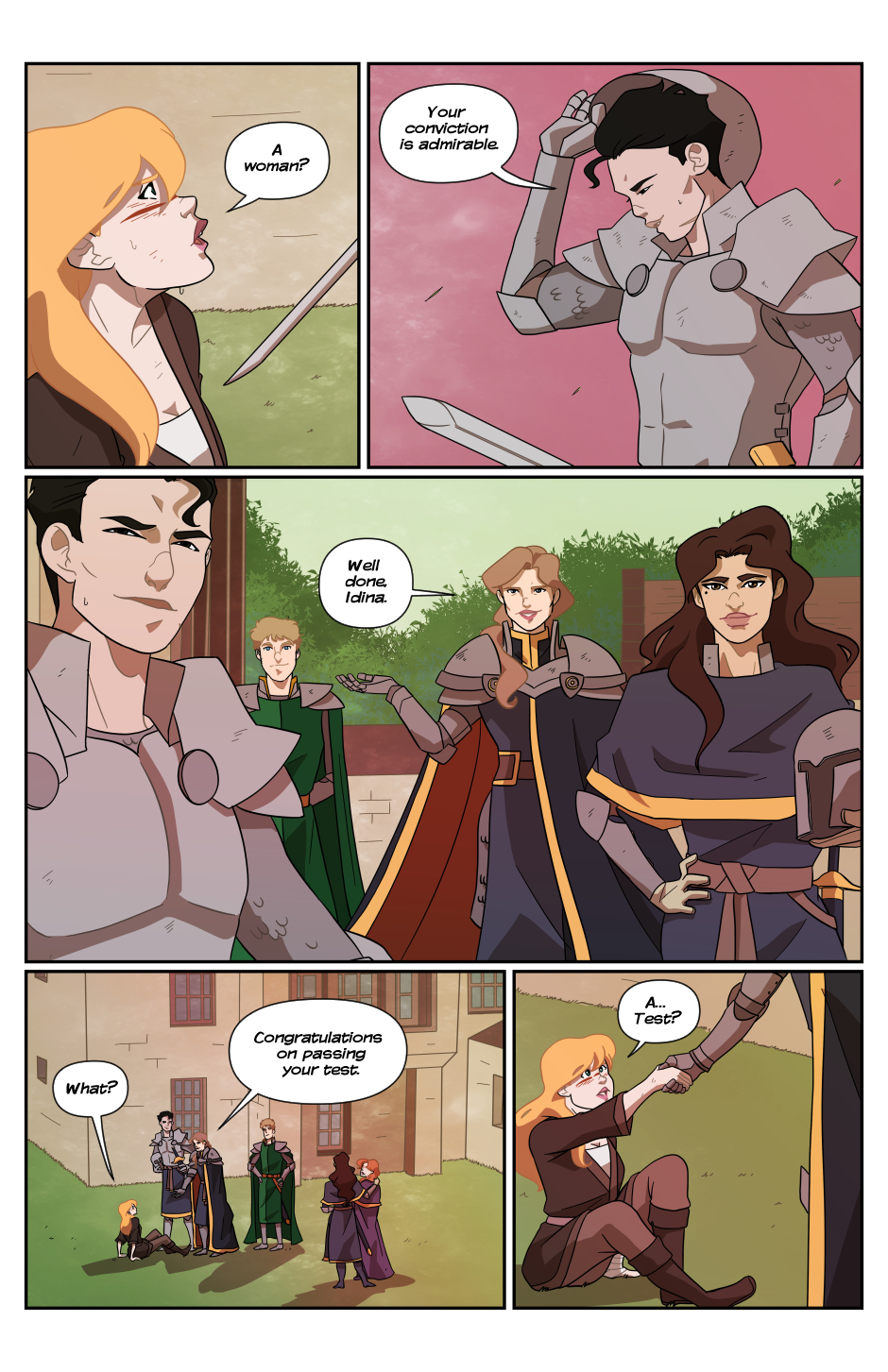 To be honest, I first heard of this comic through Barros, who illustrated the comic Campaigners, which I consulted on last year. While working on that project I became a fan of her work, and I learned that she was doing another comic. Barros does a great job of drawing female characters, especially women who look like they could beat you up, or women who you'd like to have beat you up (or at least I do? I don't know, don't judge me). And the cast of this comic is full of ladies who look and act different enough for her to stretch her artistic muscles and have someone that everyone can have a crush on. Personally, my favorite is Frances "Fran" Fournier, who's tall and has a great short haircut and scars and muscles and she's just really great you guys.
In the latest update, we learn that the King and Queen, along with the Queen's Champion, are in a polyamorous relationship that's very cute. It's cool to see a comic with not only queer women portrayed in an awesome way as heroes, but also with poly people portrayed the same way. The comic is still pretty early on in its story; Idina still needs a lot more training and way more of the lady knights need to make out (like, come on, I wanna see Laureen and Camille kiss! When's that gonna happen???). Perez is doing such a great job of writing these characters in a way that just makes me want to see more and more of them. I want to know everything about them! I want to see them fight! I want to see them wearing armor! I want to see them being friends with each other! I want to see them dating! I'm really excited to read more! You can follow the artist MJ Barros and the writer Barbara Perez on twitter, and you can support the creators on Patreon.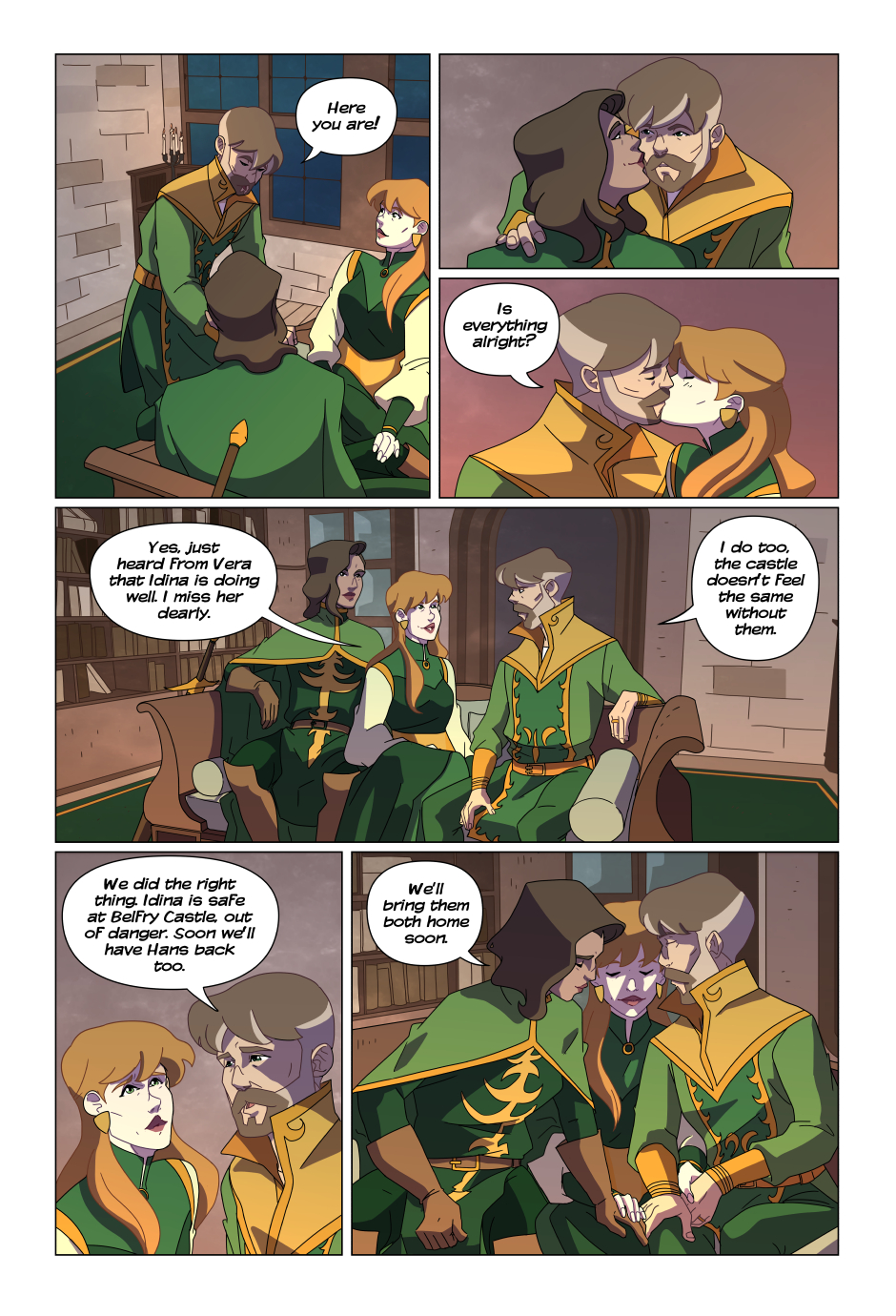 New Releases (March 8)
Batgirl and the Birds of Prey #8
Gotham Academy Second Semester #7
---
Welcome to Drawn to Comics! From diary comics to superheroes, from webcomics to graphic novels – this is where we'll be taking a look at comics by, featuring and for queer ladies. So whether you love to look at detailed personal accounts of other people's lives, explore new and creative worlds, or you just love to see hot ladies in spandex, we've got something for you.
If you have a comic that you'd like to see me review, you can email me at mey [at] autostraddle [dot] com.