Benetton is an Italian clothing company with a strong history of controversial advertising meant to evoke discomfort and questioning of the self. Some of their more famous (or infamous) campaigns have included a photograph taken of grieving family members inside the hospital room of an AIDS victim, portraits of convicted felons on death row, and a priest and a nun sharing a kiss.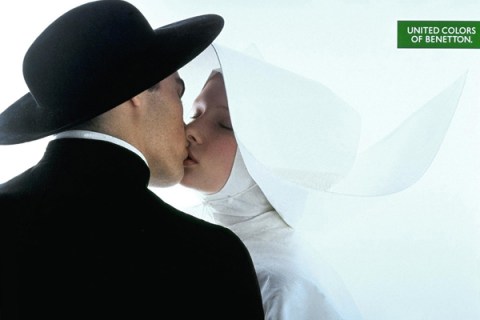 Benetton's most recent campaign is, to some, even more shocking: influential world leaders in politics and religion kissing each other with the slogan "UNHATE" emblazoned above them. Pairings include but are not limited to President Obama and Hugo Chavez, Netanyahu and Mahmoud Abbas, and Pope Benedict XVI with the Imam of the Cairo al-Azhar mosque, Sheik Ahmed al-Tayeb.
The new campaign is controversial, to say the least. Sexualizing religious figures amounts to sacrilege for many, and it's easy to read the pairing of oppositional leaders (like Obama and Chavez) as mocking. NewsBusters, which purportedly exists to "expose and combat liberal media bias," explains it like this:
Benetton strangely calls it an "Unhate" campaign, even though it seems pretty hateful to religious people (and perhaps even Obama fans, who can't like the thought of conservatives chortling at Obama kissing Hugo Chavez). The Journal noted Benetton's campaign drew a quick reaction from the Vatican: "We must express a firm complaint for the unacceptable use of his Holy Father's image, manipulated and exploited in an advertising campaign with a commercial purpose," Vatican spokesman Rev. Federico Lombardi said in a statement. Benetton said it is pulling the version featuring the pope, but that it hasn't received other complaints.
Why do the ads reference "unhate?" What does Obama kissing Hu Jintao have to do with hatred or the lack thereof? Benetton Group's deputy chairman, Alessandro Benetton, put it this way:
While global love is still a utopia, albeit a worthy one, the invitation 'not to hate', to combat the 'culture of hatred', is an ambitious but realistic objective," he said. "At this moment in history, so full of major upheavals and equally large hopes, we have decided, through this campaign, to give widespread visibility to an ideal notion of tolerance and invite the citizens of every country to reflect on how hatred arises particularly from fear of 'the other' and of what is unfamiliar to us.
Is it worthwhile or defensible to risk offending deeply held religious or nationalist sensibilities to promote an idealized image of global getting along? What can anyone, on any side of any issue, learn or take away from a falsified image of the Pope kissing an Egyptian imam? Is it a call to action for President Obama to depict him kissing leaders from Venezuela and China? Those are all interesting questions, but they're not ones that critics of the campaign are necessarily interested in asking. FOX News, for instance, has only one real major concern: Why does it have to be so gay?
Dr. Keith Ablow, who you may remember as also being extremely concerned about the gay parenting agenda at J. Crew, understands that the real threat from Benetton's ad campaign is about the rampant homosexuality seething in the subtext.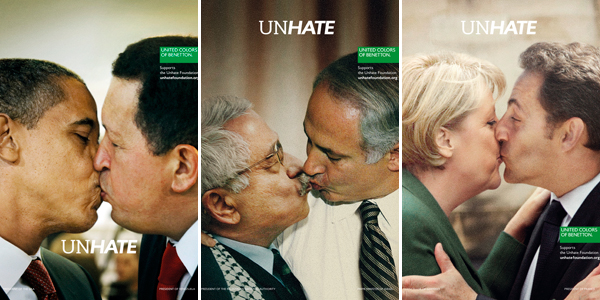 …Benettonians — that new movement of homoerotic Utopians — are telling us, homosexual sex is what matters — and so much of it, in such unrestrained fashion as to unite men from democracies with men from dictatorships, Catholic and Muslim leaders, black men and white men. See, we had it all wrong talking about hearts and minds, about the Greatest Generation and lessons from history. We had it wrong elevating principle over pleasure and sacrifice over sexual gratification. We had it wrong thinking we could move the world forward while allowing men to be attracted to women. Our connections must be made man-to-man, with our tongues and genitals. That is the only road forward.
Make no mistake, this series of images published and posted along streets by Benetton is a declaration of psychological warfare on religious tradition and cultural mores and one that elevates narcissism and sexual gratification above intelligence and leadership. It is a direct message to the young people targeted by Benetton marketeers that theirs should be a generation defined by indulging in erotic pleasure above all else, and without regard to one's religious vows, or moral standards, or respect for one's office and public face, or one's word.
Wow! That's a very complex message for a campaign that only actually utilizes one word!
Ablow is right that Benetton has never really shied away from gay messaging — some of their smaller brands, like Sisley, have advertised in gay publications, and also ran a TV ad in 1995 that featured Jenny Shimizu talking about a dress that "you sometimes think you love more than your boyfriend… but let's not get started on that one."  But on the other hand, he fails to mention that Angela Merkel and Nicolas Sarkozy are also among the Photoshopped philanderers, or address what their heterosexual smooch says about "connections being made man-t0-man." And frankly, looking at Netanyahu and Abbas's chaste little peck and taking away a message of "sexual gratification" and "erotic pleasure" seems like some willful misinterpretation.
If the world leaders pictured had been women kissing other women, would Ablow have been as upset? (If we lived in a world where there were enough female leaders of global superpowers that such a photoshoot was possible, would we even have to have this conversation?) Is it really about the fact that same-sex affection is being expressed (because really, affection is all this is — between Benetton's stated messaging and these photos, it really seems like loving tolerance is the most scandalous sentiment in evidence here)? Or is it about the fact that powerful men, literally some of the most powerful men in the world, are being pictured as sustaining loving, physically affectionate relationships with each other? Is it really an intimation of homosexuality, or just a subversive vision of masculine heterosexuality?
Alessandro Benetton is right; "global love" is a pretty ambitious objective, and honestly, it's unlikely that it's going to be accomplished with slick advertising, as interesting and well-realized as it may be. But if it can upset some gendered norms of behavior and question the mutual exclusivity of political power and human affection, maybe it's accomplishing something pretty ambitious already.