In some parts of the LGBTQ+ community, fingernail length is controversial — but not anymore! Shelli, a long-nailed person who has queer sex, and Ro, a short-nailed person who has queer sex, have teamed up to bust myths about nails & sex and provide nail care tips, safety tips and sex toy recommendations so you and your lover(s) can safely and comfortably get railed, regardless of what kind of nails you have.
---
Shelli: Why do you think this is like, such an important but also fun chat to have? Like, why is it such a big deal in our community?!
Ro: In my experience living and working in the queer community, it seems like there are a whole lot of myths and stereotypes attached to nails & sex — and I want to talk about that! I also see a lot of sex advice on the internet encouraging queer folks to cut their nails short in order to have safe, fun sex. I want people to know that you don't have to sacrifice your aesthetic choices in order to bang.
Shelli Nicole: Absolutely the fucking same. I wanted to talk about this to drop the education and keep folks safe, but also I really wanted a space to finally be like, can we stop acting like nails are some BFD or ultimate test of dykeness?
Ro: Yes! Exactly!
Shelli Nicole: In my experience, I've seen a lot of fear and judgment from the person who (might be) on the receiving end of my nails. The fear I get, right? 'cos it's like, yeah, I have literal stilettos on the ends of my fingers and I'm like "Open Wide Babe!" — but the judgment? That's so '90s and not in a good way.
So I am really hoping that with the education, tips, and personal stuff we give out (especially with your expertise) that we can ease people's fears and make them think a little bit more before judging, you know?
Ro: I love that. Also, there are plenty of short-nailed queer folks out there who need some serious help with nail hygiene and upkeep, so I hope this is useful to those folks and their partners, too.
Shelli Nicole: I'd like to say, "LOUDER FOR THE QUEERS IN THE BACK!!" because that is so true. They are so concerned with how we clean our extensions, but like, babe, let's talk about you investing in a nail file first.
I think that us talking from our personal connections and POV's is gonna be so dope! Also def want people to know that they need to always do their own research. Use this piece as an intro and a guide, but not as an "end all be all," you know.
Ro: Absolutely. Short, clean, well-maintained nails typically don't present many issues when it comes to queer sex, but that doesn't mean that long nails always present a huge problem. In my experience, queer folks with long nails and/or nail extensions generally know what they're doing, BUT there are plenty of options to make the experience more comfortable for nervous bottoms and/or for long-nailed folks who want to rail the hell out of their partners without having to be too careful.
Shelli Nicole: How many queer brownie points do you think we will get for doing this piece? I have a praise kink, so god I hope it's quite a few.
Ro: That's my wish for you.
Shelli Nicole: I love this for me. Let's get into it so I can start racking up points and praise.
---
COMMUNICATION
Shelli: The first thing you need to be doing is communicating. I think so many of y'all are scared to do that because you think it has to be some big ordeal where you sit and stare deeply into each other's eyes for three hours and chat and cry while you hold hands. No, that's not what I am saying.
I'm saying if you want to put your fingers inside someone and you have three-inch-long pointed acrylic nails — you need to be asking them if that's okay first.
Communication isn't just the responsibility of the giver — it's the responsibility of the receiver(s), too. If you're concerned about any aspect of their talons going in your holes, then make it known. In my experience, the main concern has been pain, quickly followed by wondering if the nails are going to pop off and get lost in them — both things we chat about later in this piece. I assuage their worries as best as I can, and if they're into it, then I get in where I fit in, checking in and paying attention along the way. I've said it before that we have to stop thinking that communication is some sort of mood killer — would you rather keep quiet and play through the pain or talk about it first and end up in a space of pleasure?
Ro: Shelli is absolutely right — regardless of what kind of nails you're working with, it's SO IMPORTANT to check in with your partner before you start doing sexy stuff with your hands or mouth or anything else. And once the sexy stuff starts happening, keep checking in! Ask your partner about what's working for them. Tell your partner what's working for you (and PLEASE tell your partner if something hurts — a simple adjustment can make a world of difference!).
NAILS, SEX & HYGIENE
Cleaning
Ro: Even if your nails are short, you can still get dirt, food and other gunk under them — and no one wants your nail gunk in their holes! Use a nail pick or brush to keep your nails clean. If your work or hobbies require you to be in contact with a lot of oil or grease (shout out to sexy queer bike mechanics), use a pumice soap to clean the skin on your hands and around your nails.
Wash your hands before engaging in any kind of sex with your digits. And don't put your fingers in yourself or in a partner immediately after using hand sanitizer or chopping hot peppers (I learned the latter the hard way). You should also be washing your hands AFTER sex, especially if you've gone exploring inside an ass.
Shelli: A lot of what Ro said for short-nailed folks applies to the extension wearers, too. Firstly — wash your hands all the time, but especially before putting them inside somebody. No one wants to get an aftertaste of your dinner or have the germs from your remote inside them. However, if you have longer nails/extensions, you will have to go a step further. Get a few nail brushes from your local drugstore or beauty supply store and use them to clean under your nails thoroughly. You can use whatever hand soap you have (this is my favorite). Just make sure to get the bristles in there — not to the point where you're breaking the nail or making it lift, but just paying some extra attention!
Upkeep
Shelli: Nail extensions will require constant maintenance, and if you're going to be fucking people, possibly even more so. The main thing here is making sure you keep up with your fill-ins. In between nail appointments, your extensions could start to lift from the bottom or sides, you could break some of a nail and make it jagged or some of your polish/embellishments could start chipping/falling off.
The more you go, the less of an issue these things will be. But if you don't keep up with them, it could put a pause in you fucking folks with your fingers in some way. Think about it — if your nail is lifting, there is a chance it's gonna fall off, which means if you're fucking, it could come off inside a partner or they could choke (not in a good way). You'll have to pause and go fishing, or worse, end up in the emergency room. If you have a jagged nail, you risk scratching them, which is no fun (I've had the inside of my throat scratched by a jagged nail or two and it AIN'T FUN), and chipped paint could cause them to have a surprise allergic reaction. So do your best to set aside the cash you need to manage the upkeep of your nails so you don't have to put sexy times on hold. You can also invest in learning to do your nails yourself, or even better, start fucking a nail tech and make them do your nails as part of their penance.
Ro: If you have short nails, then you probably trim them, but for the love of all holes, PLEASE file them, too! No one wants your jagged nail edges tearing up their insides. Carry a nail file or a multitool that includes a file for any last-minute smoothing needs.
NAILS, SEX & SAFETY
Shelli: Okay — this is where we really get into it, and I am gonna jump right in. DO NOT PENETRATE ANYONE WITH EXTENSIONS THAT ARE NOT SEMI-PERM BONDED TO YOUR NAIL IN SOME WAY.
What do I mean by that? Great question, class.
If you get extensions (fake plastic nail tips), your artist will bond them to your nail in some semi-permanent way (Acrylic, Gel & Dip are the most popular) so that they don't come off. I'm rough with my nails. I mean, I'm not building houses or anything, but I do enough. Some of those things include putting them inside people. It's safe because there isn't a chance of them coming off due to how well I manage my nail upkeep and because of the way they are semi-perm bonded to my real nails.
What is not safe and HELLA RISKY is putting your fingers inside someone with what I call the "Pop & Gowp_postsnail extensions. The reusable press on nails are cute as fuck, but they're kept on by nail tape or glue. These nails are meant to pop on and off and be worn for a short period of time, and they can usually be removed just by soaking them in warm water. I've used these when I want to give my natural nails a break from acrylics, and they pop off at the drop of a hat, no matter how much glue I put on or how long-lasting they say it is. I've had them pop off when pulling my card out of my wallet or even just reaching for something in my purse. So if you think they can pop off that easy there, who's to say they won't when your finger is inside someone, covered in lube and surrounded by their body warmth? Just — don't do it.
You'll have to take them off, file off the glue/tape, wash your hands, file down your nail, wash your hands again AND THEN you can safely put your fingers into someone. If you don't wanna do all that, then just wear the nails, look cute and take the night off from penetration.
Lastly, If you have any nail decor or embellishments that dangle or rest outside of your semi-perm bonded extensions (like cute loops or something), don't put those nails inside anyone for very obvious reasons. Even if you cover it with a glove, it could puncture through, and it's not fun or worth it.
Adjustments
Shelli: There are a few things you can do. The most popular method is the "Lesbian Manicure," (eye roll at the name — I'm changing it to "Queer-Babe-who-likes-to-put-fingers-in-holes-but-still-have-long-cute-ass-nails Manicure") where you pick two fingers to not put extensions on and use them for penetration.
My only issue with that is you're knocking out all the other little finger homies who may want to play too — but if you like it, I love it. If you have a partner(s) who you're fucking consistently, you could also ask them their preference on shape and length to make it more convenient for them.
Those are just two suggestions, but I don't do either one. I prefer to compromise in other ways, but go ahead water sign — you can be nice if you want to.
TOYS & TECHNIQUES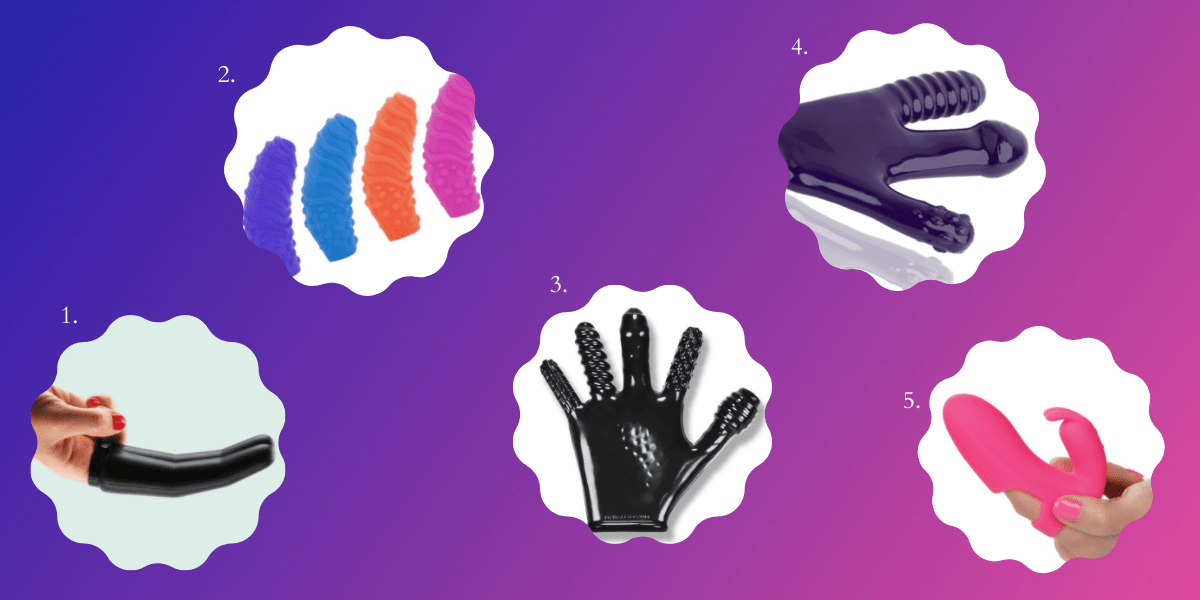 Ro: I'm pretty sure we all know that Shelli is a big fan (Interruption from Shelli: "IT'S TRUE I AM!!") of the Wet For Her Finger Extender (1), which covers two fingers. As of the writing of this article, this product is out of stock on the Wet For Her website, but you might have some luck finding it at your local sex toy store. It usually runs around $40. I love that this toy offers a lot of room for fingers + nails. It's also made out of silicone, which is easy to sterilize and won't harbor bacteria. Some folks are turned off by just how long this finger covering is, but if you're into alien role play, the Wet For Her Finger Extender might offer just the aesthetic you're looking for. If this toy doesn't suit your needs, here are some other options I found:
Mini Marvels Finger Vibes (5) ($44) cover individual fingers and offer vibration. They come in a variety of shapes and colors and they're made out of silicone.
Calexotics Finger Swirls (2) ($12.99) are also made out of silicone, and they're textured for some extra stimulation.
Speaking of texture, Oxballs also makes some VERY textured toys that cover the entire hand, including the Oxballs CLAW Textured Glove (4) ($72), which looks like an alien hand (once again, alien role players, take note!), and the Oxballs Fingerfuck Glove (3) ($49), which looks like a Bop-It for sex. I'm including these toys in the mix because they might be a fun option for folks who are looking for something really specific, but they have a couple of major downsides. First, they're pretty pricey. Second, both toys are made out of TPR, which is a porous material, so you won't be able to fully sterilize them. If you choose to use a TPR toy, don't use it in a butt, don't share it with multiple partners and replace it after the first sign of wear (like dark spots or greasiness on the surface).
When it comes to covering long fingernails during sex, one of your best options for safety and functionality also happens to be your cheapest option — take a latex or nitrile glove, shove some cotton balls down into the fingertips, pull it on, lube it up and go. Unlike protective gear that covers a single finger, a tight-fitting glove will stay in place while you thrust as hard as your partner desires. You also have the option of using multiple fingers at once (hellooo, fisters and fistees!).
These are just a few ways to cover long nails during sex. Do you have a nail-covering toy or technique that isn't listed above? Drop your ideas in the comments!
Shelli: I LOVE all of Ro's toy suggestions and attest to a few of them being really dope when it comes to finger sexing! I wanted to chat about a few techniques to use if you decide to go sans toy as a long nail haver. For internal stimulation, take your time at first. Please don't go ham on someone's insides straight away (unless that's y'alls thing — then have the fuck at it). The main thing to focus on is really the top of your nail, paying attention to how they react as the tip gets deeper inside them. When my nails are inside someone, my aim isn't depth or speed — it's fullness and rhythm, especially because of the sharp shape of my nail. You'll find your groove and take it from there, and if you don't, you can always use one of Ro's covering/toy suggestions from above.
For external vaginal stimulation, it's best to use the pads of your fingers — that's where you'll have the most strength. That way your nail and their bits won't have much connection, and you'll avoid any surprise scratches. You can also take two fingers, curl them down and use the back of your fingers to stimulate their bits as well. When you're making a fist to stimulate their penis, depending on the size, they might feel the back of your nails. I've been told it's usually a dull sensation and not alarming at all, and as long as you've been doing well with your upkeep, there is little chance of scratches there, too! Lastly, DO NOT use your nails as a substitute for sounds during urethral play, like just don't do it!
I'm dying to know your techniques too! So please let me know in the comments, I am going to be taking notes.
MYTHBUSTING
Myth #1: "Folks with acrylics either aren't really queer or must be bottoms."
Shelli: This is incorrect and comes with a MASSIVE eye roll. It's certainly time we get rid of quite a few stereotypes for queer women, including the one that suggests the length of my fingernails is what determines who and how I fuck. I don't mind when folks label themselves (tops, bottoms, etc.) — I think it's all in good fun (for most of us), and if it makes you feel more assured in your queerness in some way, then go for it.
What I don't enjoy is folks forcing a label on others simply because of how they look or some part of their style. If I went around assuming that every babe I encountered who had nails was not truly dabbling in dykey waters, I would have missed out on some dope people and some great sex. A lot of you are working under those assumptions and then say you don't understand why your sex/dating life is non-existent or in shambles — hmmm I wonder why?
Myth #2: "All short-nailed queers are tops."
Ro: Nope! Some people just prefer to keep their nails short because it's convenient or comfortable or necessary for their job. Ask your partner what they like before making an assumption. Maybe they're a top or maybe they're just a guitarist. (but also, maybe they're both! And maybe that's exactly your type!).
---
Final Thoughts On Nails & Sex
Shelli: It high-key comes back to communication. I have Stiletto Style Nails — they oval upwards and then form a pointed tip — and I've had them inside plenty of people. I've had enough practice to know what I'm doing and ask people before I put them inside.
The best tip I can give (aside from fucking communicating) is to be gentle at first and pay attention to their reactions to realize when you can obviously do more. Talk during and chill out. It's genuinely not that big of a deal. If you want my fingers (and their nail extension friends) inside you, let me know, and if not, that's cool, too — there are plenty of other ways for me to fuck you.
Ro: Whether you have short nails, long nails or nail extensions, it's important to take care of them (short-nailed folks, please don't forget to USE! A DAMN! FILE!). Like Shelli said, people with long nails generally know what the hell they're doing, so if you're nervous about getting fucked by a babe with gloriously long claws, a simple check-in might be all you need to do in order to have a hot, comfortable railing sesh. Plus, there are plenty of nail covering options for extra protection. So can we please leave all those dusty nail-related stereotypes back in season one, episode two of The L Word where they belong?