This post is sponsored by gc2b.
My love for gc2b runs very, very deep. I bought my first gc2b binder back in 2015 because I wasn't happy with any of my binders. When I received the binder, I had to write a spontaneous review, that's how good it was. Y'all just needed to know it existed. It even disappeared under my lowest-cut tee shirt! So when gc2b contacted Autostraddle about doing a (sponsored) Halloween post, I said yes as soon as I was asked, no follow up questions (I only say yes to sponsored content from companies I really believe in!). The other thing I love is Halloween. And as a person who grew up a Theatre KidTM, I have some weirdly specific costume knowledge to share.
This time around, this piece isn't at all about the binder fading out, even under my lowest-cut tee. It's about the binder being out loud and proud. gc2b grabbed some fabulous models and used their products to create Halloween costumes on a budget using items you can find at a craft store, your local Halloween pop-up, and your own closet — and the costumes all center a gc2b binder! This is for every queer who's ever wanted to prance or parade around in their binder in public without putting a shirt over it. Halloween's the perfect time to do that. You flaunt that gender-wear, friends! Flaunt it good!
Whenever you're buying a gc2b binder, remember to use their sizing guide. They're fundamentally built differently than most binders — it's almost like the shape does the work, rather than an elastic. So even if you own other binders and you're sure you know your size, double check anyhow; I know my sizing has been vastly different with gc2b than with any other binder company. Enough about process, let's get to the sexy sexy Halloween costumes!
---
Frankenstein's Monster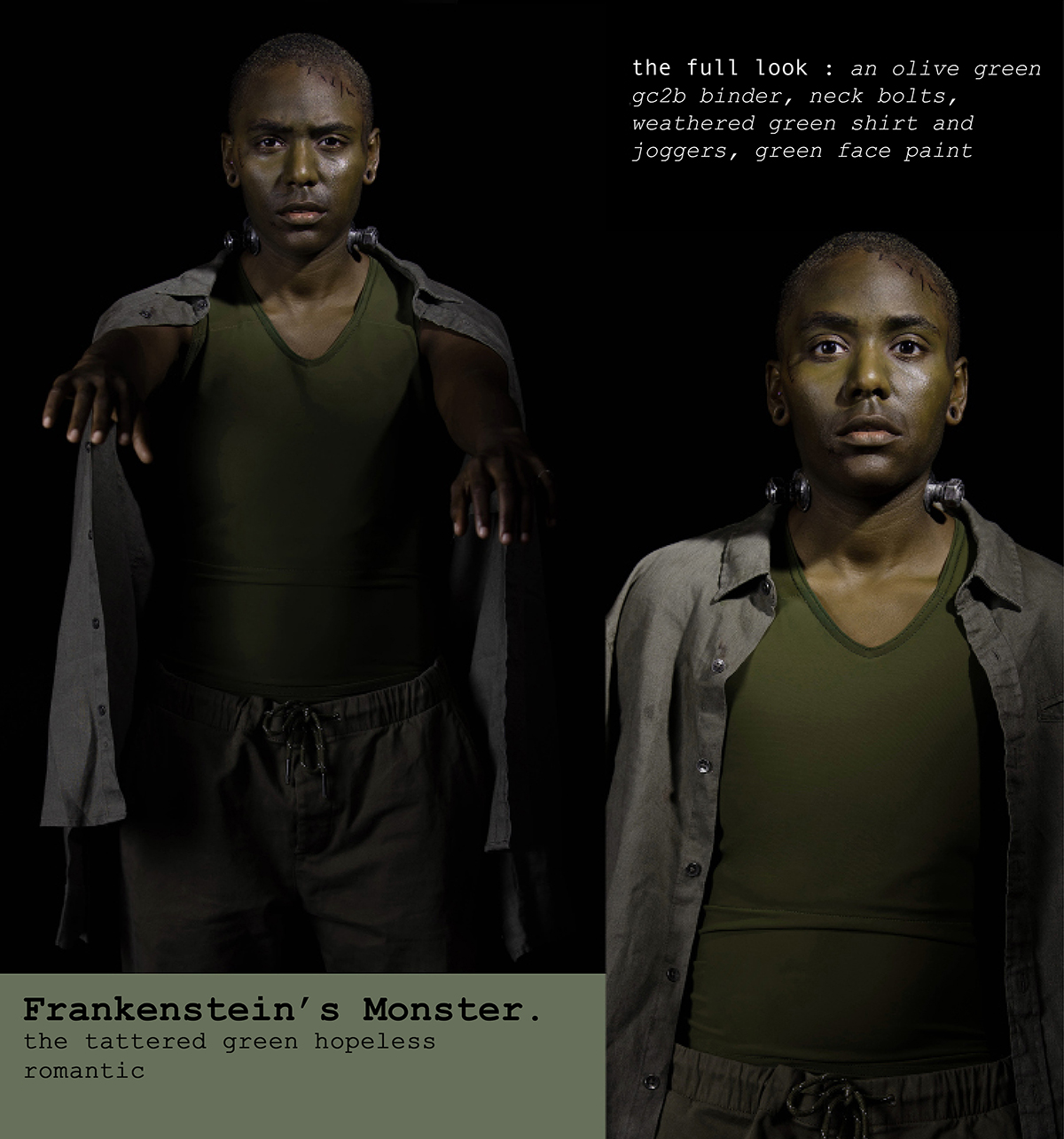 1 / Olive Green gc2b Binder
2 / Neck Bolts
3 / Weathered Green Shirt and Joggers
4 / Green Face Paint
It's the 200th Anniversary of Mary Shelley's Frankenstein, so what better time to dress as Frankenstein's monster? Model Roz has your inspo covered. The center of the costume is the olive green gc2b binder (and may I point out that you don't need to make any alterations to it, so you'll just have this come November 1st).
The only other things you absolutely need to sell this look are the neck bolts. I recommend liquid latex over spirit gum any time you're sticking things to your skin by the way — unless you're allergic to it, liquid latex moves better and doesn't have quite as pungent a smell. Usually theatrical makeup marketed as "bruise" is good for a hint of monster, and if you're going to be dancing the night away and sweating, try setting that paint with some translucent powder.
When it comes to your clothes, update your monster by 200 years by going with whatever shirt and joggers you've got in your closet but aim for a faded grey or green, something to gesture at "roar scary monster that personifies a lot of industrial revolution stressssssss roar."
---
Werewolf
1 / Painted Nude gc2b Binder
2 / Creature Ears
3 / Top and Bottom Fangs
4 / Flannel Shirt
5 / Face and Body Paint
Let's be real. You definitely have this red flannel in your closet or you know someone who does.  But you could really go with any ole button down because the centerpiece is a painted nude gc2b binder, and the important part of the shirt is that it remains lazily open the entire night.
When it comes to adhering your creature ears, my advice remains the same — liquid latex is my personal favorite ear-adhesive. A word to the wise — creature ears, or elf ears as they're usually marketed, are never the right color for literally any human person, so even if you get them pre-painted, they're gonna require a little makeup tlc — using your normal makeup can be a great way to match your skin tone, or rock on with the face and body paint pictured here. If you can't find elf ears to your liking in time for Halloween, might I recommend going with fake fur — use that liquid latex and rip up a cotton ball you've painted a werewolf color for little whisps on the tips of your ears. To get a little bit extra, rock on with some gnarly fake nails.
---
Hades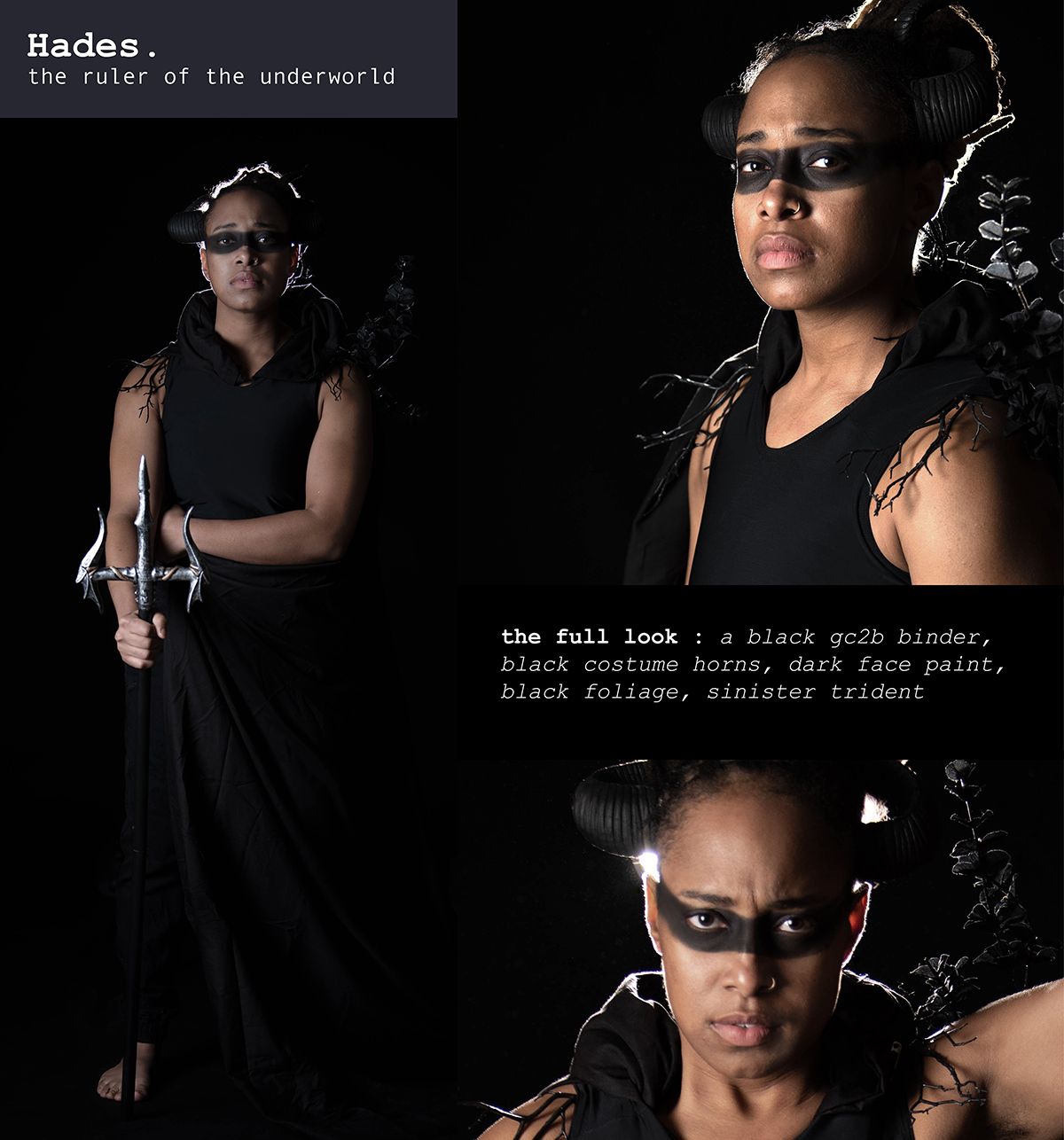 1 / Black gc2b Binder
2 / Black Costume Horns
3 / Dark Face Paint
4 / Black Foliage
5 / Sinister Trident
Aside from the black gc2b binder (my most frequently worn binder!), perhaps the most versatile part of this costume is the horns. Horns show up in a good deal many costumes and, in your laziest of be-costumed moments, you can simply throw horns on with whatever the fuck you are wearing and call it a costume. Like if I put horns on right now and go teach my class, I'm a tiefling professor and that's absolutely an acceptable costume.
Hit your local Michael's for their floral section for any sort of black foliage you might find — the name of the game here is head-to-toe midnight, but varying up the texture is one way take your costume next level. It might be hard to find a sinister trident, but you can make any trident sinister with some black spray paint!
---
Pastel Siren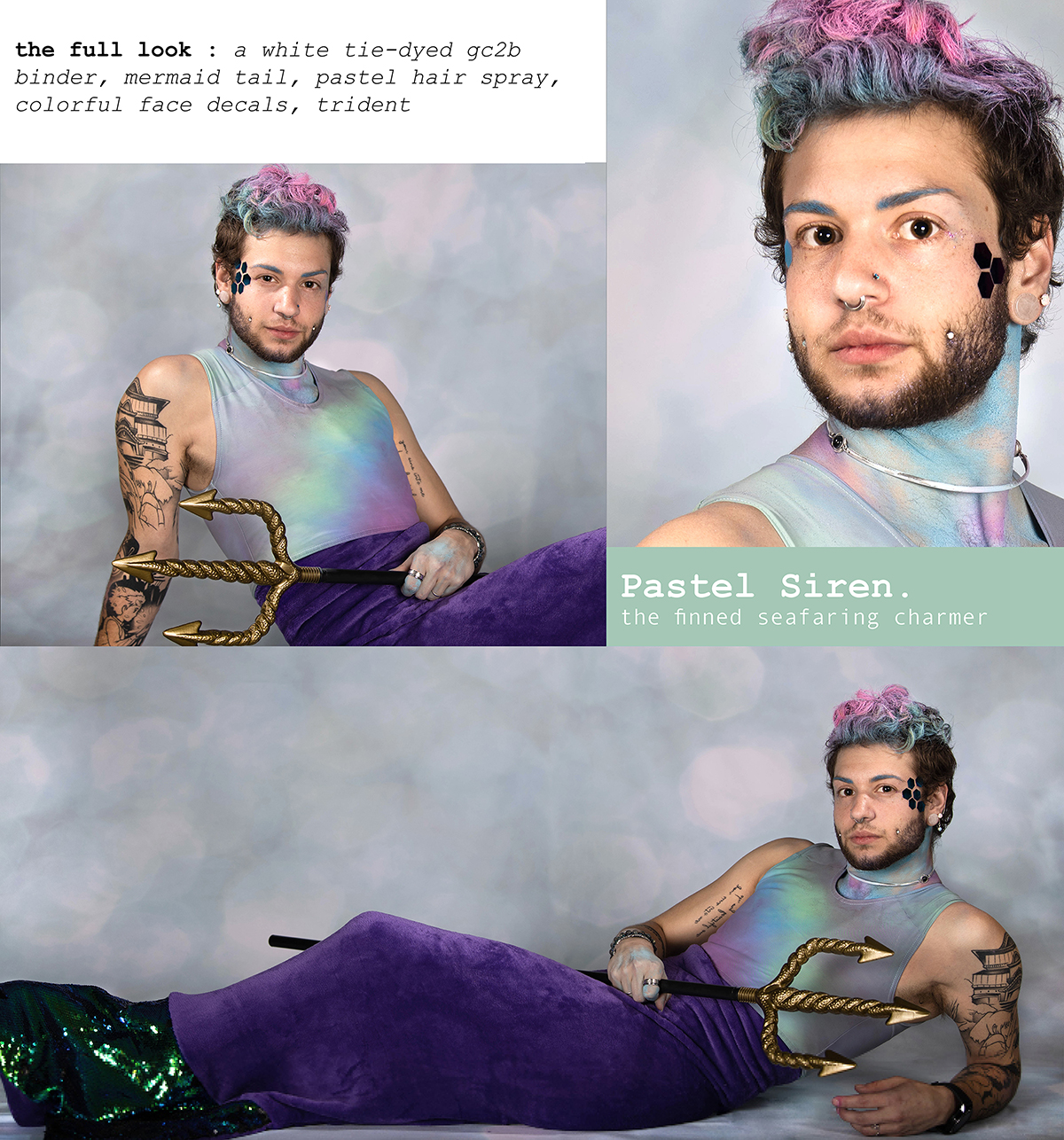 1 / White gc2b Binder
2 / Tie-Dye Kit
3 / Merfolk Tail
4 / Pastel Hair Spray
5 / Colorful Face Decals
6 / Trident
Get ready to make yourself a fancy binder to wear to all sorts of fabulous occasions, because you're going to tie-dye the white gc2b binder! This will be something that you'll pull out any time your goal is "extra," so don't get too concerned about making it too colorful. Tie dying is also nigh near impossible to mess up, so go forth and jam even if you don't usually craft. The other thing you're going to get out of this is a snuggie shaped like a tail, and that's reason enough to try this Halloween costume on for size. Do remember that this costume is NOT the right one for a night of walking around and dancing — this is the best costume if you've got a living room party where your friends can be persuaded to hand feed you grapes while you park up on a recliner (in other words, the best Halloween party).
---
Raven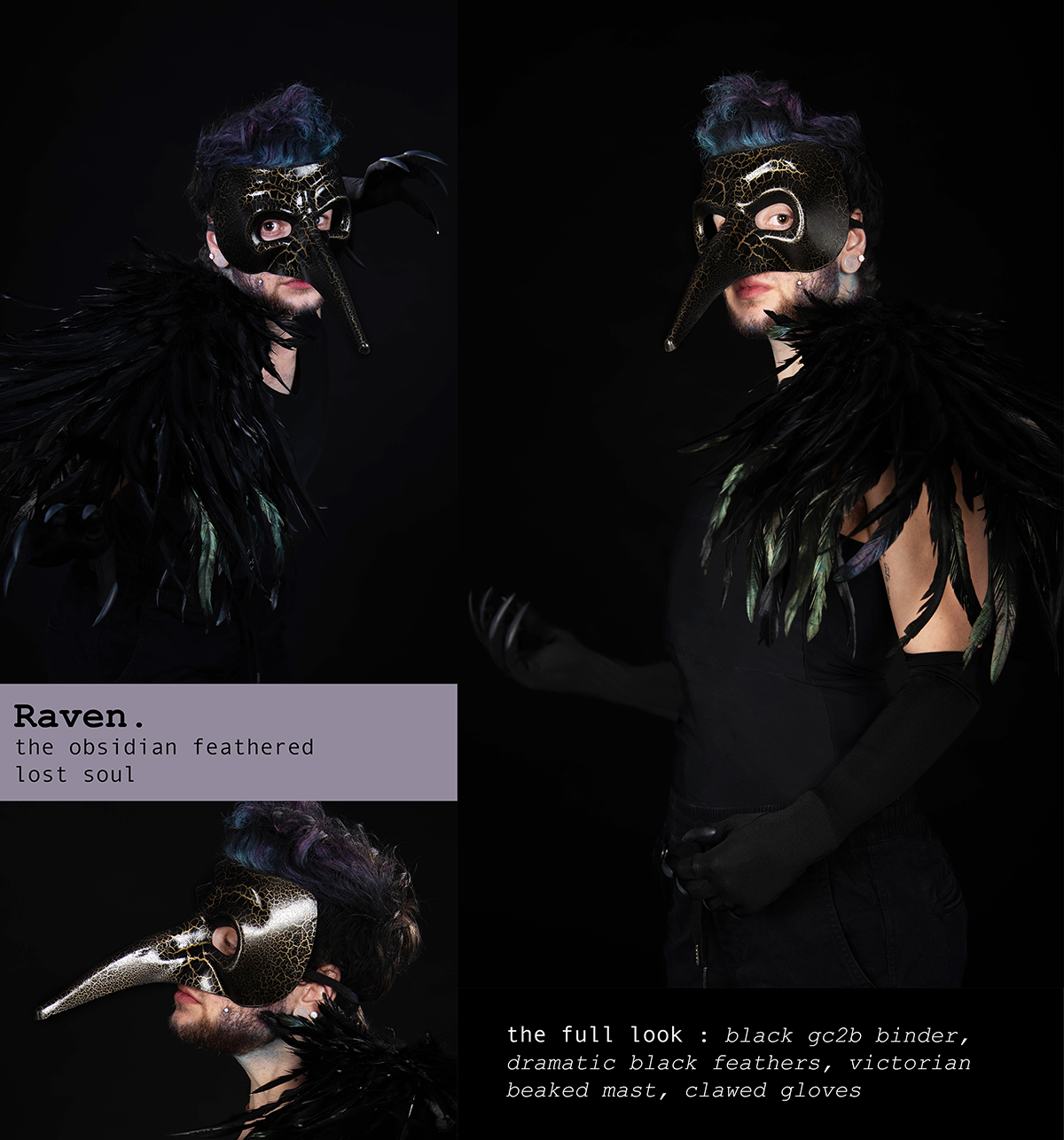 1 / Black gc2b Binder
2 / Dramatic Black Feathers
3 / Victorian Beaked Mask
4 / Clawed Gloves
Quoth the Raven etc etc, tis the season to get a little angsty Poe up in here. All craft shops will be filled to the brim with black feathers, which you can tuck into the shoulders of the black gc2b binder for a dramatic collar. Most beaked masks you're going to find are going to have a distinct "Commedia plague doctor" vibe, which honestly isn't a bad way to go with a raven costume, and especially if you're hitting up a Halloween party with a distinct BDSM vibe! If you're having trouble, though, search "Venetian mask" and see what you come up with, or even papier mache your own! I also want to point out that, for those with reactive skin, this is one of the costumes that doesn't suggest face or body paint! A mask might be just your thing!
---
Robot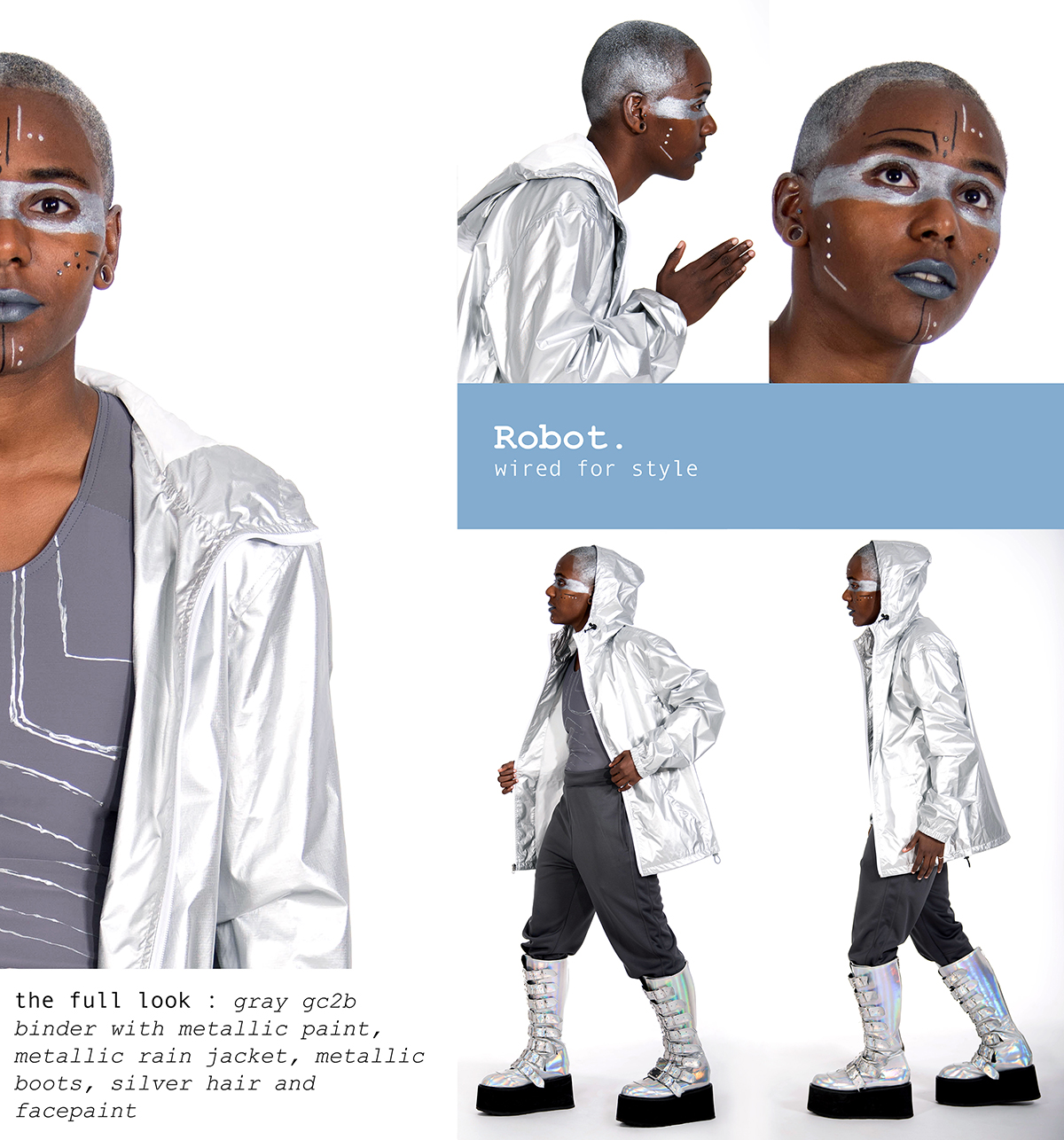 1 / Gray gc2b Binder with Metallic Paint
2 / Metallic Rain Jacket
3 / Metallic Boots
4 / Silver Hairspray
5 / Silver Facepaint
This robot leans heavily into silver, with the gray gc2b binder at the center. But I want to encourage you to mix your metallics for a cobbled together, steampunk robo-look. For instance, I've linked to a metallic jacket that's in this general color family, but you could go gold and be just as roboty!
Or if hairspray isn't your thing (it's not mine), you can get a silver wax instead. This one is screaming out for customization, and it's also screaming out for versatility. If you're a person who regularly goes out, all of these components can be easily used at other times throughout the year.
---
Stag
1 / Nude gc2b Binder Painted with White Spots
2 / Costume Antlers
3 / Faux Foliage
4 / White Face Paint
I do not know why, but this costume looks so very gay to me? I mean, they all do, but for some reason this seems extra homosexual and I welcome your theories as to why I think that, because I do not know. Anyhow! At the center of this is a nude gc2b binder, and also another reason to get something weird to put on your head that you can pull out for parties and parties and Halloweens to come. And if you really want to go extra on this, here, I found you a deer tail. You're welcome.
---
Zeus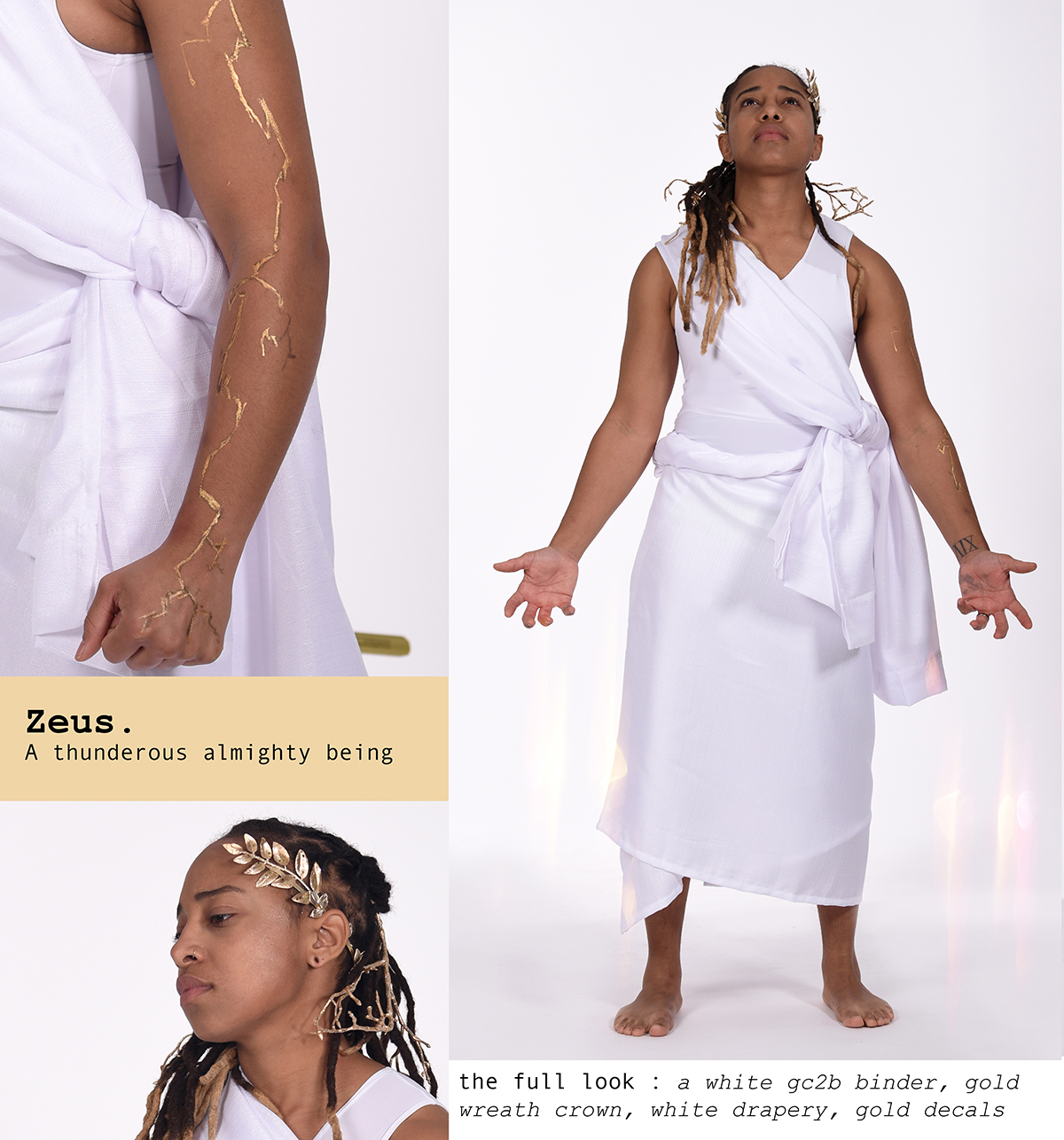 1 / White gc2b Binder
2 / Gold Wreath Crown
3 / White Drapery
4 / Gold Paint
I have never called upon my white gc2b tank binder to solve "the toga problem," aka my complete inability to not be naked when I intend to be in a bed sheet toga. You can really just use a white sheet for this one and tie it artfully. Once again, you can hit the craft store and use gold spray paint and some floral filler to make your crown, OR you can indulge your year-round desire to search Etsy for "gold leaf crown". Honestly, just like Alton Brown, I'm a huge proponent of multi-use tools and these costumes can provide you with an excuse to get something you'll use again and again —the binders, sure, but also the gold leaf crown. I also want to point out that you can use this toga-style to do a ton of other Gods, not just Zeus and Hades! Pick any Greek God or Hero and rock on!
---
In conclusion, use Halloween to your advantage — get that new color, that extra binder you've been staring at, or try your first gc2b! Also use it to get you a merfolk tail snuggie. 2018 is a garbage fire and you deserve both things: to feel good in your body and to pretend you're diving into an ocean to live with under-water-peeps every time you are taking a nap. We're all on a budget out here, so make the costumes work for you — but don't forget to play pretend in whatever ways you see fit. It's Halloween and honestly, when everything is bad, it's more important than ever.
Save 13% With This Discount!
gc2b is gonna make it even easier to devote some time and money to play pretend this October with a SALE. YAY FOR US!
From October 18 – 21 (midnight EST), get 13% off all items with discount code TREATSNOTTRICKS13.
---
Disclaimer: I also want to make it super clear that we're promoting gc2b here, and not other brands in our shoppable guide (though I must say I am extremely proud of myself for having found you those metallic platform boots) — the rest of the links are to make it easier for you to put together your costume in the next few days! This sponsored content was brought to you by gc2b, who's showing our community some love. Let's show them some love right back!