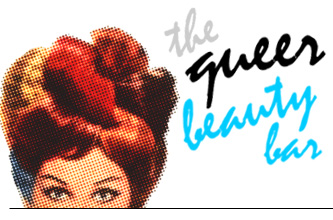 Most people I know either consider dry shampoo their super secret weapon or are convinced it's not for them. Up until a few months ago, I fell firmly into group two. But recently, I've been using a homemade version that keeps my hair looking bouncy and all-around good wayyy after I last washed it.
If you've got straight hair, chances are you love this stuff. Why? Well, it's a lot easier for the oils that your scalp makes to travel down a strand of straight hair, meaning that your hair gets oily faster. Dry shampoo gets out the grease that starts showing up before the end of the day.
Curly and kinky hair is harder for oils to get to the bottom to, so it's usually drier. Some of us wash our hair every day, but most of us with a little or a lot of curl can get away with a lot more time in between washes. Personally, I wash my hair about once a week. It keeps my hair from totally drying out while stripping away product and general dirt that accumulates throughout the week. While most of my hair looks still looks shiny and bright on wash day, my edges right near my temples tend to get a little too shiny.  This is where the beauty of dry shampoo comes in. Dabbing a little bit  on my hair right above my ears (and occasionally on the top of my head after I've been wearing a hat or a scarf) whisks away the oil and stretches out the time before I have to go through the who laborious process of  washing my head.
Even with all its benefits, dry shampoo still gets a bad rap. You can't really blame its detractors, though. Take a look at the ingredients of a store-bought dry shampoo.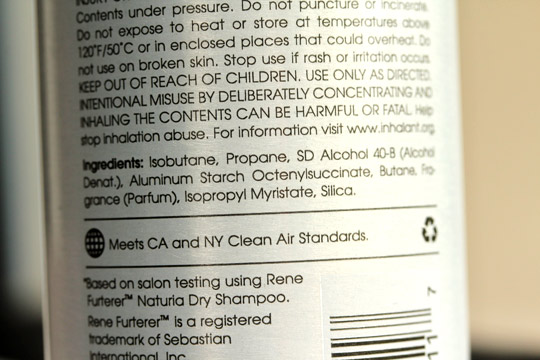 Allow me to translate: Isobutane is used as a refrigerant and lighter fuel, propane is a common ingredient in lighter fuels and some gasolines, alcohol 40-B is denatured alcohol and is also used in lighter fuels and household cleaners and butane is… suprise! an ingredient in lighter fuels. I try not to be an alarmist about this kind of stuff but, um, gross. Besides, in addition the whole becoming-a-walking-match downside to using this stuff, alcohol is a pretty harsh way to dry your hair out. So in the interest of your health and safety, we're going to make our own version!
Dry Shampoo
Ingredients for Light Hair
2 T of Cornstarch or Arrowroot Powder
2 T of Baking Soda
2 T of Oatmeal
Ingredients for Dark Hair
2 T of Cornstarch or Arrowroot Powder
2 T of Baking Soda
2 T of Oatmeal
4 T +/- a little depending on your color of Cocoa Powder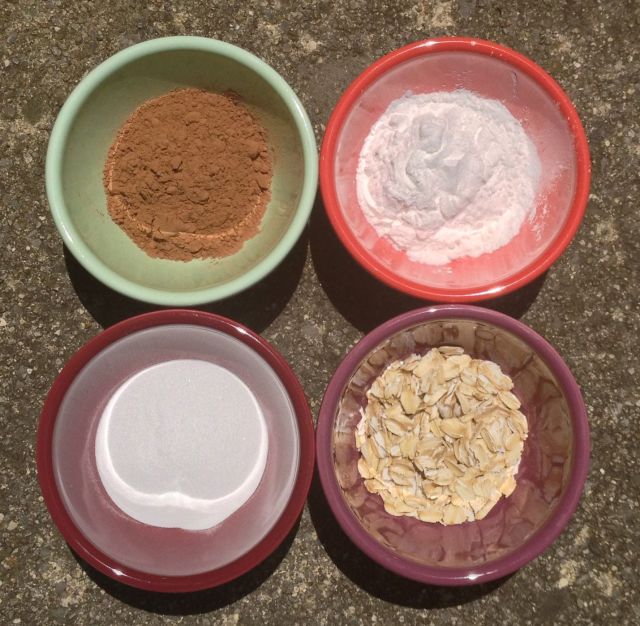 Instructions
1. Pour the ingredients into a blender or food processor. Pulse until the resulting mixture is fine enough to go through a salt shaker.
2. That's it! To use it, shake or pat it onto the areas of your scalp that need a little help and massage it in. If you have straight hair, comb the powder out over a sink. If you have curly hair and don't like to separate your curls, flip your head over and help it out by gently rubbing your scalp to help it out.
Resources: Free People, The Weather Girl Life, Crunchy Betty