Oh, Delaware, sweet sweet Delaware, land of all the companies I owe money to who periodically send me mail to remind me of this fact! I don't know much else about you Delaware.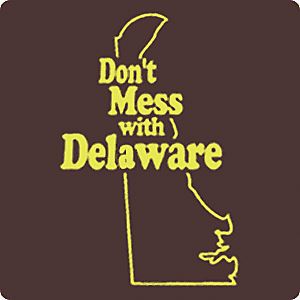 Like five years ago this guy I knew in New York left his wife and she went to Delaware to be with her sister and Have Feelings, and I remember thinking that was the first time in my life I'd heard of a person living in Delaware.
But perhaps you live in Delaware and are upset I just said that I didn't know of anyone living in Delaware besides Joe Biden and my friend's ex-wife's sister and Visa.
Do you live in Delaware? Well, if you do, then you're in luck [yes the informational part of the article is actually starting here, I'm no longer talking about myself] because starting in January 2012, Delaware will become the eighth state to let gay people get to third base, otherwise known as "civil unions." The vote passed 26 to 15 and Governor Jack Markell intends to sign the legislation.
At The Huffington Post, HRC Prez Joe Solmonese, everyone's favorite e-mail buddy, interviews Lisa Goodman from Equality Delaware about this historic occurrence. Basically these people made Civil Unions Delaware 2011 happen in about four months.
Joe: Why did you pursue civil unions instead of marriage?
Lisa: We carefully considered this question, and it was not a decision we made lightly. We spent a lot of time discussing the issue and looking at efforts – both successful and unsuccessful – in other states. We analyzed our projected vote count and concluded that we had the votes to pass a civil union bill. We were clear that we did not have the votes to pass a marriage bill. The civil union bill that we drafted (and passed!) provides for all of the protections, benefits, and obligations of marriage that are available under Delaware law. We were keenly aware that same-sex couples in Delaware need these protections now, and we were able to secure them through this legislation.
The Delaware bill is the only one in the country that will also provide protections for civil unionized couples who leave the state. Goodman explained why this is such a problem in other states — "couples who move to a state that does not recognize their marriage or civil union cannot dissolve that relationship. Without this provision, couples must otherwise remain in an unhappy civil union or move to a jurisdiction that will dissolve it. We hope this provision will become a model for civil union legislation in other states."
This bill also protects civil unions between straight people because not everything is all about us, unfortunately.
Here is a heartwarming video where the people of Delaware celebrate their good fortune: