Welcome to Dear Queer Diary, a (new!) column about the joys (and occasionally, the pains) of journaling. We'll be cracking open our tiny notebooks and breaking out the rainbow-colored pens on the regular, so get ready to limber up your writing hands and document all your beautiful feelings!
Header by Rory Midhani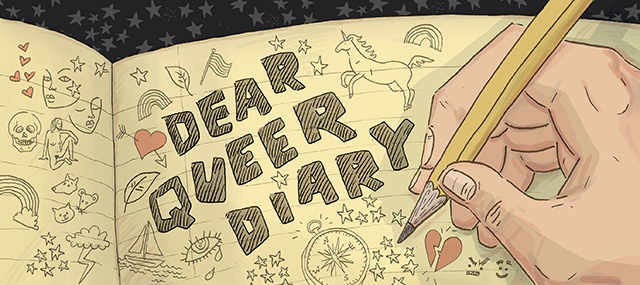 ---
 Feature Image via Shutterstock.com
Now that you've purchased/crafted/bartered for a glorious new notebook, you're one step closer to becoming a Master Journaler (which was, last I checked, one of the lesser known classes of World of Warcraft character). The next step, my queer journal-ers, is a big one, both for you and for womynkind: writing.
While this may seem obvious, anyone who has faced the terror of the blank page knows how difficult—indeed, how treacherous—this step can be. How will you begin?
The moments before you write the first sentences in a new journal are like the moments before you first lean in to kiss the smoking hot lady you spent three and a half weeks seducing with fresh scones and carefully composed mix tapes (or whatever the kids are into these days). What I'm saying is this: a new journal is amazing, but it's also terrifying.
The good news is that, in the same way that your scone-loving maiden will love the way you awkwardly bump noses before your lips touch in an exhilarating explosion of sparkles, your journal doesn't mind if you start slow. According to Virginia Woolf, who I think we can all agree is pretty much the authority on everything related to writing words on paper, for a diarist (that's you!), "brilliance is not necessary; genius is a hindrance."
Lemme just repeat that for you, folks. Genius. Is. A. Hindrance.
I'm thinking about cross-stitching that on a set of throw pillows and putting one in every room of my apartment. Because as much as I like to believe that I am kind of a genius (see my elementary-school-era devastation at misspelling the world "squirrel" on my spelling test), it's nice to know that my ability to keep a diary doesn't actually depend on my ability to write the next great American novel or cure cancer or design the best vibrator in the world.
What it does depend on is my ability to overcome my fear of the good ol' tabula rasa and get something down on paper. So while your pulse may quicken with terrified anticipation as you gaze across the white expanse between your journal's covers, stay strong—and try some of these Autostraddle-approved methods to help you get started:
Where in the world is Carmen Sandiego?
Are you sitting at your kitchen table? Hiding in the stacks of a university library? Aboard a cruise ship in the Caribbean? (If so, I'm jealous!) When you begin by describing your location, you immediately give yourself lots to talk about—and your journal will be extremely useful to your biographers when they are attempting to trace your comings and goings during this extremely important period of your life.
Borrow
If you'd prefer to bask in the artistic brilliance of someone other than yourself, then try transcribing your favorite quotation as a way of getting the ball rolling. If you're looking for inspiration in the form of both quotations and music, may I humbly suggest the brilliant Maria Popova's Literary Jukebox?
Draw a picture
No words required! Unless you, like me, end up having to label any attempts at recognizable artwork.
Don't be afraid to be a traditionalist

In the event that none of the above approaches seems like quite the right fit, it might be time to consider two little words: "Dear Diary." As my mother would say, they're "simple, yet elegant, and oh so right." And they're even alliterative!
Whatever you do, my darlings, do it with panache, and you will be on your way to a diary for the ages! Write on.