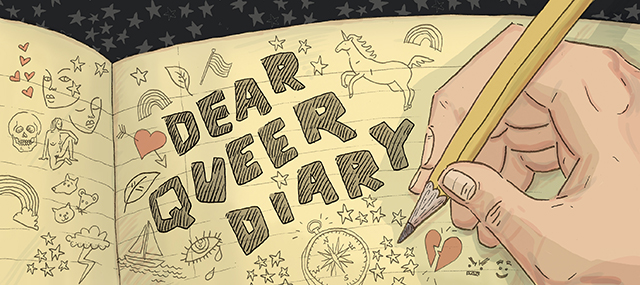 Ever since the days of my public library's summer reading program, in which you could win fabulous prizes such as free books and king-sized candy bars by filling out a weekly reading log, summer time has always been one of my favorite times for reading. While I love the idea of curling up under a blanket with a good book, there is something equally seductive about a long summer evening spent turning pages while sitting on a porch swing next to one's lady love, perhaps pausing for a Klondike bar between chapters.
I presently have no porch swing, but boxes of Klondike bars were two for five dollars at the grocery store today, meaning that this utopian vision of summer reading is not too far from my reality.
However, my dear queer diarists, I am getting off track. My intention here was not to talk about reading in general (although it should go without saying that this is an amazing, wonderful, magnificent, splendiferous activity), but to talk about a very specific kind of reading: namely, the reading of diaries.
A long long time ago in a galaxy far far away, we talked about reading other people's diaries, both fictional and non-fictional. More recently, we discussed the possibility of others reading your top secret musings– with and without permission. However, my favorite diary-reading scenario has always been and shall always be a solo affair. I love reading my own diary.
I will be the first to admit that this is probably a reflection upon my extreme narcissism (I was once cast as Narcissus in a Greek-mythology-themed play, in what I have always been convinced was a not-so-subtle hint from my high school drama teacher). Who would want to sit around reading about themselves when, as every good Sharon Creech fan knows, reading is an opportunity to walk two moons in someone else's moccasins?
In my defense, my diary re-reading habit is not exactly detracting from my ability to engage with other reading material — I'm not talking about my sitting down and reading my middle school journal from cover to cover on a nightly basis. My preferred re-reading technique tends more towards the style of the honeybee, buzzing through a few pages and then flying away for weeks, months, or years, leaving myself plenty of time to contemplate the hilarity, cringe-worthiness, and occasional self-knowledge gained from my re-reading of those entries. In light of this, I would argue that my diary re-reading is actually a good habit—revisiting a record of the thoughts, happinesses, and anxieties of past Maggie helps me understand current Maggie a little bit better.
This may not be the case for everyone, of course. Some disagree vociferously with the notion that re-reading one's diary can be a good thing (and some are tragically down on the idea of diarizing in the first place for similar reasons). I can understand that re-examining that entry on a painful break-up too soon after the fact might just be a method of prolonging the agony. And I can see how noticing the same pattern repeated time and again might feed depression rather than helping to mitigate it.
But I hope that most of you dear queer diarists see happier things in the pages of your journals: whether those are good memories of that one time you asked the girl at the bakery for her phone number or not-so-good memories that you can be happy to have behind you. My life has been relatively un-traumatic — but nine times out of ten, rereading my diary fills me with gratitude as to how much has changed since the year 2009, when I was still dating (ridiculous!) boys and doing far too much homework.
If Oscar Wilde quotations are enough to sway you, allow me to note that Gwendolyn Fairfax of The Importance of Being Ernest is wholly in favor of diary-rereading. She announces at one point in the play that, "I never travel without my diary. One should always have something sensational to read in the train."
In the words of my younger brother, who was interviewed for this column via text message, "If it was worth writing, it is probably worth reading. And if it isn't worth reading now, the fact that you once thought it was worth writing offers insight of its own.wp_postsHow's that for a pearl of wisdom from a boy who spends the vast majority of his time writing computer code?
Do you re-read your journals, my dear queer diarists? Or do you lock them away in the hopes of forgetting that embarrassing episode with the cheetah-print underwear and the angel food cake? Tell me your tales!
---
Dear Queer Diary is a column about the joys (and occasionally, the pains) of journaling. We crack open our tiny notebooks and break out the rainbow-colored pens on the regular, so get ready to limber up your writing hands and document all your beautiful feelings!
Header by Rory Midhani