Welcome to Dear Queer Diary, a column about the joys (and occasionally, the pains) of journaling. We'll be cracking open our tiny notebooks and breaking out the rainbow-colored pens on the regular, so get ready to limber up your writing hands and document all your beautiful feelings!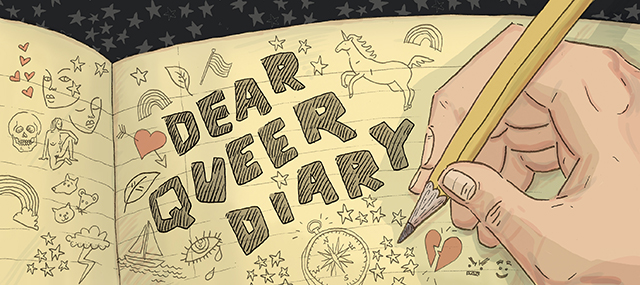 Header by Rory Midhani
---
I don't know whether it's the snow that has begun falling in picturesque flakes outside my window or the blizzard of end-of-year lists (and glorious non-lists) on my Twitter feed, but it suddenly seems like 'tis the season for curling up with a good book.
What does this have to do with journaling, you might ask? Well, let me tell you: some of my absolute favorite books are written (at least partially) in the form of diaries.
It's difficult to pinpoint what exactly is so appealing about the diary form. I'm sure it's partially laziness: novels in the form of journals often have extremely short chapters that make me feel like I am speeding through my book. However, I am also going to posit that there's a voyeuristic thrill to peeking inside someone's diary—even when you know that the someone over whose shoulder you're looking is a thoroughly fictional character. Secrets are the tender and juicy meat of fiction (sorry, vegans!), and diaries have secrets in spades.
While the diary format is such a favorite in certain genres that certain naysayers claim "we have reached a point of diminishing returns with the diary-as-framing-device," I will never grow tired of immersing myself in the fictional realm of the top secret.
For one thing, I love watching the ways in which authors contrive to make their character's bizarrely faithful journaling habits plausible. Of course the protagonist has a perfect memory for dialogue! Why wouldn't Mia Thermopolis bring her journal to prom so that she can update the reader on the night's events from a bathroom stall? Yes, there may be a certain suspension of disbelief required, but isn't that true with most works of fiction?
While there may be a few too many "Diaries of…" titles clogging up the category, how can we fault the format that has given us such young adult favorites as The Princess Diaries and Perks of Being a Wallflower and classics like "The Yellow Wallpaper," The Woman in White and The Color Purple?
(Yes, I know that Perks is technically a collection of letters. Yes, I am happy to discuss the ambiguity of the term "epistolary novel" in the comments with any semantics-obsessed diary-readers.)
Next on my personal diary-as-novel agenda is Affinity, by Sarah Waters, an author who is already at the top of my list of queer lady writers who make my little heart go pitter patter with suspense and delight.
If you would prefer to snuggle under your covers with a diary written by a real human being, then your options are similarly—if not more—numerous. Judging from the eight-week independent study that I did on diaries back in my college days (which, my nerd friends, was as awesome as it sounds), just about every famous writer and quite a few un-famous ones have produced some kind of published diary, all of which have their quirks.
Want to read about James Boswell getting the clap after sleeping with—gasp!—an actress in the eighteenth century? Read his London Journal, and marvel at such gems as "I fanned the flame by pressing her alabaster breasts and kissing her delicious lips. I then barred the door of her dining-room, led her all fluttering into her bedchamber, and was just making a triumphal entry when we heard her landlady coming up."
Prefer to contemplate a different kind of topography? Try Dorothy Wordsworth's diary, and indulge in a spot of righteous feminist rage that her brother got all the glory for the poems that he wrote using her careful notes on the natural splendor of the English countryside.
You'd rather immerse yourself in the incredible language of one of our queer foremothers? You could easily spend the next sixth months reading the amazing, beautiful, breathtaking journals that document a huge portion of Virginia Woolf's life—from her youthful efforts to produce a family newspaper to months before her suicide.
Whether you do 21st or 19th century, fictional or nonfictional, hilarious or heart wrenching, the good news is that you can do you while reading a diary. Which journals will you be perusing as the snowflakes pile up outside, my dearest Straddlers? Who is your favorite fictional—or nonfictional—diarist of all time?