"I'm reminded of my relationship with Nicole when we're filming. The girl-girl dynamic is very different than the girl-guy dynamic, it just is, in every way possible. But it's the reverse, like she was more Aster and I was Vivian." Riese Interviews & Robin Photoshoots Rachael Hip-Flores and Nicole Pacent of lesbionic web-series Anyone But Me.
More stuff To come today!


Lindsay Lohan in Elle UK: LiLo's cover story in Elle UK turns out to be a bizarre exercise in interview evasion, as described by StuntDouble at AfterEllen. It seems to tell the story of a girl we all know pretty well; that heartbroken girl who doesn't just wear her heart on her sleeve so much as her heart is too much to bear and explodes, periodically, from her own rib cage: And in the end, they declared "she's just hot," and the world nodded in agreement:
UNITED STATES OF TATA: How do two girls have a heterosexual relationship with eachother? Biological woman with a male alternate personality who dates biological woman! It's a straight relationship bundled into a lesbian pairing all at once. (@queerty)
ADAM LAMBERT: Queerty makes us feel bad for not getting tickets to see Adam Lambert b/c they say he is bringing homosexy back!
SHAKIRA: Her epically strange (yet AMAZING) "She Wolfwp_postsvideo includes minimal clothing and a lot of what can only be described as contortionism. (@youtube)
PHOTOSHOP: America's Next Top Model's photoshop from hell — missing limbs, phantom hands … we could go on… (@jezebel)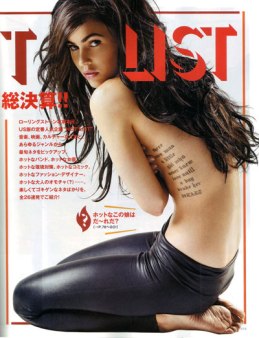 THAT MISSING ELMO FROM YESTERDAY: For Sesame Street's new season, who – besides Mad Men (which is already in the bag)– should they parody? (our bff @EWAnnieBarret at @entertainment weekly)
HOW REFRESHING: Today the internet bans Megan Fox. No one asked us to participate, so. Anyhow, we are still confused about the Transformers movies — who has seen these things, when they started, why we should care. Weonly like girls who were in 80's or 90's movies. Basically since no-one ever gave us a reason to like Megan Fox, I have no choice but to not NOT like her either. (@asylum)
MUSIC: OurSceneTV has an Interview with Riese's favorite band, The Indigo Girls.
CHELSEA HANDLER IS MAD, NOT GLAAD: Chelsea Handler was in complete shock that the Gay & Lesbian Alliance Against Defamation failed to include Chelsea Lately in their recent report of the depiction of gay, lesbian, bisexual, and transgender people on television. (@shewired)
SOMETIMES LABELS ARE USEFUL: News report mistakes "homosexualwp_postsand "lesbian" as being separate entities rather than one in the same. (@reuters)
OBAMA: Ever dreamed of speaking with the brilliant articulation of our current president? Well now you can! (@lebiatopia)
BETH DITTO: Velvetpark picks our Norma Gay – More Normas and more flaming homosexuals, tough-as-hell butch dykes, genderqueer revolutionaries and on and on. Fewer picket fences, more picket lines and clever signs. (@velvetpark)

Auto-Straddler of the Day

↑ ↑ Episcopal Bishops in L.A. nominate two openly gay, lesbian priests as bishops.
↓ US Senator Kay Bailey Hutchison is running for governor of Texas, but her new campaign website has already managed to get itself blocked from Yahoo and Google. Stuffing a site with 2,000+ hidden search terms, including "rick perry gay," is a good way to get the wrong kind of attention. Her site has now been yanked from google and her web firm fired.
↓ According to the National Review, America really is against gay marriage. Case in point Carrie Prejan. I guess an idiot may as well be the one to represent other idiots?
↔ Gays can kind of get married today in Wisconsin: Despite an on-going lawsuit to bring the matter before the State Supreme Court, Wisconsin's domestic partnership law takes effect today.
↑ Austin, Texas may enforce a tighter grip on their non-discrimination policies: Austin City Council may take up a resolution this week that would ratchet up protections for gay, lesbian and transgendered employees of companies that contract with the city and give added consideration to businesses seeking loans or incentives from the city that offer domestic partner benefits. (@austin business journal)
↓ The anti-gay rights bill is doing quite well, thanks!

from Natalie:
So, I had to do a web search for progressive social justice youth oriented organizations for my day job and I came across this sexy one: Advocates for Youth. They cover a wide range of topics related to youth empowerment, including LGBTQ issues and combating homophobia. If you work with youth – or just want to see what young people are doing around LGBTQrights – visit them here.

from Crystal:
'Being Gay Is Awesome' is a humourous website for the boys. I wish I'd thought of it, it has a really good name.