For many cis straight people, movies and TV shows are how they first learn about queerness. Stories have the power to educate, to show the mainstream that we're just like everyone else. Queer cinema can act as a bridge between worlds: a safe, simple place for cis straight people to learn.
Amara Cash's new film Daddy Issues does not give a fuck about any of that.
Daddy Issues was made for queers.
A love story between a 19-year-old artist, her Instagram crush, and her Instagram crush's sugar daddy, Cash's debut feature is equally sweet and taboo. The artist, Maya (Madison Lawlor), is estranged from her father and stuck at home with her cruel mother and inappropriate stepdad. She dreams of going to art school in Florence but doesn't have the money. Instead she settles for texting her Florence-based friend about her all-consuming crush on fashion designer/influencer Jasmine Jones (Montana Manning). Fed up and filled with an angsty joie de vivre, Maya follows an insta-tag to a bar and manages to infiltrate Jasmine's crew. Chaos ensues. Romance ensues.
Lawlor and Manning have devastating chemistry with each other. You will not breathe when Maya and Jasmine first kiss or when they first have sex. Every moment between them sparkles with energy and tension. Maya is so adorably earnest and Manning is so sexily detached and it's a pleasure in every sense of the word to watch them connect.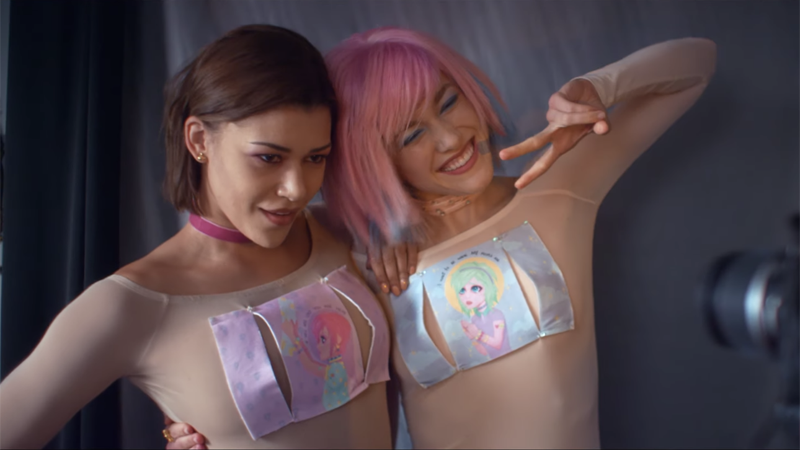 Jasmine's role-play relationship with her sugar daddy and both Jasmine and Maya's relationships with their families are as important to the film as their romance. There is no shortage of high drama or high stakes or high people. As the plot unfolds it gets gradually more twisted and more graphic. And yet it shares a certain energy with its on-paper-polar-opposite: Love, Simon. Both films tell relatable coming-of-age stories with adorable romances. Both films are filled with indie pop montages. And both films carry the emotional weight of a hormonal teenager. The difference is Love, Simon is nice and safe whereas Daddy Issues has strands of John Waters-esque insanity.
But even John Waters failed in this regard. Hairspray and Cry Baby are good, but they are not Pink Flamingos. Cash has managed to hold onto the youthful spirit of her characters (and hopefully her audience if they can be crafty) without sanitizing the raunchy queerness that many actual teenagers experience and many, many more daydream about. There's a reason But I'm a Cheerleader is so popular. It's rare to find a film explicitly for young people that so embodies a campy queer aesthetic.
When a work of art is as bold and inventive as Daddy Issues it's tempting to draw comparisons as a way to make sense of it. (The trailer laughably quotes an obviously straight critic who claims "David Lynch and Wes Anderson had a baby!") But placing Cash's film within the context of queer cinema's past and present shouldn't distract from how truly unique it is. It's a tribute to weirdos and outsiders in theme and story, but also style. The cinematography, editing, and costumes (oh my, the costumes!) work in unison to create a truly magnetic experience. There's a confidence to it all that allows the viewer to sink into the experience. It may be odd, it may be stylized, but every choice feels pointed and true.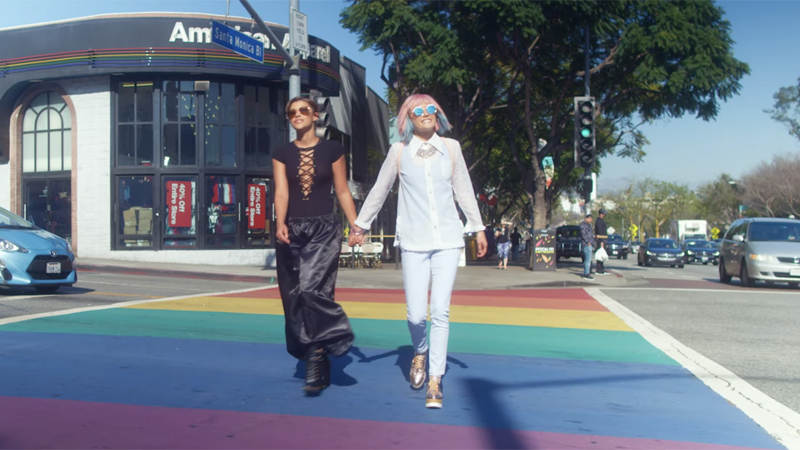 The first IMDb user review for Daddy Issues is titled "Heterophobic movie." I cannot argue. I also cannot complain. May we blessed with an entire career of heterophobic movies from this properly queer filmmaker.
Daddy Issues is now playing in select theaters and available to rent across platforms.