THIS JUST IN: President Barack Obama will be delivering the keynote address at the 13th Annual Human Rights Campaign Dinner, which is the night before the National Equality March, which must mean he's gonna be in town for the march. Hopefully he'll promise everyone equal rights, overturn DOMA, stop DADT discharges, give Dan Choi his job back. I'd love to see a photo of Obama and Dan Choi shaking hands and smiling like Forrest Gump.
"We are honored to share this night with President Obama, who has called upon our nation to embrace LGBT people as brothers and sisters,wp_postssaid Human Rights Campaign President Joe Solmonese.  "It is fitting that he will speak to our community on the night that we pay tribute to his friend and mentor Senator Edward Kennedy, who knew that as president, Barack Obama would take on the unfinished business of this nation – equal rights for the LGBT community, and for every person who believes in liberty and justice for all."
BACK TO OLD-FASHIONED BRIDE & SUGAR-FREE PARENTING: Three aggressively heterosexual Conde Nast titles, Cookie, Modern Bride and Elegant Bride, along with aggressively complicated Gourmet shuttered today, leaving many of you in the lurch! Where will you get tips on how to buy an overpriced stroller, how to stay emaciated fit during pregnancy or how to cope with a stay-at-home Dad? You can now take these burning questions to Laneia's twitter between 8 AM and 9 PM PST, Mombian, Up Popped a Fox, Lesbian Dad or Babble.com (here; a lesbian ponders why her biracial child makes some people uncomfortable) which is responsible for me knowing anything about parenting at all, since I was interning at nerve.com while they were planning to launch Babble.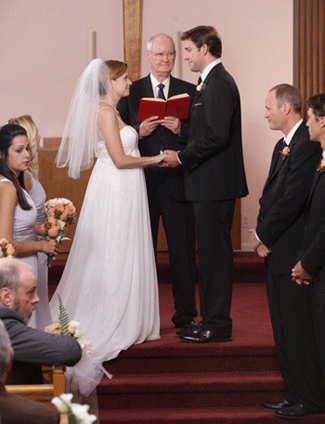 No but really, Cookie was a reasonably decent magazine, and as for some mysterious reason I never cared much about my wedding, I've never so much as glanced at Modern Bride. Alas, I'll be up shit creek without a paddle for questions like, What kind of "stylish yet macho gifts" will "my man's" groomsmen love? Hopefully next time you want to know if you can go without bridesmaids (and all the costs they absorb for you to celebrate your union!), you'll go elsewhere, 'cause Modern Bride says NO you cannot go without bridesmaids! Because of all the things they purchase "functions" they serve! But never fear, there's also valuable advice on how to ditch "imperfect" bridesmaids, like the slut and the drunk.
Obviously all things wedding-related are the domain of Robin Roemer esteemed wedding photographer, whiteknot.org, rock 'n roll bride or offbeatbride.
Actually though, there's two weddings I'm really excited about this week, my high school BFF is tying the knot on Friday in a park in Brooklyn (we're allowed to wear jeans, there are no bridesmaids) and Jim & Pam from The Office!
SPEAKING OF MARRIAGE LADY GAGA WANTS YOU TO GO TO THE NATIONAL EQUALITY MARCH SO DO IT! We are!

CONSERVATIVE NONSENSE: Maddow Wonders Why Conservatives Are Celebrating Olympic Failure – And why The Weekly Standard changed its article about "cheers erupting" in their newsroom following Maddow's tweet about that article. (@mediaite)
MARCHING: Harry Reid (D-NV) Endorses National Equality March: On Friday Reid announced that the Senate would remain in session through Columbus Day weekend in order to finish work on the health care reform bill. Will Reid speak at the March? (@joemygod)
NOT WHAT WE NEED RIGHT NOW: Lesbian Arrested for $6M Embezzlement: One day I'd like to see an article titled "Heterosexual Arrested for 6M Embezzlement.". (@advocate)
GATHERING STORM OF BAD ACTORS: Queerty asks, Why Does Maine's Yes on 1 Campaign Have to Use Fake People to Promote its Radical Agenda? Where, one must wonder, are all these Mainers who want to strip away their neighbors' marriage rights? So far, the "real people" S4MM uses are actually recycled anti-gay parents already used in California's Prop 8 fight. Like their argument, their media strategy is tired. This is just lazy, no work ethic! (@queerty)
GAY MARRIAGE: Gay Marriage Bill Introduced in Illinois For the First Time: "Separate is never equal," State Senator Heather Steans said in an interview with ChicagoPride.com. "This issue has been languishing too long and nationwide the sentiment is in favor of protecting LGBT citizens." That's great but, Jim Madigan, Steans' openly gay rival for the very-gay 7th District seat, criticized Steans for introducing the bill with only two weeks left in the legislative session and ignoring the progress of existing civil union legislation. Speaking to the RedEye, he referred to it as a publicity stunt to attract gay voters. (@chicagoist)