Hello and welcome to another edition of Autostraddle's College Lesbianage: a glimpse of college life through the wide eyes of six freshly fallen snowflake first-year queers. This month's update finds our Lesbianagelings settling into their respective establishments of higher learning, where cute girls mill around campuses being cute and rugby teams practically fall into people's laps. Also, it becomes increasingly clear that writing for Autostraddle while attending a university is basically a one-way ticket to Getting Luckyville. Glad we could help, girls.
+
Nita
The University of North Carolina Greensboro
+
This column was due yesterday and I'm supposed to be studying for a sign language test. As it stands, I went to the local Pride fest instead and no studying has been accomplished whatsoever. Oi.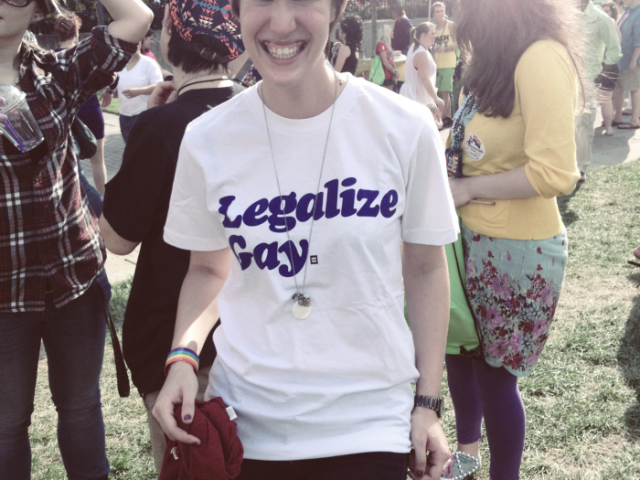 My first month of college has just been a mass of experiences and emotions. Let's start with Campus Ministries. I've joined the Wesley-Luther group on campus (Methodist and Lutheran) and I feel so at home here. Hanging next to the Methodist flag in the common room, there's a big-ass rainbow flag and a sign on the wall that says "Safe Zone." They have an LGBTQ Bible study, not to mention some really kickass homecooked meals Monday nights. The atmosphere of the group is nothing but inclusive and accepting, and I'm absolutely in love with it.
After acing my first exam, I've decided that sign language is definitely the right major for me. I just feel really comfortable being involved in the local Deaf community—for me, talking with my hands feels much more natural than using my voice.
Being away from the town I grew up in and going from a graduating class of 64 people to a whole student body of 18,000 is more terrifying than I thought it'd be. But as the weeks have gone by I've called my parents less and less and kept the tears at bay, at least for a bit. Rachel and I are dealing with the separation pretty well—I went home for Labor Day weekend and we watched Doctor Who together. Skype and text messages have been our best friends, as well as handwritten letters. I've found a store near campus that sells the most awesome stationery and postcards, so my girlfriend has now become my pen pal. It's a good feeling to go to my campus mailbox and find a letter, and it's definitely making the separation easier.
The most disappointing thing about the past month has actually been the Pride group on campus (not to be confused with the Pride Festival). Our tiny group is trying to rebuild its image from the "dark days of Pride," where apparently its members had a reputation for being a little too friendly. Things are getting better though — the first meeting I went to was "Memoirs from the Closet," where people shared their coming out stories, and the whole experience was a great way to meet and connect with other queers.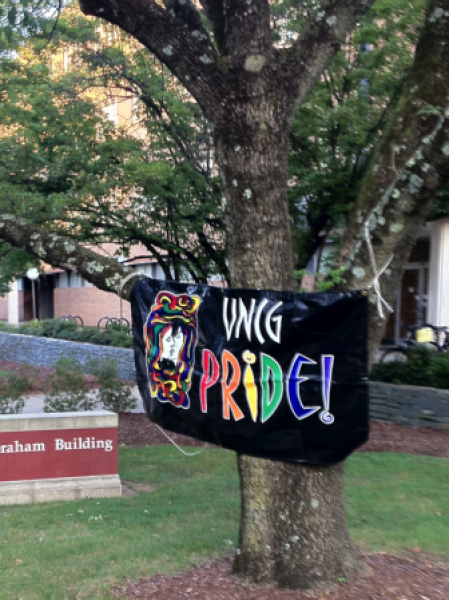 Speaking of Pride—the festival now, not the group — my first one was last Saturday and I went with my queer-best-friend Ava. Ladies, if you've never been to a Pride Festival, you have got to go.
We got a shit ton of rainbow stickers, bracelets, pamphlets for my girlfriend's homophobic mother, and what-have-you. I wore a "Legalize Gay" shirt downtown and it was the best feeling ever. Walking around with a shirt and an alternative-lifestyle haircut that proudly proclaims your sexuality and realizing that absolutely no one gives a shit whatsoever is so liberating.
Pride weekend was the first time I've ever felt that comfortable being myself. For me, that's what coming here was all about. So it's been a little rough, but somehow, I think I'm going to manage.
+
Sunny
Ithaca College
+
I hate to admit it, but on the first day I arrived in Ithaca College, I sat on the floor in silence for half an hour, hugging my knees as my eyes welled up with tears. Here is a photo of me on that day (on the desk are two Chelsea Handler books I bought to cheer myself up):
I'd taken a peek into the dining hall and realized that I was actually alone. There were people sitting in groups and enjoying themselves, and I couldn't see myself be a part of it. That was when I decided to grab a bar of Rice Krispies and head back to my cave. I was in a glass case of emotions. Little did I know that things would be significantly changed within a few hours.
International students were given a week to get used to things prior to the official move-in day for American students. One of my favorite moments of this first week of international bonding was when I took a car ride about 30 miles out of Ithaca with three sophomore guys. We stood on this empty road in silence and looked at the stars at 1 AM. I realized then that I had perfect fun being a spontaneous goofball, and going along with whatever there was to do. This was, in fact, my first memorable experience as a college freshman. I wish my phone was able to take a photo of the sky at that moment. It couldn't, so this is the only evidence of it; us standing in the darkness.
Let me assure you, you will never be able to predict how a day will turn out when you're in college, unless you purposely restrict yourself from doing activities. As of now, I still surprise myself with things I end up doing. This leads me to the story of my gayest night out yet.
Sarah — one of my two darling gay angels I met via Autostraddle who are seniors at Ithaca and have guided me to all sorts of goings-on — suggested that I go to a pub where her bestie was playing and there would be many gay girls. I went, of course, even though I was ready for the night to turn out horribly because I'd gone alone (a definite no-no at night) and I was the only freshman there. But it was superb and I had a fantastic time adoring gay couples dancing to Ingrid Michaelson's "You and I". I had the best time just talking and hanging out with Amanda — my second gay angel — and I'm confident that I had twice as much fun than the drinking peeps roaming around that night.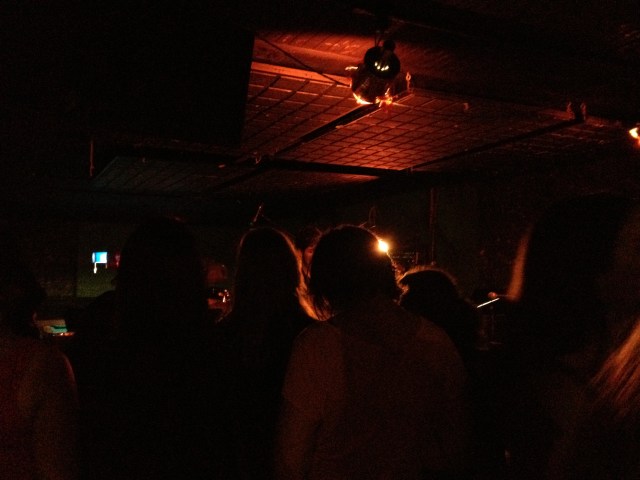 Things have been crazy but I love it. I'm involved with the Women's Rugby club, two LGBTQ clubs, and a fashion club. I have classes all over the place, ranging from 9 in the morning to 10 at night. Ithaca College and the city are stellar and I promise to go into detail about how wonderful the environment is next time. Here's me walking down the hill to class. I love how refreshing the mornings are when I walk past the greenery! Cheers.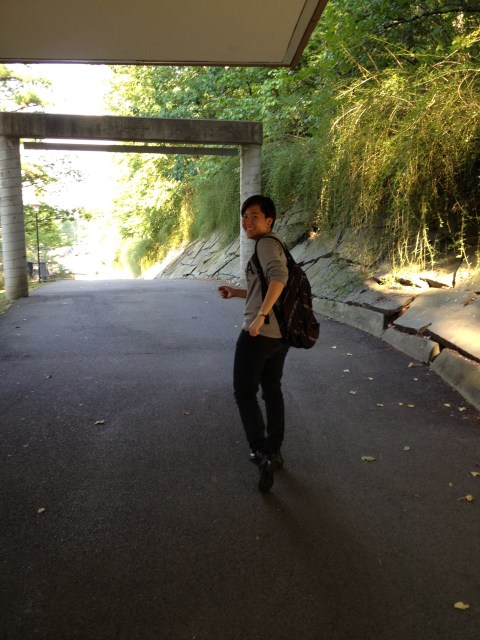 +
Kate
Wellesley College
+
Okay can I just start this off by saying HOLY SHIT SO MANY PEOPLE HAVE READ THE ARTICLE. I feel like a minor celesbian (is that a term I'm allowed to use?) [Ed. note: no!] here on campus. I hear some variation of "Wait…are you the Autostraddle girl?" every day.
Every. Single. Day.
Understandably, this has made me really start to think about the internet and how the entire world can read this if they want, and I feel super proud and also kind of scared about that. So we might read less about my sex life on here, because probably no one wants to be on the internet as "that chick who slept with the Autostraddle writer" (or maybe you do, I don't know).
Actually, everything's been awesome here. My classes are wonderful, I'm not too stressed out yet, and I'm starting to get really settled in here. I got one job as an art model and I'm waiting to hear about another – a desk job for the LGBTQ Programs Office. My roommate is lovely, I've been making friends, and I even found someone to cuddle with and watch Obama's speech.
Only two things have been less than awesome in the past two weeks. The first is that I dramatically overestimated my own abilities and signed up for Ballet II. I'm staying in the class, but I'm doing a lot of catch-up work to get to a Ballet II level. The second was my first adventure on the campus shuttle bus where I ended up taking the wrong bus, then missing the last bus home and standing in the rain for an hour late at night before giving up and taking a cab home. But even that was fine. I'm happy to be taking ballet and I'm learning how the transportation system works, and I got to hang out with a friend in Boston which made the rain totally worth it.
That stuff everybody says about college – it's true. My mother used to tell me, "Honey, when you go to college, everyone there will be like you. You won't feel so lonely." I never believed her, but I sure do now. My roommate and I decided to take turns reading our favorite poems to each other last night, just because we felt like it. I've been in classes with people who can effectively discuss the patriarchy and iambic pentameter, who play rugby and can explain every step of nuclear fission. And I'm finding that the more time I spend here, the better I learn. Like being in an environment of people who love to learn is making me a better learner and a better student. Knowledge is just flying through the clear Massachusetts air.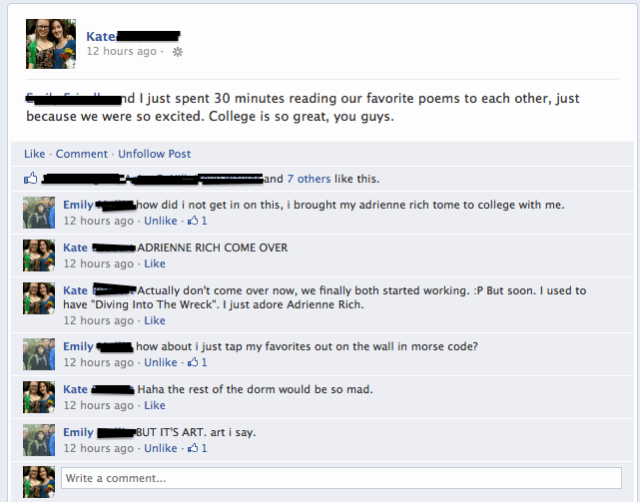 On top of all that, it's gorgeous here. I look at my roommate every day and say something like "can you believe we're here?" It honest to goodness looks like Hogwarts here, lots of buildings have high gothic windows and towers and one of the dining halls has these round iron chandeliers. There are trees everywhere and the air is still and quiet and I feel so safe here.
It really is a thing, being at a women's college. I came here super confident in my sexuality and in my identity as a woman and a feminist, and I didn't think I would feel any different here than anywhere else- but there's something so empowering about being with mostly women. I don't understand what it is, but it's there. Maybe it's in the fact that when we sing, it's all high voices. Or when I'm in my Art History class, one of the first things the whole lecture hall notices is that the cylinder seal of Queen Puabi portrays a woman as the central figure. Maybe it's that for the first time in my entire life, I haven't heard a rape joke or a gay joke or a sexist comment in two whole weeks. It just makes such a difference. I love it here.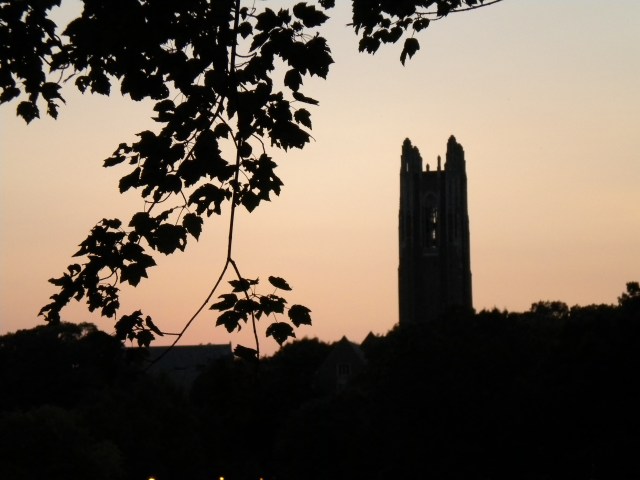 +
Next: Kelsey, Lillian & Claire
Pages: 1 2See entire article on one page